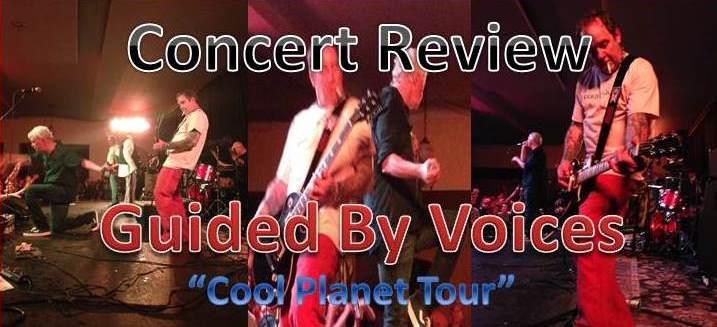 I came WAY late to the GBV party: by the time I caught on to the band's greatness, the reunited "classic lineup" had already released four albums, and it looked like that might be all we got from them. (I proceeded to procure a massive collection of all things GBV, Pollard, and his various side projects.) So after two more albums (February's Motivational Jumpsuit and this month's Cool Planet) and a tour announcement, I wasted no time in grabbing some tickets for the opening show on the "Cool Planet Tour" at the Taft Theatre in downtown Cincinnati.
Going into the show, I had some idea of what to expect (after watching some live footage on YouTube), but I also had an idea of the perfect GBV concert, and no one was more surprised than me when that's almost exactly what I got. Beer showers and overly-aggressive moshers aside, this pretty much was my dream show: Uncle Bob and the boys ripped their way through a 48 (!) song set list that included tracks from across the band's career (reaching as far back as 1992's Propeller and including a generous helping from the reunion-era). Not only did they play a ton of material, they sounded great too—the playing was tight, the energy was high, and the band was in good spirits. There was also plenty of Bob's trademark stage banter ("It's been written about Guided by Voices… That we have 'a penchant for pop'… With an 'intensity that could be labeled post-punk'… But that we're also not afraid to occasionally 'jam out'… We're terrified to jam out…").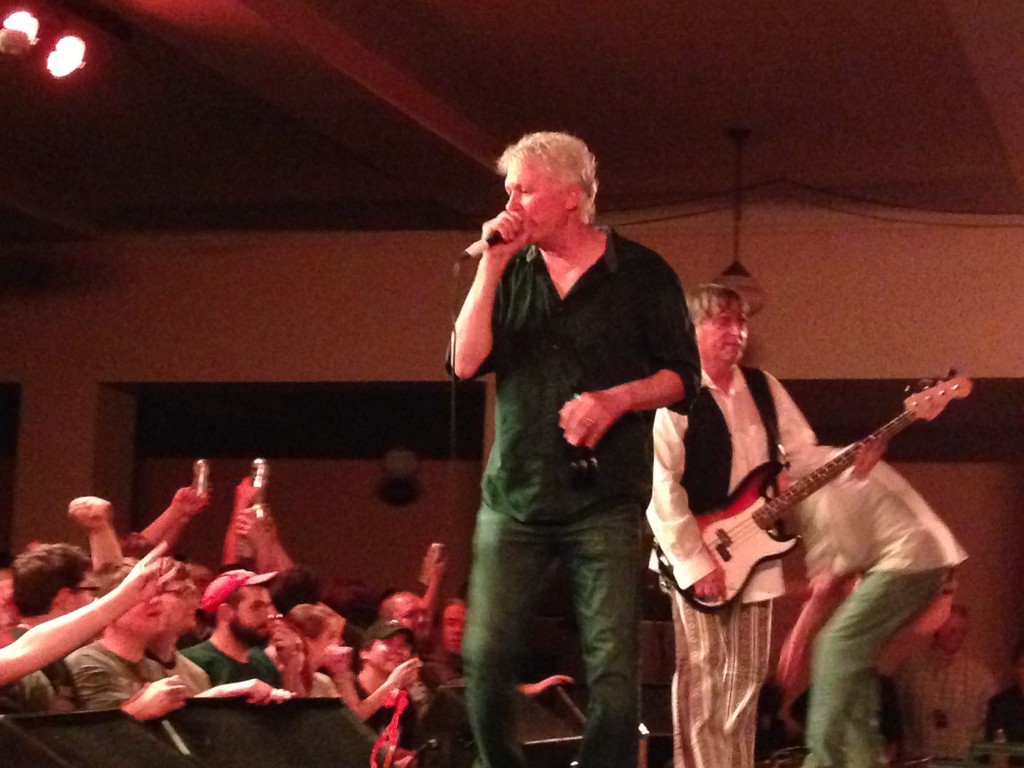 The show started with a lot of new material—almost all of the highlights from Motivational Jumpsuit and Cool Planet were played, with "Planet Score," "Vote For Me Dummy," "Males of Wormwood Mars" and "Authoritarian Zoo" working particularly well in a live setting. Toby was also surprisingly well-represented, singing lead on several of his newer songs such as Cool Planet standout "All American Boy" as well as classics like "Esther's Day" and "14 Cheerleader Coldfront." Bob occasionally joined in on harmonies, and while "Cheerleader" worked really well, a couple of the others fell a little flat; but on the whole, it was a joy to hear so many Sprout tunes included.
The band also pulled out several surprises, especially for this lineup: the TVT era was represented with blistering takes on Do The Collapse's "Teenage FBI" and Isolation Drills opener "Fair Touching," and the crowd went bananas as Toby and Mitch played the first few chords of "Wished I Was A Giant" (from 1993's Vampire On Titus). Especially well covered (and not surprisingly so) was the band's classic album Bee Thousand, which turns twenty years old this year: "Buzzards And Dreadful Crows," "Tractor Rape Chain," "The Gold Heart Mountaintop Queen Directory," "Echos Myron," "Gold Star For Robot Boy," "I Am A Scientist" and more were showcased with fantastic renditions, and follow up Alien Lanes also had its fair share of tunes aired including show closer "A Salty Salute."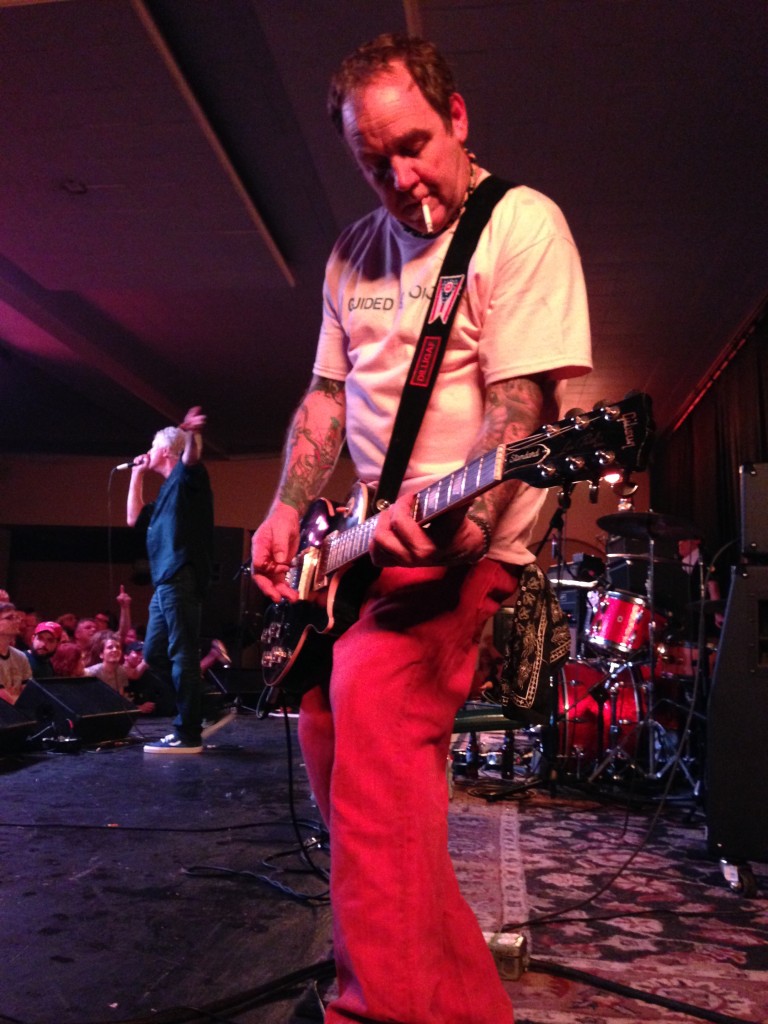 At around $30 a ticket, there is no excuse to not see Guided by Voices on the Cool Planet Tour this year—even if you're a long-time fan who's seen them several times already, the combination of great new material, fantastic versions of classic tunes, and party-like atmosphere make this year's string of shows one you don't want to miss. The club is open…
We would be remiss if we didn't talk about the opening act Death of Samantha. One of the great things about this warm up show was that Pollard had one of his favorite Cleveland rockers kick things off. The 80's group, which includes former GBV guitarist Doug Gillard, was on fire and truly excited to be warming up the stage. The band pounded out a 45 minute set without blinking that featured their wild frontman John Petkovic never staying still and consistently interacting with the audience and his band. Drummer Steve-O not only kept the pace but also was having fun as he changed his head attire several times which included slipping on a fake Mohawk. With great songs like "Harlequin Tragedy" and "Coca Cola & Licorice" filling the air, Death of Samantha proved to be an excellent choice. As always, Doug was a standout on guitar and as a whole I believe this band is much tighter now than they ever were back in the day. Death of Samantha currently has a new album of re-recorded material available titled If Memory Serves Us Well. Anyone seeing this Cincinnati show will want to go out and pick it up immediately!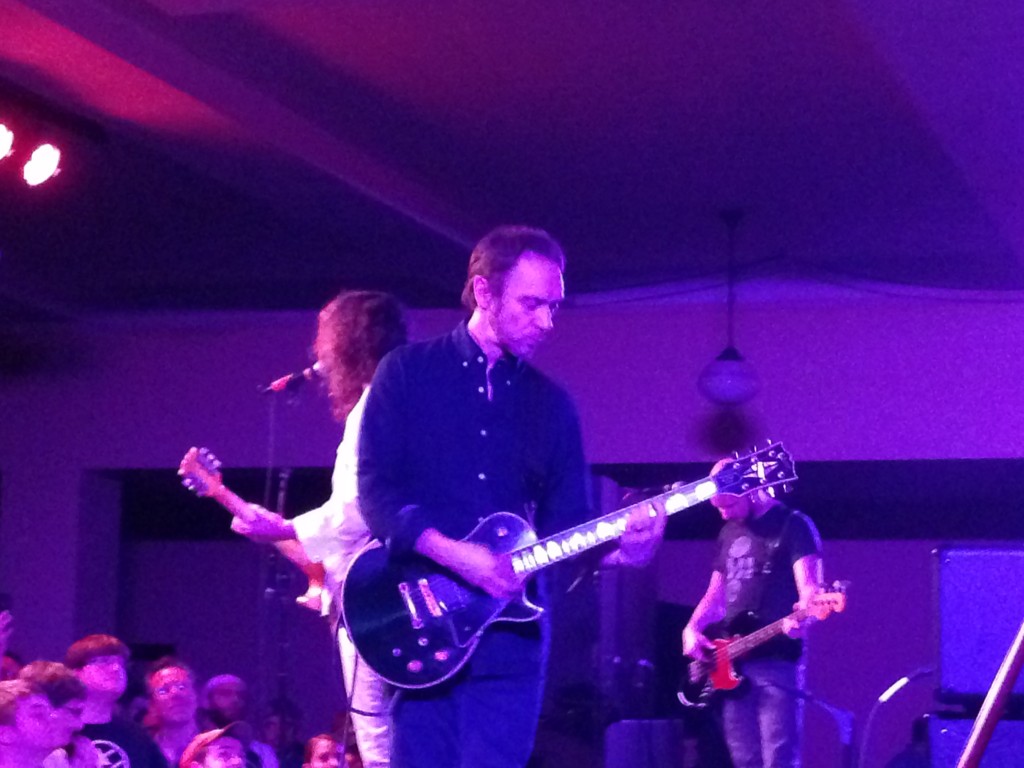 Main Set:
1. Hat of Flames
2. Authoritarian Zoo
3. Planet Score
4. Buzzards and Dreadful Crows
5. Psychotic Crush
6. These Dooms
7. Table at Fool's Tooth
8. Littlest League Possible
9. Gold Star for Robot Boy
10. Xeno Pariah
11. Fast Crawl
12. Fair Touching
13. Esther's Day
14. Males of Wormwood Mars
15. "Wished I Was a Giant"
16. How I Met My Mother
17. Record Level Love
18. Vote For Me Dummy
19. Teenage FBI
20. Tractor Rape Chain
21. You Get Every Game
22. The Head
23. Zero Elasticity
24. Game of Pricks
25. All American Boy
26. He Rises! (Our Union Bellboy)
27. The Challenge Is Much More
28. Pan Swimmer
29. Spider Fighter
30. Bird with No Name
31. No Transmission
32. The Gold Heart Mountaintop Queen Directory
33. Cool Planet
34. Echos Myron
35. I Am a Scientist
36. Alex and the Omegas
Encore 1:
1. Shocker in Gloomtown
2. Awful Bliss
3. Unleashed! The Large-Hearted Boy
4. Smothered in Hugs
Encore 2:
1. Cut-Out Witch
2. A Good Flying Bird
3. 14 Cheerleader Coldfront
4. Pimple Zoo
5. Motor Away
Encore 3:
1. Quality of Armor
2. Exit Flagger
3. A Salty Salute
Taft Theatre, Cincinnati, OH 5/16/2014
—Review by Simon Workman (with Christopher Anthony)

Latest posts by Christopher Anthony
(see all)