Tame Impala


Live Versions
Modular Recordings [2014]



Fire Note Says: Tame Impala's Live Versions offers small twists on some old favorites.
Album Review: It's a real challenge for bands to become important in their genre. For Australia's Tame Impala that seems to be no problem. It's also an impressive feat because your could consider Tame Impala to be the solo project of Kevin Parker. But if you've read my reviews for last year's Record Store Day re-release of their self-titled EP as well as their excellent sophomore effort Lonerism then you already know the who and the how. We're here today to take a look at one of the more exciting RSD 2014 releases, Tame Impala's Live Versions.
Any insight that you can gain into your favorite band is exciting in its own right—the fact that it's Tame Impala makes it extra exciting. There's one thing to talk about even before the needle hit's the wax—the record sleeve, believe it or not. Printed on it is everything you need to know: some paraphrased points include "Tame Impala's first live-ish release," "The release of the whole gig later on, or a release on the internet," and the lovely apology "Sorry about all the guitar fuck ups;" in other words, Tame Impala-tongue in cheek and fun. While the concert was longer, it's only possible to fit around 40 minutes on a 12". So why were these 9 songs picked out of all others from the setlist? Because of the difference from their studio counterparts. The impressive thing about Live Versions is Parker and Co's ability to transfer the lofty feeling from the studio to the live setting. "Half Full Glass of Wine" seems to be about a Wolfmother as the Aussies get, but because of an improvised interlude that builds and builds, the song evokes a trance that's not felt on the original studio version. "Be Above It" and its intense drum chug is still good for chills as soon as it kicks in. What makes "Be Above It" stand out is the improvised space oddity that blissfully calls out to the mothership—or exudes the sun's warmth (or both).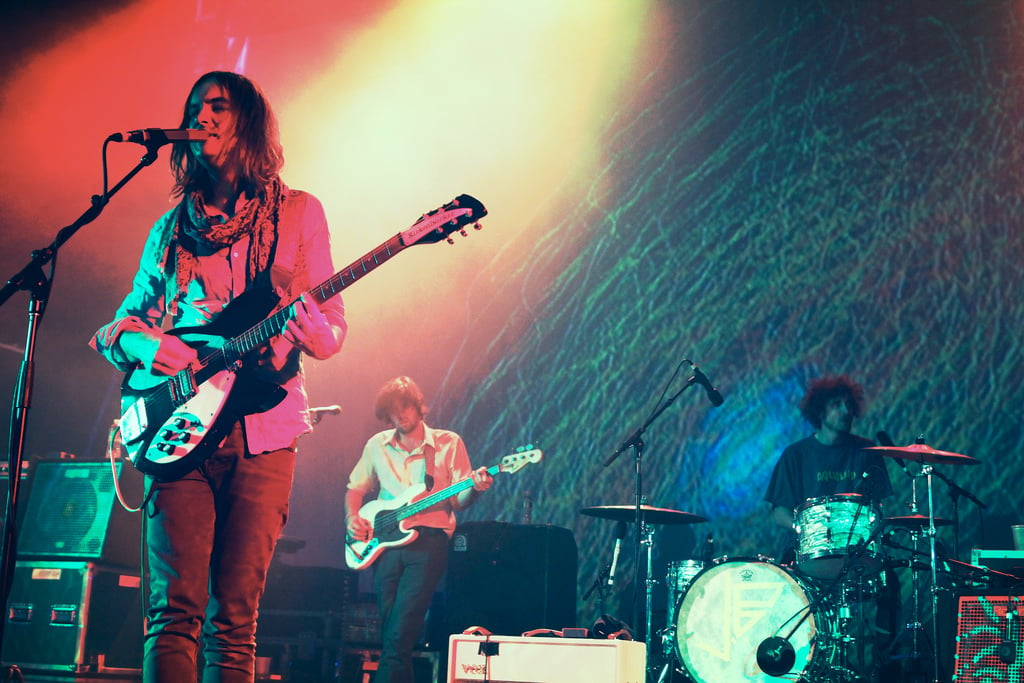 Kevin Parker has always said his dream collaboration would be with Outkast, and "Endors Toi" and "Feels Like We Only Go Backwards" may hint at why. "Endors Toi's" experimentation ends with some heavy beats, and "Feels Like We Only Go Backwards" is the only psych song that I've ever heard with a hip-hop opening. Finally, I've said before that I have a soft spot for "Apocalypse Dreams," and it makes a great closer for this live set.
Tame Impala's Live Versions is one tight live LP: tight in musicianship, tight in energy, and tight in improvisation. While they're not bursting into psych thrash solos that extend the songs 13 minutes into 11/4 time, Tame Impala is doing their best to create a mood that works well for a live setting. Limited to 5000 pressings, this green LP was highly sought after for good reason. Searching the second hand market I found a copy or two that wouldn't exactly break the bank; for fans this is a must, and for new comers this could be a good start as well. But if you get right down to it, any start with Tame Impala is a good start!
Key Tracks: "Desire Be, Desire Go," "Half Full Glass of Wine," "Apocalypse Dreams"
Artists With Similar Fire: The Flaming Lips / Pond / Temples
Tame Impala Website
Tame Impala Facebook
Modular Recordings
-Reviewed by Christopher Tahy

Latest posts by Christopher Tahy
(see all)