The Clean


Vehicle
Captured Tracks Records [2013]




Fire Note Says: Fantastic reissue from New Zealand legends The Clean.
Album Review: Kiwi legends, The Clean, have been delivering their jangle pop goodness to their devoted following since the late 70's. They started their career releasing a handful of ep's on the Flying Nun label, before brothers Hamish and David Kilgour left to eventually record as The Great Unwashed, and Robert Scott formed The Bats. After a successful reunion, the band finally decided to record their first full length lp, and the result is what you have here, 1990's Vehicle. While a good portion of this album has been previously released on the stellar compilation that Merge released in the early 2000's, it's not all there, and as a bonus, they have added a live EP, recorded on that reunion tour to sweeten the deal even more.
The opening track is the legendary "Draw(In)G To A (W)Hole", which coincidentally was my introduction to the band via an obscure Robert Pollard/Tobin Sprout version off of an obscure compilation God Save The Clean from 1997. The song's melody is one of those things that once you have heard it, you will never forget it, it becomes part of your musical DNA, and changes the way you hear everything! It's clear from the opening notes of "I Wait Around", that The Clean were a huge influence on Yo La Tengo, in fact, the members of that band actually played on their album Getaway. It's distorted and garagey, yet is still completely pop. The Blue features a stuttering guitar riff that would be completely at home on a future Pavement record, or you could take it all the back to the third Velvet Underground record. It's a timeless sound for sure! They add keyboard touches throughout the record, especially on "Big Soft Punch". Here it is used to more fully flesh out the song, whereas on their early eps, it would have been more of a lead instrument. If you have ever heard "Tally Ho" then you know exactly what I am talking about. In fact the playing on the entire record is such an improvement over their early recordings, it is almost like it is two different bands.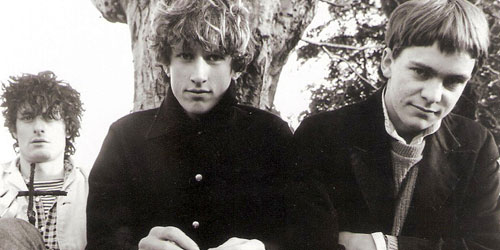 The In-A-Live ep bonus tracks are equally impressive. While the band is janglier on record, on stage they are a fierce rock machine, equally capable of launching into wild psychedelic dirges or gorgeous pop numbers, often within the same song. "Fish" is a wild instrumental opening number that clearly had to have whipped the crowd up into an intense frenzy. "Point That Thing Somewhere Else" is another one of their better known songs, and it's equally intense. The guitars absolutely buzz and wail on this one, creating an amazing drone effect that is likely to put you in a trance. All of the 5 songs on this ep are spectacular, and if you were on the fence about buying this because you already own a good portion of it, these songs should definitely seal the deal for you!
This record is ridiculously good from top to bottom. Listen to this just one time, and it will become obvious to you why The Clean is considered one of the most important bands of all time.
Key Tracks: "Point That Thing Somewhere Else", "I Wait Around", "Draw(In)G To A (W)Hole"
Artists With Similar Fire: Yo La Tengo / Pavement / The Bats
Captured Tracks Records
-Reviewed by Kevin Poindexter

Latest posts by Kevin Poindexter
(see all)