The Boxer Rebellion


Promises
Universal Music Group [2013]




Fire Note Says: The Boxer Rebellion perfects their knockout punch on their fourth LP Promises.
Album Review: Sometimes an album grabs you for no good reason – all the analysis and critical thought can't begin to explain the why's or how's. This is what happened to me as I first listened to The Boxer Rebellion's new album Promises. The Boxer Rebellion in a multinational alliance of four musicians: American (and Nashvillian) Nathan Nicholson (vocals, guitar, keyboards), Australian Todd Howe (lead guitar), Adam Harrison (bass guitar), and Piers Hewitt (drums). The latter two members are from England, where the band is now based. The Boxer Rebellion was completely off my radar before listening to Promises and it's difficult to know why. Promises is one of my favorite albums of the year so far and I'm excited to rummage through their catalog.
What's the music like, you ask? This is where I tell you that Promises has a brand new sound that is so fresh, so clean. That would be a lie. The Boxer Rebellion has taken arena rock and made it sweeping, heartfelt, and urgent. Many of the songs have huge choruses with swelling harmonies (think The New Pornographers "Bleeding Heart Show"). "Safe House" is a track that could've been a gigantic disaster because of its rawness and sentimentality, but succeeds nonetheless. It has a nice build-up for the first three minutes of the song, then pays off with the aforementioned chorus. "Always" made me think of The Pains Of Being Pure At Heart, with its New Wave/pop stylings. Nicholson's tenor shines on this track and is an asset throughout the album. Lead single and album opener "Diamonds" takes the synthesizer and retro guitar riff to another level – it feels like an homage to The Smiths.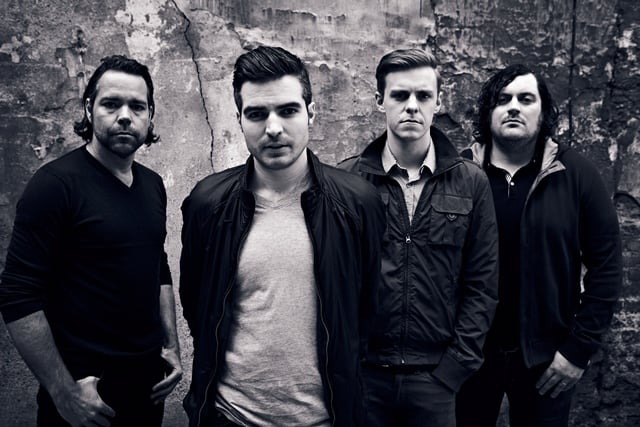 I could see every song on this album being played in different movie trailers. I know how that sounds as I write it, but I swear it's a good thing. Promises worked in every imaginable way for me – there are no throwaway tracks to be found among the eleven. I didn't know I was looking for an album that combined some of the best aspects of rock of the past thirty years, but here we have it. Give Promises a chance and try to resist it – I doubt you'll be able to.
Key Tracks: "Diamonds", "Always", "Safe House"
Artists With Similar Fire: The Killers / Silversun Pickups / Arcade Fire
The Boxer Rebellion Website
The Boxer Rebellion Facebook
Universal Music Group
-Reviewed by Matthew Heiner

Latest posts by Matthew Heiner
(see all)