Skaters


Manhattan
Warner Bros. Records [2014]



Fire Note Says: Skaters debut is full of hooks and youthful spirit.
Album Review: The promotion blitz behind New York's Skaters reminds me of the way it used to be with major record labels back in the 90's. They have received tons of pre-hype from Warner Bros. leading up to their full length release that even included a promo 7-inch. Skaters have also had tons of pre-release information on the street and several early single releases. I have not seen any new band get this much push from a major label in some time.
You will immediately ask yourself – Are they worthy of all this attention? Yes and no. Their Strokes meets Arctic Monkeys with Clash and Ramones undertones works with the group's youthful vigor. Together this sound has helped create a very catchy debut in Manhattan and I can hear why WB was all about these guys. The album, like its title might suggest, stays on the New York scene that even has the opening subway sounds on first track "One Of Us." There are big swooping hooks that stick, like on "Miss Teen Massachusetts" which has a very Killers vibe to it while "Band Breaker" borrows a page from The Clash with its reggae rhythms. "I Wanna Dance" comes at you full speed with an Arctic Monkeys spirit and "Deadbolt" possesses smoldering verses that keep you on the edge before it tears off. All of this is packed into 34 minutes which does not leave much time for the listener to rest.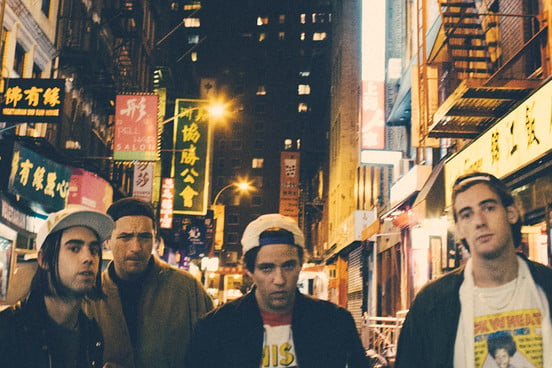 With songs about girls, cops and smoking, Manhattan covers some subjects that the unrested youth might identify with but the album does not go much deeper. The other issue I have with the Skaters is that they sound like so many other bands that their own identity sort of slips past you. Instead of establishing one distinct sound, Skaters have a very likable mix. It results in an album that is fun, catchy and has several singles that sound stellar cranked up. It is not going to be a record that makes critics year end lists, enjoyed by Pitchfork or hailed as the next best thing. Sometimes an album is what it is and Skaters are good at it!
Key Tracks: "Deadbolt", "Miss Teen Massachusetts", "I Wanna Dance (But I Don't Know How)"
Artists With Similar Fire: Arctic Monkeys / The Killers / The Strokes

Skaters Website
Skaters Facebook
Warner Bros. Records
– Reviewed by Christopher Anthony

Latest posts by Christopher Anthony
(see all)