Drive-By Truckers


English Oceans
ATO Records [2014]


Fire Note Says: The Drive-By Truckers hit another gear on English Oceans.
Album Review: Right off the bat, you realize that things have changed for the Drive-By Truckers, and not just personnel, though the band has certainly had a major overhaul in the years since A Blessing and a Curse. What's changed is that co-founder Mike Cooley appears to have his mojo back. That's right boys and girls, Stroker Ace is back and writing some of his finest songs to date. For the first time since The Dirty South, a Cooley song opens the record, and he has 6 writing credits and 7 lead vocals out of the 13 songs on the 10th studio album from the band, English Oceans.
With the songwriting being evenly balanced between Cooley and Patterson Hood, it makes sence to have them go back and forth in an alternating sequence. This projects an aura of confidence in the band and their songs, the two go back and forth, raising the stakes on each song. Cooley has always specialized in the balls out swagger of tracks like album opener "Shit Shot Counts" and "Hearing Jimmy Loud", but he's also always had a knack for some good old fashioned southern storytelling, that often ends with a boozy tear, like "Primer Coat" and "Natural Light". "Made Up English Oceans" is another winner, and to the best of my knowledge is unlike any other song in their canon. It's built on a simple acoustic strum, with a driving drumbeat, the guitar repeats over and over again and jackhammers itself into your head, all the while getting more ominous as it goes on.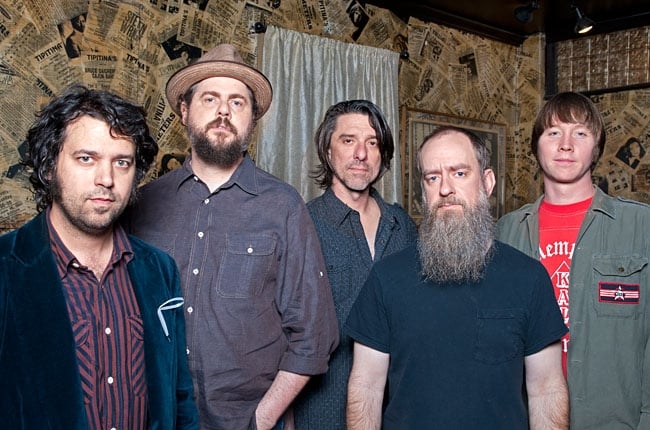 Hood's tracks are typically excellent, and provide the two high points on the record for me. "Pauline Hawkins" is an instant classic. With lines like "Don't call me your baby, I won't answer, love is like cancer, and I am immune" this one is destined to be cranked on my hi-fi all year long. The Layla-esque coda hits the spot on this one as well, I love hearing the guitars weave in and out and bounce off of each other, pushing the song to new heights. Album closer "Grand Canyon", which was written as a remembrance of dear friend and crew member, Craig Lieske, is at once instantly familiar and utterly unforgettable. Play this one loud and sit in stunned silence as the band takes you into its loving embrace, and reminds you not to take anything for granted. It's a fitting end to a stunning record.
Just about every Drive-By Truckers album has been a classic, and this is another. But English Oceans is different; this is the sound of a band who has already hit their peak, hitting yet another peak, only they never really had any lulls, so how in the hell does that even make sense? It doesn't I suppose, but that doesn't matter. The record is great, but at this point, you shouldn't be surprised by that. I recommend you get this record, memorize it, then head on out to The Rock Show. I'll see you over on Cooley's side.
Key Tracks: "Grand Canyon", "Pauline Hawkins", "Made Up English Oceans"
Artists With Similar Fire: Slobberbone / Guided By Voices / Son Volt
Drive-By Truckers Website
Drive-By Truckers Facebook
ATO Records
– Reviewed by Kevin Poindexter

Latest posts by Kevin Poindexter
(see all)