Sharon Jones & The Dap-Kings


Give The People What They Want
Daptone Records [2014]



Fire Note Says: Sharon Jones & The Dap-Kings return with another soaring spoonful of soul!
Album Review: Here is a record that was scheduled to release last August but right at the time Daptone Records announced its arrival Sharon Jones was diagnosed with cancer. Clearly life put things on hold but Jones had her last chemo treatment on New Year's Eve and is ready to get things rolling. After one spin of the soul filled Give The People What They Want there will be no problem with that goal because it is a smokin' 34 minute ride.
Like her previous records, Give The People What They Want soars because of Jones confident siren vocals. More so than ever she owns this record, especially when she sings on songs like "Get Up and Get Out" where the chorus tells the entire story. Also the first two tracks on the album, "Retreat!" and "Stranger To My Happiness," are two of the strongest songs she has on record with their upbeat pulse and celebratory arrangements. She literally pulls the "soul" out of these songs and zaps it right into the listener.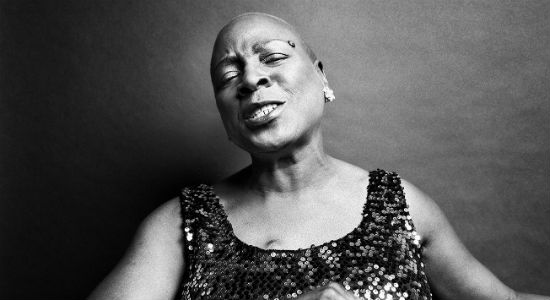 Of course, Sharon Jones is not alone here as The Dap-Kings have a huge presence. Rightfully so, considering they share name credit but their complex horn arrangements and groovy backdrops compliment Jones' voice down to the last note. Each song structure feels free and loose but the reality is that the Dap-Kings flawless performance is the glue that makes everything work.
Give The People What They Want will keep fans loving this band. It is another timeless sounding record in their catalog that just embraces their classic soul sound. Sharon Jones does not try to hide or back away from this sound and even at a risk of not winning over new fans the group delivers what they do best. I respect that and Give The People offers such a different listen than most indie music out there right now and I fully recommend giving this new record a spin!
Key Tracks: "Retreat!", "Stranger To My Happiness", "Get Up and Get Out"
Artists With Similar Fire: Marva Whitney / Curtis Mayfield / Mavis Staples

Sharon Jones & The Dap-Kings Website
Sharon Jones & The Dap-Kings Facebook
Daptone Records
– Reviewed by Christopher Anthony

Latest posts by Christopher Anthony
(see all)