15-60-75 (The Numbers Band)


Jimmy Bell's Still In Town
Exit Stencil Recordings [2013]




Fire Note Says: Unsung Ohio heroes score huge with reissue of Jimmy Bell's Still In Town.
Album Review: "We're not interested in making hits," said 15-60-75 (The Numbers Band) main man Robert Kidney, "we're interested in making history." It only get better and weirder from there. 15-60-75 (The Numbers Band) is a group of music nerds for the music nerd—I can say that because I'm a music nerd myself. Part of Ohio's "Akron Sound," 15-60-75 sprung onto the scene in the late 60's and early 70's with a sound that's been called "un-definable" or "too original." With members Robert Kidney, Jack Kidney, Terry Hynde (yes, that Hynde), Tim Maglione, David Robinson, Michael Stacey, and Drake Gleason, these gentlemen, especially in the late 60's, took experimental blues rock to the next level.
That said, it's both a shame and a blessing that The Numbers Band is as obscured as they are, and many fans speculate that the band has remained obscure by choice. When you discover The Numbers Band for the first time you gain a satisfaction that such originality can remain wholesome and intimate for so long. Newly reissued, 1976's debut Jimmy Bell's Still In Town is a shapeshifting glory that still remains cohesive and cool throughout its duration.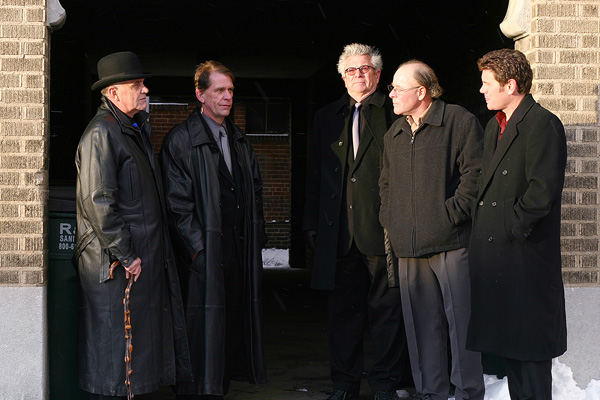 I've had an awful lot of build up, so what makes this album so great? It's the fact that—if you listen—you're sure to be drawn in by something. Tracks like the paired-up "Animal Speaks" and "About the Eye Game" show Robert Kidney's unfailing style. Kidney commands a lyrical intensity—similar to David Byrne—that carries an un-shrugging cool that could come from beat poets like Allan Ginsberg or Jack Kerouac. Each song, no matter how long it sprawls becomes fixed in an intoxicating yet uncontrollable groove. Tracks like "Narrow Road" show that Kidney has no problem letting other members steal the show. While Robert Kidney is also a guitar player, Michael Stacey is quite the talent as well, showcasing hip-shaking grooves with Jack Kidney's harmonica in tow. "Thief" still blends easily with the groove, but the brass that lurks under the steady construction calls to mind good Chicago with ease.
A great addition to the reissue of Jimmy Bell's Still In Town comes in the form of three newly added tracks recorded around the same time. There's my personal favorite, a Robert and Jack duet of Bo Diddley's "Who Do You Love," an ever energetic "Drive," and finally "Keep A-Knockin' (But You Can't Come In)." Aside from all that is good about 15-60-75 (The Numbers Band)'s Jimmy Bell's Still In Town, what's most surprising is that a 7 piece band can sound so tight and unified. This is an easy pick up for someone who's into blues, prog, or all-around experimental music. 15-60-75 (The Numbers Band) could have easily fallen out of the future-past, but thankfully they didn't; around here it's anything but a by the numbers experience.
Key Tracks: "Animal Speaks/About the Eye Game," "Jimmy Bell," "Who Do You Love"
Artists With Similar Fire: King Crimson / Chicago / King of Hearts
15-60-75 (The Numbers Band) Website
Exit Stencil Recordings
-Reviewed by Christopher Tahy

Latest posts by Christopher Tahy
(see all)