Rose Windows


The Sun Dogs
Sub Pop Records [2013]



Fire Note Says: Take Rose Windows as your spirit guide, for they will not lead you astray.
Album Review: Sub Pop has acquired quite an eclectic catalog of artists over the years. Nirvana, Mudhoney, Fleet Foxes, The Postal Service, METZ, The Shins, Wolf Parade; it's no wonder that they felt the need to acquire spirited drone psycho-folkers Rose Windows for their debut The Sun Dogs. The key to Rose Windows is their familiar sound palettes applied in epic, grand, and beautiful ways. A dash of Doors-like organ patterns here, some Sabbath style riffs there, and the cultural/musical influences of Native Americans, Persians, and Eastern Europeans. You may say, "That sounds a lot like every inspired psych folk band I've ever heard about." But the other necessary part of the equation is producer Randall Dunn. Dunn has been behind the boards for the likes of Sunn O))), Boris, Earth, and Master Musicians of Bukkake. Criticizing bands like pych-stoners NAAM or ye ol' proggers Wolf People for their weaker productions styles, Dunn is a perfect fit and gives Rose Windows just the right amount of punch, clarity, weight, and purpose for The Sun Dogs' wide open grandeur.
Right from the start you'll notice that Rose Windows is trying to build a mood with The Sun Dogs. "The Sun Dogs I: Spirit Modules" eases you in almost like a brooding, subtle, theatrical prologue. "Native Dreams," their initial release to get people stoked for the album, did exactly that for me. With its flute that calls out to the forest goddess, mystical organ leads drenching Sabbath style guitar bends, and instrumentation that paradoxically whirls like the gentle ferocity of a dervish. That's not all, though, and as the song streaks toward the end an epic finish is achieved. Mixing aggression, chunky heft, and an impeccable percussive production that gives the kick drum a noticeable edge, this six-minute monster is quite the shining moment. "Walkin' With a Woman" gives more focus on mood building and classic motifs as a devil is met at the crossroads. Rabia Shaheen Qazi has already given an impressive vocal showcase, but here her lurching approach makes more of an impression. When combined with an easing going blues chug her vocals easily coil themselves around the pleasure centers of your brain. "This Shroud," a nine-minute behemoth of snake sitar and guitar with a dark interplay brings to mind ideas of blown-out riffs, acoustic punch, foreign melodies, and menacing mysticism; it's truly engaging form beginning to end. Another big surprise is how captivating final track "The Sun Dogs II: Coda" really is. With vocal trade offs, "Kashmir"-esque string arrangements, and docile piano placements, The Sun Dogs raises a glass to toast itself off.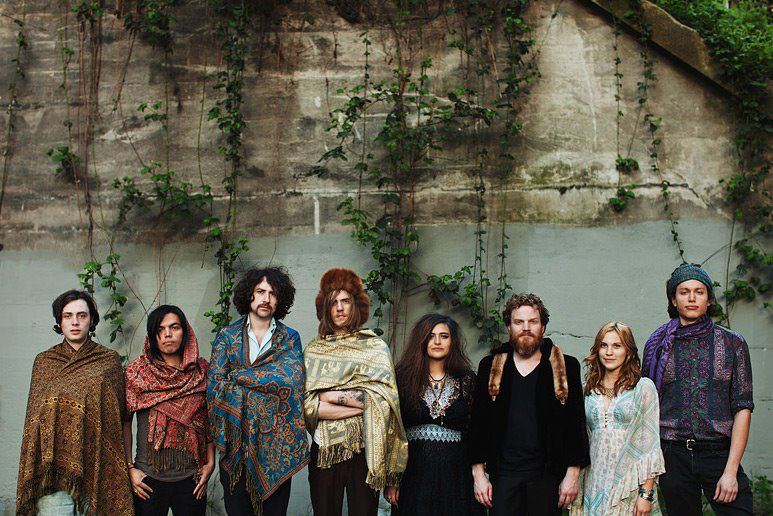 It's been along time since I've been captivated like this by an album. Going back and forth in my head and listening to it as often as I have, Rose Windows has coaxed a love for The Sun Dogs out of me. With it great production dynamics, honed focuses on mood and atmosphere, and narcotic heavy grooves. With The Sun Dogs Chris Cheveyo's Rose Windows have coaxed a distinct newness out of old classics.
Key Tracks: "Native Dreams", "This Shroud", "The Sun Dogs II: Coda"
Artists With Similar Fire: Black Mountain / Magic Trick / Books On Fate
Rose Windows Facebook
Sub Pop Records
-Reviewed by Christopher Tahy

Latest posts by Christopher Tahy
(see all)