Peter Bjorn And John


Breakin' Point
INGRID [2016]


Fire Note Says: Breakin' Point was the power pop hit of the summer that never happened.
Album Review: Whether intentional or not, most artists end up wearing their hearts on their sleeves, that is telling us what they love, what they care about. Even the most cynical sell-out music ends up telling us what the artist cares about most, could be success, might be love and approval, or maybe they are just trying to put together enough income to have a life. As for Peter Bjorn and John, the Swedish indie pop band who've been recording since the early 00's, it's obvious on Breakin' Point that they have their hearts planted firmly in the music of the 1980s.
Yeah, I'm talking 80's techno-pop in the vein of ABC, a-ha, Orchestral Maneuvers in the Dark, Squeeze, and Crowded House, the kind of music you'd find on the backside of a John Hughes' movie soundtrack. Peter Bjorn and John's latest album, no. 7 for them, is an unadulterated love song to that bygone era, and yet as if by magic it feels like a fun, summer release right here in 2016. In theory it shouldn't work, but strangely enough it does, thanks to memorable melodies, bubblegum dance pop rhythms, and smart mix of keyboard synths and the traditional guitar, bass & drums.
Peter Bjorn and John may have been one of indie rock's "best kept secrets," but they've had a couple close calls with fame and fortune. In 2006, "Young Folks," the primary single from their Writer's Block album, which featured guest vocalist Victoria Bergsman of The Concretes, was early in the in the pilot for the TV show, "Gossip Girl," and British music mag NME named it the second best single of that year. In 2009, they played Lollapalooza in Chicago, and in 2011 they opened for Depeche Mode's world tour. But, lack alas, they remain less well known than the music deserves.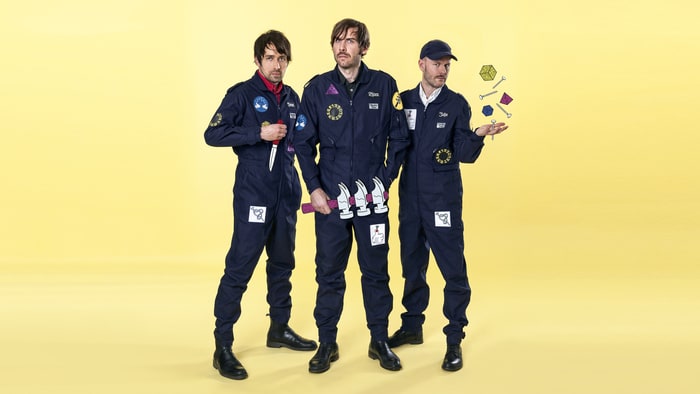 After some more experimental projects – Writer's Block was a "concept album" – the trio have seemed to have realized they are at their best channeling the energy of the 80's in their own spirited brand of power pop. So strong are the echoes of the spirit and sounds of those retro hits that you could add Breakin' Point to a playlist dominated by music from Rhino Records' like, Omigod! The '80s Pop Culture Box (Totally) and it would fit right in.
Along with the kitschy computerized voice in the opening "Dominoes," with its admission in the lyrics that they "go snap, crack, and pop" to borrowing a keyboard melody from ABC in "Love Is What You Want" and co-opting a classic rock chord progressions in "Do-Si-Do" and "Pretty Dumb, Pretty Lame," PB&J give new meaning to "found object" artistry. They pick up something that's been lying around for a few decades, currently unused, and repurpose it in their own music. What was old is new again. Breakin' Point was the power pop hit of the summer that never happened, but it's not too late to get in on the party.
Key Tracks: "Do-Si-Do" / "What You Talking About?" / "Hard Sleep"
Artists With Similar Fire: Squeeze / Split Enz / Crowded House / Depeche Mode

Peter Bjorn And John Website
Peter Bjorn And John Facebook
INGRID
– Reviewed by Brian Q. Newcomb
Latest posts by Brian Q. Newcomb
(see all)