Passenger Peru


Passenger Peru
Fleeting Youth Records [2014]



Fire Note Says: A stunning debut from Brooklyn duo, Passenger Peru!
Album Review: Every now and then a record comes from out of nowhere and takes your breath away. Perhaps you have been listening to records that are just ok, nothing bad, nothing great, and then you hear something that's kinda great, and you think "YEAH, that's why I listen to music!" Passenger Peru is that band, and this is that album, the album that makes you want to keep listening to it and push everything else to the side. I don't have enough time in my life to spend with average records; I want to spend my time with records like this!
Passenger Peru is the work of Justin Stivers and Justin Gonzales. Stivers is best known for his work on The Antlers masterwork, Hospice, but from this point forward, I will now proclaim him as best known for his work on this album. Passenger Peru bears very little resemblance to that band, and sounds more like a less psychedelic and more rock influenced Animal Collective. That's not to say that the songs on Passenger Peru are not psychedelic, tracks like "Life and Death of a Band" most definitely are, but it's more of a MBV infused psychedelic jam. In fact there is a cover version of My Bloody Valentine's "Don't Ask Why" included as a bonus track. Lead single "Heavy Drugs" is the key track here, and a great entry point into this band. Dropped dead center in the album, the rest of the album appears to revolve around it's awesomeness like it's the sun. But don't let the sunshine pop fool you, this band isn't afraid to dive headfirst into the darkness, which they do throughout the album, and it's that contrast between the light and the dark that makes this such a great record. "In the Absence of Snow" is a hard charging slice of indie rock that makes effective use of the loud/quiet/loud dynamic. "Health System" is built on heavy bass and guitar riffing, before settling into its slower dark groove. "Health System" is also a great segue into the second single from the album, "Dirt Nap" which is another catchy song, though of a certainly much darker subject matter as its title would suggest.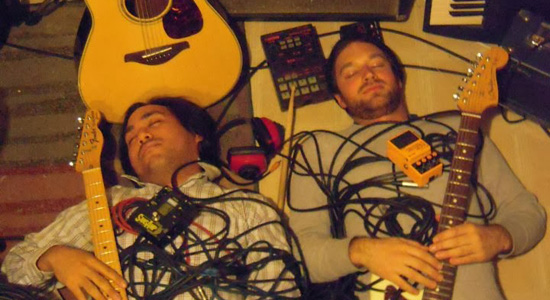 Passenger Peru is full of catchy pop moments combined with long jams and psychedelic grooves. In an earlier time, these guys would have slotted in nicely with The Elephant 6 collective, as they have that kind of feel. But this is music for now, and the future, not the past. Give this band a listen, you won't be disappointed.
Key Tracks: "Heavy Drugs", "Dirt Nap", "Life and Death of a Band"
Artists With Similar Fire: Animal Collective / My Bloody Valentine / Olivia Tremor Control

Passenger Peru Website
Passenger Peru Facebook
Fleeting Youth Records
– Reviewed by Kevin Poindexter

Latest posts by Kevin Poindexter
(see all)