Panda Bear


Panda Bear Meets The Grim Reaper
Domino Records [2015]




Fire Note Says: Panda Bear's latest is more accessible and tuneful.
Album Review: Animal Collective and one of its core members Noah Lennox have been on the cutting edge of indie music for the past 15 years. Lennox performs as a solo act under the name of Panda Bear; Panda Bear Meets The Grim Reaper is his own fifth studio release. The sounds are still distinctively Panda Bear this time around, but there also seems to be a greater emphasis on tunefulness and harmony than in past releases. As a result PBMTGR is one of the more accessible releases and well worth a listen.
For those unfamiliar with Panda Bear his music falls into the ambient or electronica genre. There are few soaring choruses and song construction is patchwork and meandering. The music can be difficult to get used to at first but once my mind got out of the verse-chorus-verse-chorus rut the album came to life. This took about five listens (damn conditioning!), which may be more than what you'd like to invest in an album. The payoff for me was worth it.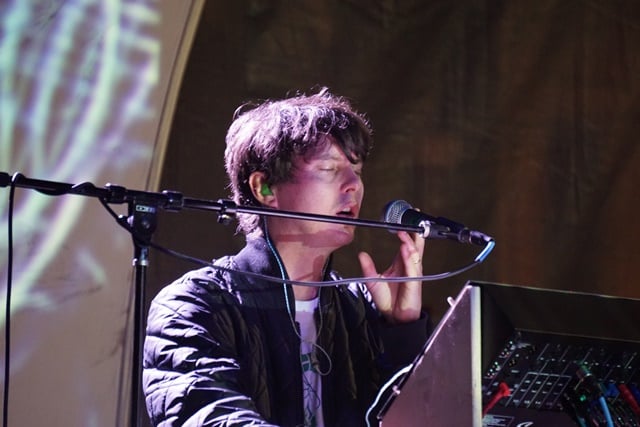 Some songs grabbed me immediately. "Crosswords" is a great entry point to PBMTGR; if you find that this one interests you should definitely keep delving into the sonic morass of the album. Its synthesizers provide a hook that permeates the song, while Lennox's vocals are spry chants. "Boys Latin" has another great vocal hook that works as its own instrument; those vocals are indecipherable most of the time. Rather than rely on synthesizers or percussion said vocal hook forms the backbone of "Boys Latin." It's an interesting choice but you would expect as much from Lennox.
The second half of the album is much gentler than the busy first half. "Tropic of Cancer" has a beautiful, hypnotic melody that serves as a palette cleanser for the rest of PBMTGR. The breadth of songs is impressive and makes the album come together as a whole. It's easy to load up Panda Bear Meets The Grim Reaper and either let it serve as background music or as the focus of your attention. Either experience is rich and rewarding should you be willing to pay the slight entry fee to enter into Panda Bear's world.
Key Tracks: "Boys Latin" / "Crosswords" / "Tropic of Cancer"
Artists With Similar Fire: Animal Collective / Caribou / Atlas Sound
Panda Bear Website
Panda Bear Facebook
Domino Records
-Reviewed by Matthew Heiner

Latest posts by Matthew Heiner
(see all)