Nirvana


In Utero (20th Anniversary Super Deluxe Edition)
Universal Music [1993; 2013]




Fire Note Says: A classic turns 20!
Album Review: It is interesting how different Nirvana's third LP, In Utero, sounds 20 years after its release. Not different like I have never heard things before but this album stands taller today without any of the baggage that was attached to it in 1993. Most of the pressure of course was the result of Nevermind's (1991) smash success and In Utero was the first record that Nirvana released that everyone was now watching. Grunge was in full swing, the major label was salivating, radio couldn't wait to play the first single, and MTV couldn't wait to air the video (remember those days). It could have been a recipe for disaster but art won over radio singles and In Utero is better for it.
This 20th Anniversary 3CD/1DVD Super Deluxe Edition features more than 70 remastered, remixed, rare and unreleased recordings, including B-sides, compilation tracks, never-before-heard demos and live material featuring the final touring lineup of Cobain, Novoselic, Grohl, and Pat Smear. This box set also includes a DVD of the complete "Live and Loud" show from Seattle's Pier 48 on December 13, 1993 plus over 35 minutes never-before-released bonus material. Wow you say – that is an earful of Nirvana. One would have thought that most of this would have surfaced before now but several items here help make this Super Deluxe version worth the price of admission.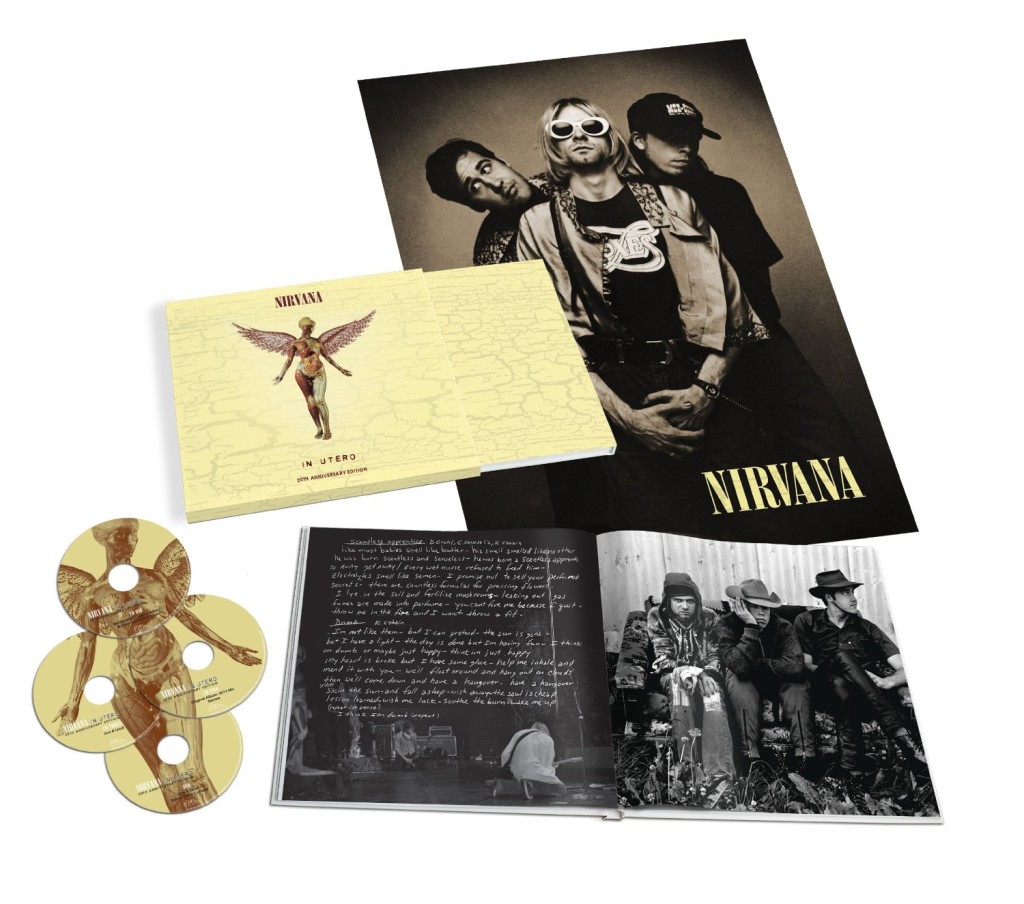 You might think hearing a new 2013 mix of the entire album would be a draw but I think it was one of the least interesting things included in this set. Instead, I am always about the more unique pieces that a set like this includes. Give me the music behind the music sort of offering. I think the Super Deluxe version does just that. There are some great sounding demo/instrumental tracks like the bass heavy "Radio Friendly Unit Shifter" that just rocks out for a shorter 2:40 running time and the stroll of "Dumb" is fresh and vibrant. There is also the demo version of "All Apologies" which turns out to be one of the most countrified songs in Nirvana's catalog while Kurt's vocals are buried in the back. "All Apologies" makes another noteworthy appearance here as the original Steve Albini mix makes the lineup and it is a much rougher version of the song with most of Cobain's vocals buried in the noise. It really is what you thought Albini would do with the song and in this case, I am glad Scott Litt smoothed it over because the album version is now so classic. You also will find the original Dave Grohl solo demo of "Marigold" here, from December of 1990, which is the earliest Grohl composition/recording ever released. It also is the only song that was recorded by both Nirvana and Foo Fighters as it appears on Foo's Skin & Bones (2006). The full Live & Loud show is a great addition as it showcases how the In Utero tracks fit into the set list seamlessly and the DVD is a reminder that Nirvana could put on one hell of a rock show.
Fans should really enjoy this super set. The casual listener might not want to go all in but for the full Nirvana experience this set is where it is at. In Utero as an album shines even brighter today because you really can just absorb the music. I think that the loss of Kurt so soon after its original release never let In Utero truly spread its wings. I always have liked that it was not Nevermind part two and that it seemed like it was anti everything that made Nirvana big. Even Wal-Mart had to have a special copy because of "Rape Me" and pictures of fetuses on the back artwork. I don't think anyone realized how special In Utero was at the time but after 20 years, it has not only aged gracefully but now should be a standard listen right next to Nevermind!
Key Tracks: "All Apologies (Demo)", "Radio Friendly Unit Shifter (Demo/Instrumental)", "Marigold (Demo)"
Artists With Similar Fire: Soundgarden / Mudhoney / Paw

Nirvana Website
Nirvana Facebook
Universal Music Group
– Reviewed by Christopher Anthony

Latest posts by Christopher Anthony
(see all)