FUZZ


FUZZ
In The Red Records [2013]


Fire Note Says: Segall continues his wild ride with proto-metalers FUZZ!
Album Review: As a musician Ty Segall isn't one to shy away from being prolific. He released three albums alone last year: Goodbye Bread; the explosive Ty Segall Band's Slaughterhouse; and the best of his 2012 releases, Twins. As 2013 rolled around Ty only scoffed in it's face, releasing the personal and emotional Sleeper—one of the year's best for sure. Meanwhile, in the background it seems Ty was assembling his trippy trio of fuzz faithful, FUZZ. A cynic might take this as a heady overextension of showmanship; when you have a work ethic that almost borders on the Pollard-ian school of thought (not quite, but close), it's easy to make that judgment call. But the fact that Ty's outings are all in the pretty good to great range—that's something different entirely. Ty Segall (Drums, Vocals), Charles Mootheart (Guitar), and Roland Cosio (Bass) assemble their long-haired mops to pay homage to fuzz and all it fantastical uses: "Electric Funerals;" proto-metal; stark black, smoke filled vans with an alien cosmos and a tempting sorceress painted on the side; and all the other vast associations that one can come up with.
The fun of FUZZ is everyone's ability to pass the torch (pun intended). Drawing inspiration from the more esoteric regions of heavy metal pre-history, this trio of weirdo high school acquaintances knows how to craft a song, keeping their influences close and their fuzz closer. Mootheart's guitar intro for "Earthen Gate" seems to take cues from a low-key Baroness or The Sword. But once everything kicks into high gear FUZZ shows they're out to take no prisoners. "Sleigh Ride" gave us some insight into this self titled debut (TFN 7" Feature here). It was the only track to appear on the self-titled out of three 7" releases, taking heavy 60's fuzz embers and turning them into a molten psyched-out slay ride. "What's In My Head" might first draw some comparisons to Nirvana with a soft guitar, growling bass, and Ty's Cobain-like croon. But it's actually one of the more triumphant tracks on the album: Ty's drumming and vocals remain steady with the catchy chorus shout of "What's in my head?" Mootheart provides a glimpse back to Slaughterhouse employing a climbing, sweet octave scale tactic that an effective nostalgia play.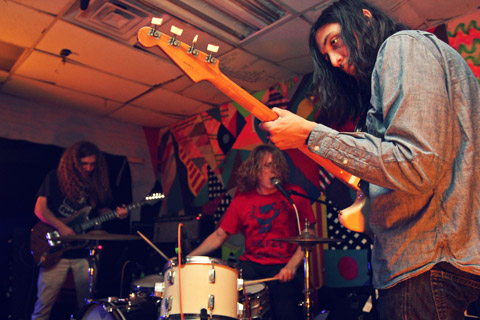 Oxymoronically, "Loose Sutures" is where the album really starts to tie itself together. During the six-minute blast of loud and soft—a tactic grabbed from Sabbath's Paranoid—Mootheart is unleashed once again in glorious fuzzy fury. Ty's presence as a stick man really shines through, and Cosio's "N.I.B." bass tribute is enough to make any metal fan swoon. "Preacher" actually comes across as being one of the albums darker, straightforward and ferocious songs. Ty condemns with the lyrical gem "The life you lead, leads you to me, I'm the Preacher." "Raise" takes a few cues from kaleidoscopic psychers Tame Impala, nodding toward "The Bold Arrow of Time." Finally, FUZZ reminds us one last time what they're all about with "One." Almost the longest track on the album, it's an instrumental frenzy that burns the album down to its chewy, fuzzy end.
The goal of FUZZ and their self-titled debut was never to be innovative. I get the inkling that they listened to a lot of Paranoid and said lets make an album out of "Electric Funeral." That's me not being dismissive, that's me giving praise—each string bend rings with Hendrix or Lloyde, every vocal rings with an early Ozzy tinge, and bass notes ring in the key of Dickie Peterson and Entwistle. While it might not be the album of the year some had hoped for, lacking some diversity and cohesion of past works, these guys can make Thee Oh Sees seem squeaky clean at times. One thing they are good at is writing an infectious hook laced with destructive desire. For grimy fans of fuzz like myself, there are plenty of reasons to light up this album again and again.
Key Tracks: "What's In My Head," "Loose Sutures," "Raise"
Artists With Similar Fire: Witch / Blue Cheer / Wicked Lady

In The Red Records
-Reviewed by Christopher Tahy

Latest posts by Christopher Tahy
(see all)