New Bums


Voices In A Rented Room
Drag City Records [2014]



Fire Note Says: You should be ecstatic over the beautifully well-crafted debut full-length album from New Bums.
Album Review: New Bums are a two-man duo made up of Donovan Quinn (Sky Green Leopards) and Ben Chasny (Six Organs Of Admittance). Their debut full length Voices In A Rented Room was released February 18th on Drag City Records.
This record showcases a keen focus on songwriting as a skill and beautiful delicate guitar playing to boot. Fans of John Frusciante's solo records such as Curtains will enjoy the simplistic and tasteful guitar leads that sparsely appear on songs like "The Killers and Me." Most of the songs have a timeless sense to them and could have easily have been written anytime between 1960 and today. There is an indie rock Simon and Garfunkel vibe to it. Trust me when I say that is a good thing.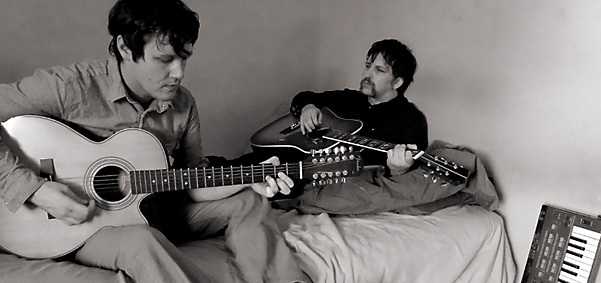 The opening track "Black Bough" has a strong resemblance to "Fade Into You" by Mazzy Star. On the song "Your Girlfriend Might Be A Cop," they sing "She looks at me like a thief, like she knows all my crimes, and could bust me anytime." They summoned the great T. Rex on "Your Bullshit". The opening riff repeats until the 2 min mark and then the lead guitar is finally unleashed! If Johnny Cash and Black Rebel Motorcycle Club had met in a dark black studio this song would have been born.
Voices In A Rented Room is very cohesive and sounds like a great album should sound. You can't listen to one track at a time without wanting to hear the one that follows. If this record sells as good as it deserves we should be hearing plenty more from New Bums in the future.
Key Tracks: "Black Bough" "Your Bullshit", "Your Girlfriend Might Be A Cop"
Artists With Similar Fire: Girls / John Frusciante / Ugly Casanova

New Bums Website
Drag City Records
– Reviewed by Joe Eversole