Meatbodies


Meatbodies
In The Red Records [2014]


Fire Note Says: Meatbodies are your next garage/psychedelic adventure.
Album Review: If you are addicted to all things Ty Segall then Meatbodies self-titled debut was already on your list. If you have been a casual fan of Ty you probably have already heard some of Meatbodies players and just didn't know it. Meatbodies leader, Chad Ubovich, is also the guitarist for Mikal Cronin and the bassist in FUZZ with Ty Segall. You also might remember that Chad and the Meatbodies were the B-side last year with Ty on the seventh release in the LAMC 7" Series from Famous Class.
So with all of that close knit band business going on Chad now has finally released his own thing and it completely stands up to all expectations. The record is a true blend of all the artists he has worked with and then adds in their own Meatbodies twist. That twist matches a slightly odd (in a good way) vision with Meatbodies own version of garage, psychedelic, metal and punk rock mix. This slightly topsy-turvy tidbit comes at you right from the opening almost minute instrumental track "The Archer." It is a psychedelic floater of a tune that strays into an ending space-age sound that for all purposes should not fit and might confuse people except for that it delivers you into the riffing and shredding "Disorder" that is full of overflowing energy which sticks. "Mountain" is up next and it begins how you might predict with a ferocious guitar and drum attack but the over four minute track has very little vocals and just lets the instruments do the talking which includes a really slowed down psychedelic ending. "Gold" is another favorite of mine from this record that stands up with its aggressive song structure and wall of noise that with layered vocals is a full blown rock song. The cool thing is that the song ends with a spectacular ten second spiraling guitar that just burns out and leaves an exclamation on the track.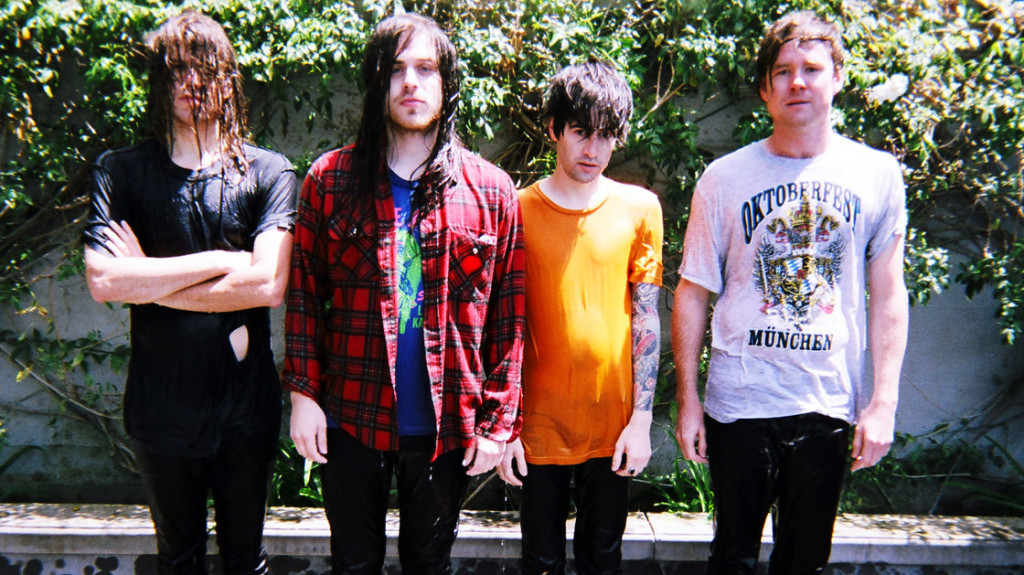 Fans of this up and coming group of players should pick up Meatbodies without thinking. It is another great addition to the collective of artists' resumes. I would have liked to hear a few more of Ubovich's reverbish vocals up front and center because he has the chops but I can totally respect and enjoy this more guitar fueled approach. Meatbodies has just enough distinct moments and characteristics from Chad's other projects that it does stand out. It is a solid listen that rocks more than sits and that is a good thing. It also achieves a more novel sound as it will change genres mid-track and keeps you guessing. I like records that do this and keep you on the edge. Meatbodies also establish themselves as a true brand to follow moving forward and just like Chad Ubovich's other projects, Meatbodies output will be on my radar consistently from this day onward!
Key Tracks: "Disorder" / "Gold" / "Tremmors"
Artists With Similar Fire: Ty Segall / Thee Oh Sees / FUZZ
Meatbodies Facebook
In The Red Records
– Reviewed by Christopher Anthony

Latest posts by Christopher Anthony
(see all)