Luke Winslow-King


The Coming Tide
Bloodshot Records [2013]



Fire Note Says: He may be originally from Cadillac, Michigan but Luke Winslow-King has New Orleans firmly running through his blood!
Album Review: Have you ever listened to a record that doesn't blow you away but yet it sticks? That is exactly my feeling on the Bloodshot Records debut and third full length from the jazzy Luke Winslow-King titled The Coming Tide. The album takes you on a stroll through his adopted hometown of New Orleans and its history of early 20th century jazz, folk, ragtime, Delta blues and Southern Gospel.
That description alone should tell you how this album plays out as it simply features Winslow-King singing his tunes of optimism, love and realistic take on life in general. All of this is supported by his bottleneck slide guitar and supporting cast of sax, trombone, organ, trumpet, piano and a little washboard. In fact, the musicianship on this album is impeccably good and even though Luke steers the songs vocally, the instruments get the listener into this laid back Southern vibe and let you immerse yourself into each song. Another big factor and success on The Coming Tide is the tag-team harmonizing with Esther Rose. Her presence is heard right away on the opening title track that has a tempo and style much like "When the Saints Go Marching In" while their vocals blend and play off each other making for a very likable pair that continues on through the album.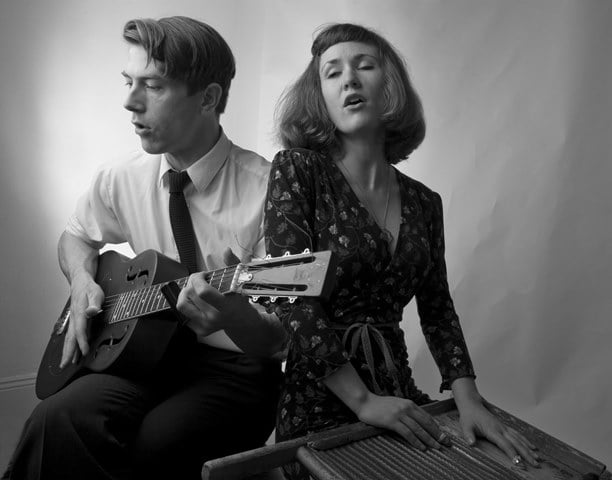 The Coming Tide has a very retro feel to it that won't be for everyone out there as the record is an acquired taste. It is well done and an album that you can just let play in the background of a party and I guarantee several people will instantly ask "who is this?" Luke Winslow-King's voice is instantly inviting but I felt myself drawn towards the tracks where Rose plays a bigger role like the horn driven "I've Got The Blues For Rampart Street." It is also easy to get lost in the New Orleans sound on The Coming Tide with the enlisted array of horns but Winslow-King can also let off some dirty dark blues such as on the closing cover of Rudy Clark's "I've Got My Mind Set On You" that is superb and memorable. It is the perfect ending to a solid album because it makes you want to take The Coming Tide for one more stroll around the French Quarter and possibly not stop with its truly timeless appeal!
Key Tracks: "The Coming Tide", "I've Got The Blues For Rampart Street", "I've Got My Mind Set On You"
Artists With Similar Fire: Justin Townes Earle / John Boutte / Andrew Bird
Luke Winslow-King Website
Luke Winslow-King Facebook
Bloodshot Records
-Reviewed by Christopher Anthony

Latest posts by Christopher Anthony
(see all)