Kurt Vile


It's A Big World Out There (And I Am Scared)
Matador Records [2013]


Fire Note Says: Kurt Vile issues more tracks from the Wakin on a Pretty Daze sessions.
Album Review: Kurt Vile has had my ear since I first heard Constant Hitmaker in 2008. Each album has gotten better, culminating with this year's Wakin on a Pretty Daze (TFN Review), which found him working his stoner psychedelic groove to perfection. It's a Big World Out There (and I am Scared) literally picks up right where Wakin left off, or rather picks up the scraps from Wakin and presents them as an appendix to the album.
Of the seven songs on the record, three are different versions of songs on Wakin, "Wedding Budz", "Never Run Away" and "Snowflakes Extended". Two other songs are reprises of songs, so really there are only two new tracks on the ep, "The Ghost of Freddie Roach" and "Feel My Pain", which both could have easily been on the album. They are gentle acoustic driven songs that float along on a breezy stoner melody, which is sort of the Vile trademark. There is nothing groundbreaking on either song, but they are nice nevertheless. The ep holds together pretty well as a whole, it's a good listen, and is fairly easy to get through in one sitting, something that proved difficult to do with Wakin. While the sameness of his style can wear a listener out over the length of an album, an ep feels just about right.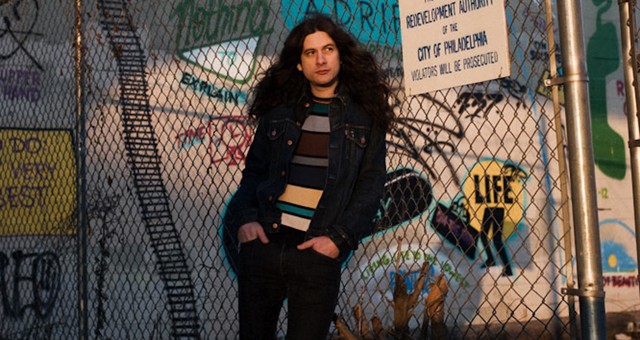 Musically I would give this closer to a four, but I really can't figure out the point to the ep. We really already have most of this, so why not just release the unheard tracks and sell it as a single? There's too much padding on this one for me to recommend it to anyone but the most diehard of Vile collectors. But casual fans should definitely download the two unheard tracks, and tack them on the end of your Wakin on a Pretty Daze as bonus tracks.
Key Tracks: "Hunted Down", "Entering", "Kingdom of Come"
Artists With Similar Fire: Led Zeppelin / Black Sabbath / Melvins
Kurt Vile Website
Kurt Vile Facebook
Matador Records
– Reviewed by Kevin Poindexter

Latest posts by Kevin Poindexter
(see all)