José González


Vestiges & Claws
Mute Records [2015]


Fire Note Says: José González's third album shows why he gives indie singer-songwriters a good name.
Album Review: José González has always been on the periphery of my music radar—"recommended if you like" lists, collaborations or tours with artists I'm more familiar with, or just word of mouth, he's someone I've always heard about but never actually heard in any substantial way. The Gothenburg, Sweden native has released three full-length albums (including this one) and several EPs under his own name since 2003, as well as releasing music with his band Junip. On Vestiges & Claws, González doesn't stray too far outside the indie folk mold, relying on confident songwriting, intricate guitar work, and his warm, inviting vocals to make his work stand out rather than gimmicks or production flourishes. It works.
González's songs are quiet and introspective for the most part, many never rising above mid-tempo, but the slow pacing helps the listener appreciate the craftsman-like quality of the arrangements. Closely-mic'd acoustic guitar strums weave in and out of each other, handclaps and subtle percussion keeping time, with the occasional cello or whistle adding additional textures. There are a few tracks that might qualify as uptempo, or at least a bit more energetic; there's "Let It Carry You," a fast-paced, rhythm-heavy track that slowly builds additional layers into the arrangement, and "Stories We Build, Stories We Tell," which rolls along with a hypnotic, bass (frequency)-heavy and slightly distorted acoustic riff that sounds almost like an outtake from Iron & Wine's Woman King EP. "Afterglow" mines similar territory with more prominent percussion and vocal harmonies, and "Leaf Off / The Cave" is probably the most upbeat track here, a dense combination finger-picked chords, clicking percussion and vocal overdubs that recalls 60s sunshine pop and folk.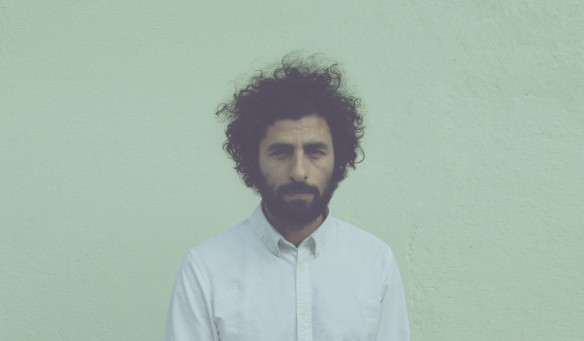 Most of the other tracks on the album are more contemplative, allowing González's vocal melodies to take center stage. The lyrics compliment the earthy, autumnal qualities of the music, with lots of nature imagery and references to life and relationships. Opener "With The Ink Of A Ghost" is heavy on the former, with lines like "Idle as it seemed, trudging through the mist / Following the creeksm erasing dim lines on the list / Eager to arrive, leaving footprints in the clay / reading rocks and vines, telling indigo from grey," while tracks like "Open Book" deal with the latter. "What Will" strays into philosophic/religious territory, asking, "What will it be / her legacy? / Faith in dogma / or reasoning? / What will it be / If all will is free / Refine our tools / and use her wings." But González's voice is the real draw here, his smooth tenor slipping into the songs and giving them staying power.
Indie singer-songwriters are a dime a dozen these days, but Vestiges & Claws aptly demonstrates why José González's stripped-down songs are miles ahead of the competition. Everything just falls into place—you get the feeling there's not a wasted note, and that each song has a clear identity and purpose that fit into the album's greater whole. Lots of musicians can write songs like these, but few can make them as consistently rewarding and entertaining over a forty-two minute album as González does here. If you're like I was and still haven't given Gonzalez a chance, Vestiges & Claws is a great excuse to do just that.
Key Tracks: "With the Ink of a Ghost" / "Stories We Build, Stories We Tell" / "Open Book"
Artists With Similar Fire: Nick Drake / Damien Rice / William Fitzsimmons
José González Website
José González Facebook
Mute Records
-Reviewed by Simon Workman

Latest posts by Simon Workman
(see all)