Grateful Dead


30 Trips Around The Sun: The Definitive Live Story 1965-1995
Rhino Entertainment [2015]


Fire Note Says: A beginners guide to the Dead live, but with enough surprises to attract long-time fans.
Album Review: 2015 is the Grateful Dead's 50th anniversary, and the band is celebrating their half-century milestone in a number of interesting (and at times frustrating) ways. In June and July the surviving members reformed with Phish's Trey Anastasio, sometimes-Grateful Dead-member Bruce Hornsby, and Ratdog/Further keyboardist Jeff Chimenti for "Fare Thee Well," a series of "final" shows (they've recently reconvened again—minus bassist Phil Lesh but with the addition of John Mayer—as Dead & Company). In addition to their yearly round of Dave's Picks archival concert releases and a new two-disc compilation of their studio recordings, the band also announced a massive 80-disc box set called 30 Trips Around The Sun containing 30 unreleased shows, one from each year the band was together. While that set's $700 price tag is prohibitively expensive for many (if not most) fans of the band, this smaller version is a much more viable option: a four-disc "sampler," it features one song from each of the 30 concerts in the big box along with the band's first ever studio recording, a take of "Caution (Do Not Step On Tracks)" from 1965.
Anyone remotely familiar with Dead's output knows that most fans claim the band's best work was done on stage, so an introductory live set like this one makes sense from that perspective, as does the strategy of covering the band's entire lifespan rather than cherry picking a few complete concerts (which would quickly balloon to 10 or 12 discs). While even four discs worth of Grateful Dead may seem like overkill for the curious, the set moves along at a steady pace and allows listeners to take in all eras of the band's sound, which changed considerably over the years (sometimes within the same year). And while it is slightly "budget" in presentation, it's still an attractive package, housed in a DVD-sized tri-fold digipak and accompanied by a decently-sized booklet with track-by-track liner notes by Jesse Jarnow.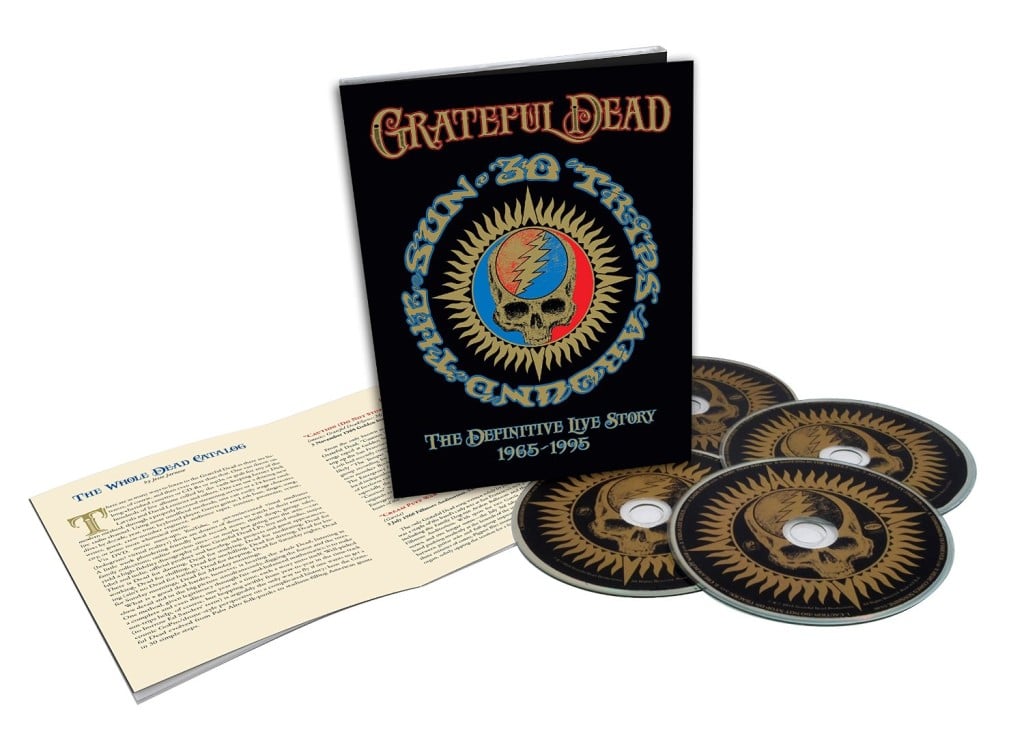 While fans will inevitably complain about what was left off a set like this, there are quite a few puzzling omissions in terms of song selection. There's no "China Cat Sunflower/I Know You Rider" pairing, no "Playing in the Band," no "Eyes of the World," not even a live take on "Truckin'." While those missing tracks might cause some Deadheads to automatically turn up their noses, the thirty-one tracks that are here do provide a pretty good—if very broad—overview of the band's career. The early blues and acid-soaked excursions are here (the '67 "Viola Lee Blues" and '68 "Dark Star" are particular highlights), as well as the early 70s blend of psych with folk and country ("Here Comes Sunshine" from '73 and "Franklin's Tower" from '75). Also present are late 70s cuts where the band started to get more funky (see "Scarlet Begonias" from '76 and "Shakedown Street from '81), and there are some surprisingly great performances from the 80s and 90s: there's an affecting "Comes A Time" from '86, Phil Lesh doing an interesting take on Robbie Robertson's "Broken Arrow" from '93, and an epic performance of "Morning Dew" from an '87 show at Madison Square Garden where Garcia brings down the house. The chronological sequencing doesn't quite feel the same as listening to a full show, but the trade off is the way you hear the band subtly change and morph their sound over the years—listening this way makes the drastic differences between '69, '74, and '87 Dead seem like a perfectly natural progression.
Is this the perfect introduction to the a Grateful Dead's live work? No—but it's a good one. Are long-time fans going to be completely pleased? Not entirely (too many missing classics)—but they'll still want to pick it up, especially since it contains a lot of songs that weren't performed all that often or not many versions of which have seen release (a '72 cover of Dolly Parton's "Tomorrow is Forever," for example, or an early take on "My Brother Esau" from '83). If you want to dive into the Dead's live material but don't want to track down a copy of 1999's similar chronological overview box set So Many Roads, or if you're already converted but want a nice collection to play on shuffle when you're not in the mood for a full show, you could do a lot worse than this 30 Trips sampler. It may not be as "definitive" as it purports to be (the 80-disc box has a more legitimate claim to that title, in my opinion), but it's a solid introduction and a fun listen too.
Key Tracks: "Viola Lee Blues (1967)" / "Franklin's Tower (1975)" / "Morning Dew (1987)"
Artists With Similar Fire: Bob Dylan / Allman Brothers Band / Phish

Grateful Dead Website
Grateful Dead Facebook
Rhino Entertainment
-Reviewed by Simon Workman

Latest posts by Simon Workman
(see all)