Föllakzoid


III
Sacred Bones Records [2015]



Fire Note Says: Föllakzoid successfully recreate the sound of 1970s German rock via modern-day Chile.
Album Review: I've been on something of a "krautrock" (more properly called "Kosmische Musik" or "German Space Rock") kick lately, and the new album from Chilean outfit Föllakzoid fits into my recent listening habits perfectly. Their new album,III may not be the genuine article, but it's close enough for my tastes. It has all the hallmarks of the genre's classic acts and albums: hypnotic "motorik" drums, pulsing bass, spacey layers of guitar, splashes of keyboards and electronics, and minimal vocals. If you're a fan of bands like Cluster, Ash Ra Tempel, Neu!, or Amon Düül II, you may have just found your new favorite band.
A four-piece consisting of Juan Pablo Rodrigues (bass/vocals), Diego Lorca (drums), Alfredo Thiermann (synth) and Domingo Garcia-Huidobro (guitar), Föllakzoid have been making music together since 2008 or so. And even though they hail from Chile, as the band's Sacred Bones Records bio notes, "they say that there is some sort of gravitational force that makes South America able to dialogue directly with other places, times, and dimensions," a claim that seems plausible based on their ability to channel their forerunners. The stylistic similarities aren't just good; they're uncanny—if I didn't know this was a modern day band from South America, it'd be easy to convince me this was the work of Manuel Göttsching, Michael Rother, or any other giant of 70s German cosmic music.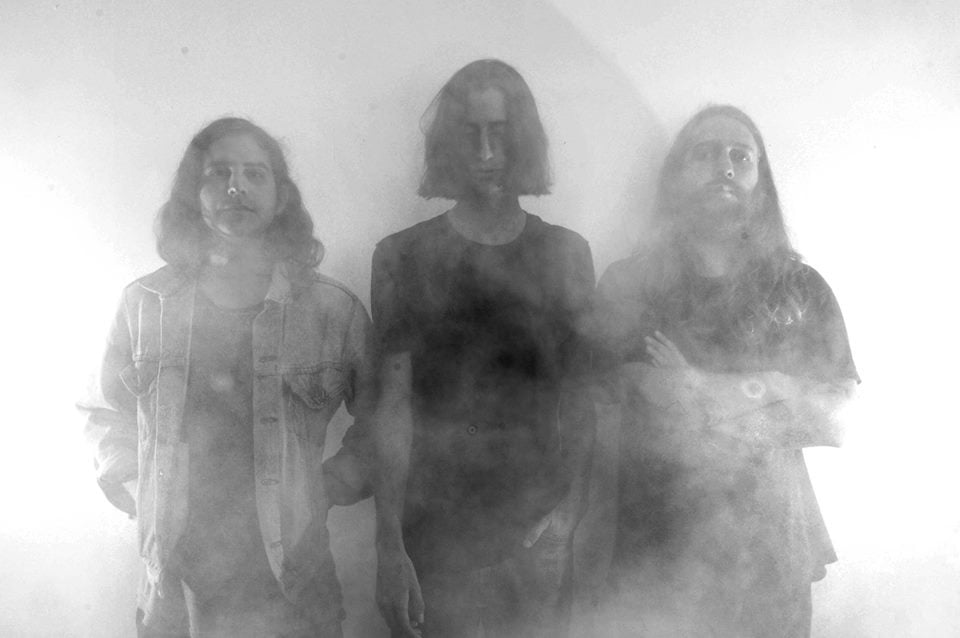 The album is split into four tracks, each clocking in at around eleven minutes in length. "Electric" slowly builds from Garcia-Huidobro's staccato guitar strums, adding hypnotic bass throbs and drum beats before Thiermann's atmospheric keyboards and Rodrigues's understated vocals finally come in, drifting in and out of the mix. The track slowly develops throughout, a trademark of all the songs here, subtly shifting the dynamics so that a particular instrument or riff is focused on, but all part of a larger cohesive whole. That's true of the album too—while each track is different enough from the others, the songs fade seamlessly into one another; the moody groove of "Electric" abruptly halts about a minute before it's actually over, replaced with minimal electronics that transition into the next track ("Earth"), a more sonically intense work that bears more than a few similarities to German electronic duo Cluster, especially their work with Brian Eno (in particular their 1978 collaborative album After The Heat). Percussive guitar work adds to the sense of momentum while the keyboards and bass give the track a darker tone. "Piure" is the next track and probably the weakest here, though only by a little. Beginning with dissonant guitar notes and electronic pops and squeals, the song eventually works its way into a slower, more ambient vibe that will be familiar territory to fans of the first Ash Ra Tempel album or (to make a more contemporary comparison) some of the more melodic moments of Boards of Canada's most recent album, though here there's a bit more distortion and a lengthier development of the track's themes.
Closing out the album is "Feuerzeug" (German for "lighter"), a track that will probably be many listeners' favorite, as it approaches more "conventional" psych-rock territory: a looping guitar riff floats over the rhythm section's back beat, with Rodrigues's hazy vocals weaving in and out of the music—it feels like Can crossed with Godspeed You! Black Emperor filtered through late 60s acid rock. While it might not be for everybody, Föllakzoid's III is a definite winner in my book: it gets everything right in terms of genre conventions and songwriting without becoming boring or leaning on clichés. If you're a fan of 70s German progressive/electronic or just want expand your sonic horizons, give Föllakzoid a try.
Key Tracks: "Electric" / "Earth" / "Feuerzeug"
Artists With Similar Fire: Ash Ra Tempel / Amon Düül II / Harmonia

Föllakzoid Website
Föllakzoid Facebook
Sacred Bones Records
-Reviewed by Simon Workman

Latest posts by Simon Workman
(see all)