The Cleaners From Venus


Volume 2 (Box Set)
Captured Tracks [2013]



Fire Note Says: The second set of reissues from The Cleaners From Venus is even better than the first!
Album Review: The first volume of the Captured Tracks reissue series of Cleaners From Venus was a game changer. It came wrapped up in a great back story, British DIY band makes their own lo-fi tapes and only sell them by mail order, sold hundreds but influenced many. It's the stuff of legends. The great thing about it was that the music was incredible as well. It was raw and experimental, and captured a charm that you just can't get in a big studio. Those first three albums, while not always great albums, were full of amazing songs. The Cleaners started making great albums with their next three albums, which is what Volume 2 focuses on. As a bonus, it also includes a 4th disc of outtakes, which work well as an album on their own.
The first of these three albums, In The Golden Autumn, sets the bar high for the rest of the set. All 12 of the songs on the record are incredibly catchy. "Renee" starts off sounding like a track from REM's Murmur, it has jangly guitar and a rock solid beat, it isn't until Martin Newell's voice hits that it becomes apparent that this is a British band and not some obscure REM track. "A Halloway Person" is another standout, if this one doesn't get your toe tappin' then there may not be much hope for you. It has a simple repetitive guitar riff that imbeds itself into your psyche. I still don't know exactly what A Halloway Person is, but the girl sounds like a hot mess…in a good way! In The Golden Autumn is full of charming songs that feature a good bit of wit, and more than their fair share of song craft. This is a great album.
The second album, Under Wartime Conditions, as the title suggests, features a darker vibe. "Hand of Stone" features a snarling guitar and is about as heavy as these guys are going to get, it also has the "shave and a haircut two bits" drum thing going on. It's almost like their version of "Who Do You Love". Three songs on the record, "Song For Syd Barrett", "Fracas on West Street", and "Johnny the Moondog is Dead" feature a Speak and Spell for those old enough to remember what those were. The Cleaners use it to introduce those songs before the actual music kicks in, it's a comment on the human condition and how we all become robot like when we are living in troubled times as a sort of coping mechanism. The songs on this album aren't as immediately catchy, and the music in general is more downbeat overall. It's a good record, but not one you will go back to as often as the others.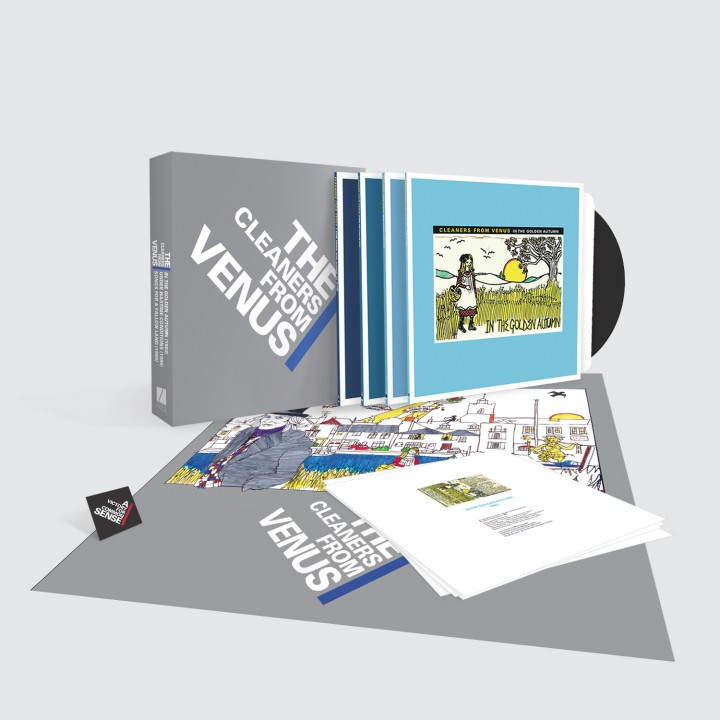 Songs For A Fallow Land is a return to the upbeat XTC inspired guitar pop that the band really excels at. In an alternate universe "Julie Profumo" would have been a smash hit. It is one of the band's signature songs. It has everything they do so well, from the melody right down to its lo-fi charm. If you could only hear one Cleaners From Venus song, it should probably be this one. "Soul Monday" finds the band working in a reggae groove. The guitars sound incredibly similar to the kind of stuff guys like Mac DeMarco and Alex Calder are currently putting on their records. This is highly influential, if seldom heard stuff. "Winter Palace 2" is a groovy space rock instrumental, and is as trippy as I have ever heard the band. "Heroin Clones" sounds like XTC covering Devo, while listening to Rubber Soul.
The 4th album, A Dawn Chorus, opens with Newell introducing the first song, which is the oldest known Cleaners song, recorded in the garage when they were just teens, and learning their instruments. It's about as lo-fi as you can imagine, but has its unique charm, and at barely a minute, it's really just a small glimpse into the beginnings of the band. The treasure trove really begins with the next song "Russian Picture". I have no idea how this song remained an outtake for so long, this is top shelf stuff. By the middle of the disc, you can tell the band made a move to a better studio, and were making bona fide pro recordings (for the most part, as "Young Jobless" is hampered by some noticeable tape noise for the first :30 or so). "Drowning Butterflies" sounds like The Cure circa Disintegration. It features big reverby vocals and guitar. It's yet another song that should have been a hit. This disc works well as an album on its own. It's all over the map stylistically, but a great deal of fun.
Taken as a whole this set is better than the first reissue from last year. Both are essential, but this one perhaps a bit more so. I'm not normally one to tell you where to go buy a record, the physical copy of this set is beautiful and I highly recommend it, but Amazon is selling Volume 1 and Volume 2 of this set together as an MP3 download for an incredible price. You can click on the link below but go get it while you can. It's a steal. This is an incredibly important and influential band.
Key Tracks: "Julie Profumo", "A Halloway Person", "Drowning Butterflies"
Artists With Similar Fire: XTC / Guided by Voices / Robyn Hitchcock
Cleaners Form Venus Facebook
Captured Tracks
-Reviewed by Kevin Poindexter

Latest posts by Kevin Poindexter
(see all)