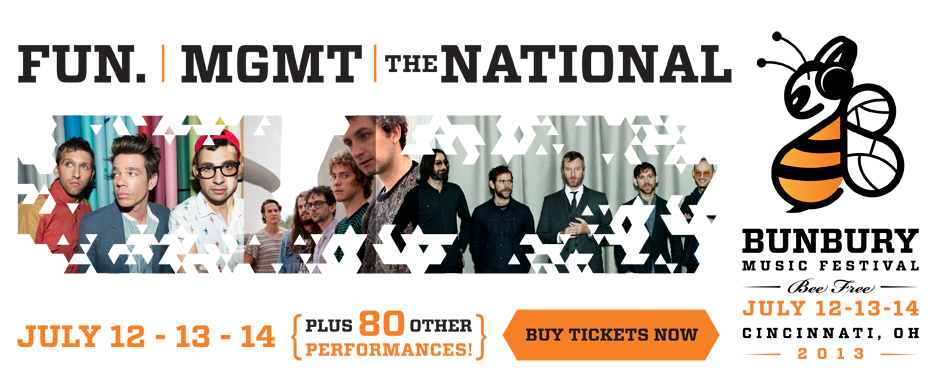 The Fire Note was on the ground this past weekend for Cincinnati's Bunbury Music Festival. The bands, festival organizers and the Queen City put on a great show for all that attended. Check out what some of our writers had to say and enjoy the pictures from Day 1!
Friday (Day 1)
The Features (Main Stage)
[easyrotator]erc_89_1374111065[/easyrotator]
Chris Anthony: Really bummed that we ran into traffic problems getting to the festival which made us miss most of The Features set. The last couple songs were great though and I would love to see a full show from The Features sometime soon.
Ohio Knife (Amphitheatre Stage)
[easyrotator]erc_46_1374120994[/easyrotator]
Chris Anthony: Ohio Knife did not disappoint as one of the heavier acts at the festival. They filled the Amphitheatre Stage nicely and gave everyone there a quality dose of rock that was just right to get Bunbury into high gear! Definitely worthy as our top 10 artists to see!
Matt Heiner: The band wore black and brought the heat. Rocked the amphitheater stage with grainy guitars and heavy drums.
Old Baby (Lawn Stage)
[easyrotator]erc_36_1374123415[/easyrotator]
Chris Anthony: Didn't know what to expect from this Louisville act as I thought they would be more folk but never judge a band by their looks. Old Baby had a unique sound that still had folk elements but they also had plenty of distortion which I think surprised many at the Lawn Stage.
Everest (Bud Light Stage)
[easyrotator]erc_7_1374123663[/easyrotator]
Chris Anthony: Everest played a very straightforward alt-rock set. Their music was solid and sounded great although for my ear they did not have a very distinguishable sound that would separate them out from the sea of LA bands. Regardless of my opinion the crowd was into it for their full 45 minute set.
Matt Heiner: On the Bud Light stage the LA band played a straightforward rock set. Gifted musicians with great energy.
Tegan And Sara (Main Stage)
[easyrotator]erc_0_1374123920[/easyrotator]
Chris Anthony: Tegan and Sara played a very expected set. Musically they sounded like their records which is always good. I am not a huge fan of their new more pop record but even those tracks played well in their set.
Josh Eagle (Cincinnatus Stage)
[easyrotator]erc_66_1374124031[/easyrotator]
Chris Anthony: Briefly caught some of his set on the small acoustic stage. He pulled in a nice crowd and gave a 110%. If time would have permitted I would have hung around more for his full set.
Buffalo Killers (Amphitheatre Stage)
[easyrotator]erc_20_1374124341[/easyrotator]
Chris Anthony: As expected Buffalo Killers put on a stellar show and were one of the best for Friday. Their roots styled rock was tight as ever and if people were not fans when they started playing they for sure were when they stopped!
Matt Heiner: Local Cincinnati band didn't disappoint with their rootsy rock sound. Also a mystery fourth member on stage added to the sound.
Seabird (Lawn Stage)
[easyrotator]erc_64_1374124781[/easyrotator]
Chris Anthony: Didn't know anything about this local band but the group brought nice harmonies and piano playing with their music. I thought they filled a niche with their sound with their slight power pop vibe at the festival.
Matt Heiner: Another local Cincinnati band that brought out interesting instrumentation to supplement their piano rock flavor. Catchy harmonies and multiple sounds made for an engaging set.
Walk The Moon (Main Stage)
[easyrotator]erc_0_1374125446[/easyrotator]
Chris Anthony: Around Bunbury Walk The Moon are still considered local which brought out a ton of fans to the main stage. They gave the face-painted crowd what they wanted as they put on a high energy set. The fans responded with lots of going crazy dancing and hand-clapping so I would say Walk The Moon was a success.
Matt Heiner: Walk The Moon played with a lot of energy – their poppy sound had the crowd going. Adults and kids alike were seen moving along to the music.
Tokyo Police Club (Bud Light Stage)
[easyrotator]erc_82_1374123056[/easyrotator]
Chris Anthony: TPC provided plenty of high energy indie rock. You can tell the Canadian band has been around since 2005 as their set was strong.
Matt Heiner: Tokyo Police Club did their thing much to the crowd's delight.
fun. (Main Stage)
[easyrotator]erc_6_1374122089[/easyrotator]
Chris Anthony: fun. took the stage in theatrical style as the guys were in their tuxes and full spotlights on the trio of singers. They then burst out with a full energetic set and never slowed down. I was a fan of their earlier work and was interested on how this new fame would alter their show. They handled it quite well and gave the packed main stage crowd a good time. I am not into their new more pop material but they acted like a headliner.
Matt Heiner: fun. opened with a subdued opening number and then picked things up after that. Most of the crowd was singing along to the infectious tunes.
Latest posts by Fire Note Staff
(see all)