Calexico


Edge Of The Sun
ANTI- [2015]


Fire Note Says: Calexico continue to conjure cinematic visions of the southwest with their latest album.
Album Review: Calexico is always good. Seriously, even when they are just ok, they are still really good comparatively speaking. I wasn't a huge fan of the Spiritoso live album, but I still thought it was good. When a band is as consistent as Calexico has been for the past 20 years, you begin to take them for granted, and maybe you drift away a little bit, and quit listening for a while, but then you start hearing that they have a new record, and people are digging it. Maybe you better check back in, you think to yourself, and then you check back in, and damn if they aren't as good as they have always been and maybe even a little better. Edge of the Sun is a little better. In a remarkable string of consistently strong records, this one is a little better, the one that makes you do a face palm and think maybe it's better than a little better, maybe it's really freaking good, or maybe even great. Yeah, it's that record all right.
Joey Burns and John Convertino spent some time in Mexico City writing and recording Edge of the Sun, and while it certainly has that south of the border vibe that has flavored so many of their records, it is also relaxed, almost like they are on holiday. There are plenty of guest musicians on the album, such luminaries as Neko Case, Sam Beam (Iron and Wine), and Brad Bidwell (Band of Horses) all pitch in to help, and they fit into the mix seamlessly. If you didn't know they were on the album, you wouldn't even recognize them. They blend into the music and mood so perfectly; it's as if they were meant to be there.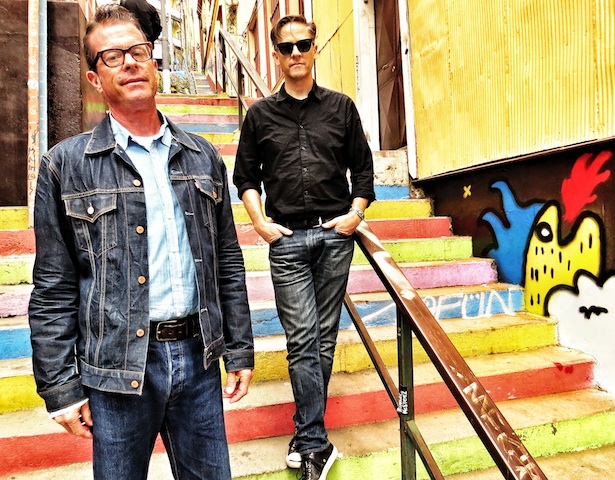 Album opener "Falling from the Sky" is a perfect piece of southwestern Americana, upbeat, soaring vocals and killer horn lines, all of the things the band has become known for, what a fantastic opening to the album. The horns call you to attention and make your ears perk up to the sonic delights that are forthcoming throughout the rest of the album. "Cumbia de Donde" is a nifty upbeat tune that reminded me of afropop with its beats and call and response vocals, this is easily the most upbeat and unique track on the album.
The band is just as capable as they ever were at creating cinematic visions in your head with their music. To listen to Calexico is to be in the desert, hot, with a drink, dusty and lonesome. Most of that is still true, only this time out on Edge of the Sun, you aren't lonesome, you're with friends, and they make beautiful music for you to enjoy with your eyes closed as you gently sway with a cold drink in your hand. This ranks up there with their best work, but that's not really a surprise at this point, is it?
Key Tracks: "Falling From the Sky" / "Tapping on the Line" / "Cumbia de Donde"
Artists With Similar Fire: Giant Sand / Richard Buckner / Iron and Wine
Calexico Website
Calexico Facebook
ANTI-
– Reviewed by Kevin Poindexter

Latest posts by Kevin Poindexter
(see all)