British Sea Power


Machineries Of Joy
Rough Trade Records [2013]



Fire Note Says: Machineries of Joy pleases with its maturity and artistic growth.
Album Review: The biggest critique of the 80% of the recorded work of British Sea Power, is that it doesn't sound like the first album, The Decline of British Sea Power. Well, Machineries of Joy doesn't sound like The Decline of British Sea Power either, nor should it. This is a band that has progressed well beyond that, they make bigger music and are operating on large soundscapes. Heck, the record we should be asking if it sounds like is Do You Like Rock Music? which was a successful reinvention of the band, from indie darlings to festival band in their native Europe.
Machineries of Joy is interesting, because it tries to balance the two sides of the band. It has some harder rocking material, like the title track, and "K Hole", but it balances those out with some more nuanced mature music. After the first few listens, I asked myself "when did British Sea Power become Catherine Wheel?" For those who don't know, Catherine Wheel were a great early 90's shoegaze band, on par with bands like Ride, My Bloody Valentine and the like. Eventually, they moved away from their signature sound and adopted a more mature sound, while still maintaining a lot of the key elements that made them a success in the first place, however, their fan base were often less than pleased with the new sound. I bring them up because not only do British Sea Power sound like them at times, but they are facing some of the same struggles. How do you continue to mature as a band, when your fans don't really want you to change?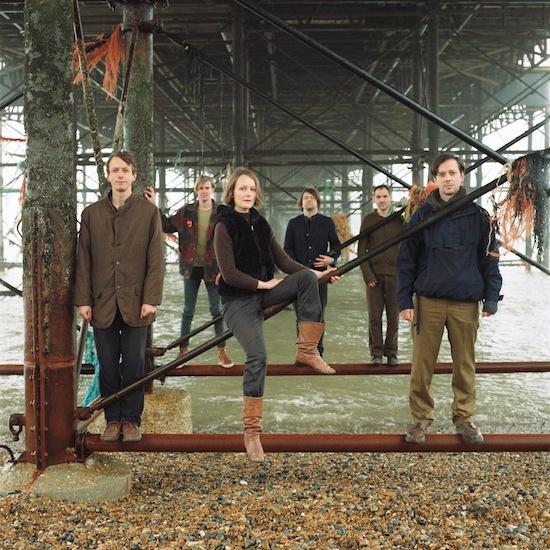 The entire second half of the record features the more mature side of the band, who at times even recall Pulp at their sophisticated finest. "What You Need the Most" is an atmospheric slow tune. I don't know which is more impressive, the vocals, or the swelling strings that provide the emotional lift for the song. "A Light Above Descending" is another highpoint of the second half of the album. It's like a perfect cross between Pulp and Catherine Wheel, a stunning track to be sure. My biggest critique of the album is going to be different than just about anyone else's. I personally enjoy the direction that British Sea Power has been going on since Open Season. The only issue I have is with pacing of the record. It starts out like a flat out rocker, but in reality it's much more subdued. I would like to see a bit more of a mixture between the two sides, right now they are a little heavy on the slower side for me to give this a higher rating. I do like the record quite a bit though, and longtime fans will not be disappointed with Machineries of Joy.
Key Tracks: "K Hole", "What You Need Most", "A Light Before Descending"
Artists With Similar Fire: Pulp / Catherine Wheel / The Dears
British Sea Power Website
British Sea Power Facebook
Rough Trade Records
-Reviewed by Kevin Poindexter

Latest posts by Kevin Poindexter
(see all)