Bob Dylan


Shadows In The Night
Columbia Records [2015]



Fire Note Says: Dylan covers tunes made famous by Sinatra with surprising success.
Album Review: Bob Dylan has made a career out of confounding his audience's expectations. Whether it was going electric at the Newport Folk Festival in 1965, going full-blown country with Nashville Skyline when his peers were exploring the psychedelia he largely influenced, or converting to Christianity and refusing to sing his old material, Dylan has always been something of an iconoclast (and let's not forget 2009's puzzling Christmas In The Heart). Which is why its surprising—and not surprising at all—that Dylan would choose at this late stage in his career to release an album full of songs popularized by Frank Sinatra, a guy not exactly associated with anti-establishment ideas. However, if you've been paying attention to Dylan's output the last decade and a half, it almost makes perfect sense—these songs are a part of the fabric of 1940s and 50s American popular culture, a well that Dylan has been drawing from throughout his career (especially on his past few albums). And the crazy thing is, it actually works.
Let's get one thing out of the way: no, Dylan's voice isn't as smooth or subtle as Sinatra's, but Shadows In The Night finds him singing better than he has since at least 1997's Time Out Of Mind. I thought his last studio album, Tempest, was an improvement over the bluesy rasp he'd been developing, but Shadows proves that, when he wants to, Dylan can still sing quite convincingly—the gravel still shows up when he reaches to the limits of his range, but most of the time his voice is so "normal" you have wonder if the Tom Waits growl has been a put-on all along. It helps that the arrangements compliment a quieter singing style: long-time bassist Tony Garnier, guitarist Charlie Sexton, and the rest of the band are subdued throughout, creating moody backing tracks that blend pedal steel and cello with the guitars, bass, occasional horns and minimal percussion—it's a reimagining of the songs that works well with the style Dylan has been pursuing on his last few albums (think "Spirit On The Water," "Life Is Hard," or "Soon After Midnight"). Not having heard many of the Frank Sinatra versions probably helps too—instead of comparing the tracks to the originals, I'm left comparing them to Dylan's own recent work, and in that context they fit right in (at least with those quieter tracks). Standout tracks like opener "I'm A Fool To Want You," "Stay With Me," "Why Try To Change Me Now," and the majestic take on "That Lucky Old Sun" that brings proceedings to a close may not attain legendary status within his body of work, but that's hardly the point with a project like this. Dylan is singing songs that have meaning for him, and when Dylan sings like he means it, the results are worth hearing.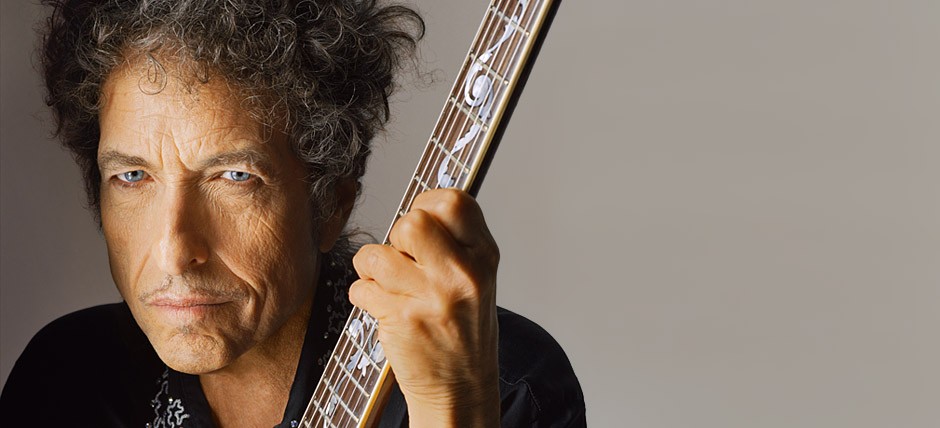 This album isn't for everybody. If you're like the fans that leave Dylan shows disappointed that he doesn't sound like he did in the 60s, this album probably isn't going to satisfy you. But if you like the territory he's been mining since Time Out Of Mind (or maybe even Good As I Been To You), and you can appreciate these songs as songs on their own terms, you'll find plenty to enjoy on Shadows In The Night. It may not be exactly what we were expecting from a "new Bob Dylan album," but when has the man ever given us exactly what we expect? Would he be Bob Dylan if he did?
Key Tracks: "Stay With Me" / "Why Try To Change Me Now" / "That Lucky Old Sun"
Artists With Similar Fire: Tom Waits / Willie Nelson / Leonard Cohen
Bob Dylan Website
Bob Dylan Facebook
Columbia Records 

-Reviewed by Simon Workman

Latest posts by Simon Workman
(see all)