Father John Misty


I Love You, Honeybear
Sub Pop Records [2015]



Fire Note Says: Father John Misty takes you on a walk in his shoes.
Album Review: In the music business, it is extremely difficult for any artist to stay fresh, relevant or even interesting. When you do find that "creative entity" you should grab it and ride those records till they can spin no more. For Josh Tillman, (aka Father John Misty), that time is now. The ex-Fleet Foxer has around seven solo records under his belt so when he created the Father John Misty moniker I expected to hear much of the same folk/Americana blend from his past but 2012's Fear Fun changed the game for Tillman and now I Love You, Honeybear raises the bar again.
Everything on I Love You, Honeybear feels and sounds bigger. The emotions, the instruments, the highs, the lows, the skepticism, the sarcasm, the pain, the truth and the impact. From the album opening title track, the listener is approached by this intricate piano playing before the large swaying orchestra sounds open the door for Tillman to go right into a sprawling sing along moment when he lets out the first "Honeybear, Honeybear." What sounds like a true love song is flipped upside down from Tillman's view when he sings lines like "everything is doomed and nothing will be spared but I love you, honeybear." This glass half empty hits you again and again on I Love You, Honeybear but Tillman's ideas and thoughts on the matter are completely masked in the high quality flow and instrumentation of this record. This may sound a bit odd on paper but in execution, it is the perfect base for this emotional wave of a record that just sings out of your speakers.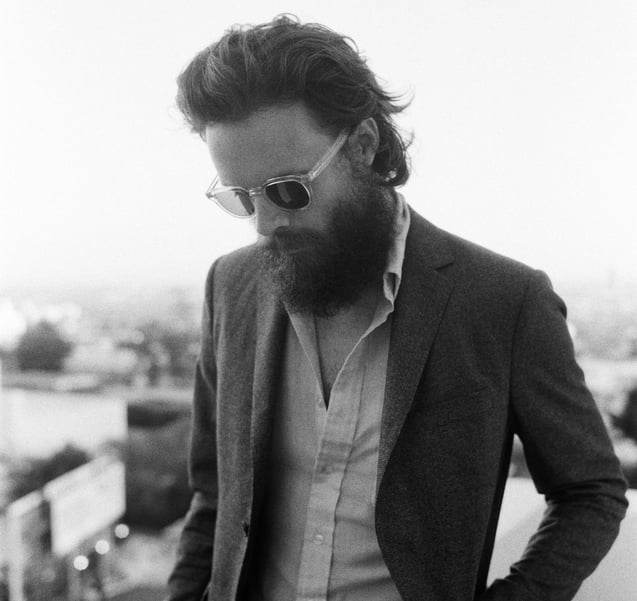 I Love You, Honeybear is a brutal examination of the male psyche (for better or worse) but will completely make you think in this artistic expression. It is a record that only gets deeper and better upon repeat spins. It uses profanity and honest takes on subjects to sum up situations that many of us at some point have confronted, in some degree, when it comes to love, marriage and relationships in general. The more acoustic "Holy Shit" captures the essence of the album when Tillman passionately sings "Oh, and love is just an institution based on human frailty / What's your paradise gotta do with Adam and Eve? / Maybe love is just an economy based on resource scarcity / But our fantasy is what that's gotta do with you and me."
Every track on this album gives Tillman a large canvas for his addicting and catchy vocals that go well beyond his own being, hence the need for Father John Misty. Where his moniker goes from this point is anyone's guess but the power of words and the impact of music are on full display here. You can't get this emotion from streaming Spotify on some crappy computer speakers. I Love You, Honeybear is an album which is meant to be heard the old fashioned physical way from beginning to end. When you give Father John Misty a complete 45 minutes, I guarantee you will feel it too – I Love You, Honeybear will be one of the best records you hear in 2015.
Key Tracks: "Chateau Lobby 4 (in C For Two Virgins)" / "The Ideal Husband" / "Holy Shit"
Artists With Similar Fire: Sufjan Stevens / Harry Nilsson / Iron & Wine
Father John Misty Website
Father John Misty Facebook
Sub Pop Records
– Reviewed by Christopher Anthony

Latest posts by Christopher Anthony
(see all)