Black Bananas


Electric Brick Wall
Drag City Records [2014]



Fire Note Says: Electric Brick Wall is likely to be the most unique album you hear this year!
Album Review: I confess, I had no idea what I was getting into when the new album from Black Bananas, Electric Brick Wall, hit my inbox. There was no one sheet accompanying it, and I hadn't really done any research on it at that point, I just loaded it on my ipod and was going to listen to it while I cut my grass on a fine Saturday morning. Little did I know that this was absolutely the best thing I could have done, because I had zero preconceived notions going in, it was just me and the album. From the first track I was stunned, almost to the point of going inside and looking the band up, it was an intriguing blend of electro-funk and trashy rock. It was almost like it Prince circa 1986 was fronting Sleigh Bells or Cults, but posing as his Camille alter ego. It was strange, it was intoxicating, and I absolutely could not stop listening!
Jennifer Herrema, formerly of the late great Royal Trux, is the main driving force behind Black Bananas, but the lineup is essentially the same as RTX, the band she kept alive after Royal Trux split. (as a side note, if you don't own any Royal Trux, please correct that problem stat.) Electric Brick Wall comes out full blast with "Powder8 Eeeeeeeeght" a song that pushes all of the sonic limits possible. Every instrument is in the red, and it is absolutely perfect that way. It is alien, it is futuristic, yet it looks to the past as well as looking forward. "Hey Rockin" is the sound of a million buzz bands being left in the dust. Herrema and band seem to have one thing that other younger bands are missing, the actual songs! "Physical Emotions" is a futuristic dance party on Mars, with lots of helium and chrome, booty shaking and huffing Scotchgard. "Eve's Child" is the song that in a perfect world would be a hit, it is an electro glam fusion, that once again pushes everything up as high as possible in the mix, which surprisingly makes the song seem light and dreamy, there's no bottom or middle to it, it all lives in the top end, which creates a nice effect. I got a serious P-Funk vibe from "Give it to Me", which is always high praise in my book, especially when the song shifts gear into the hazy guitar solo fade out.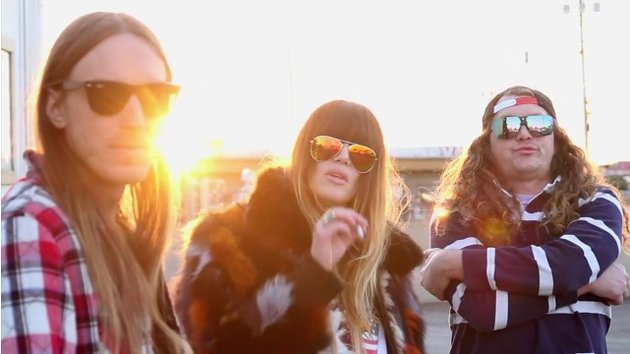 I really like this record, it is a bit disorienting to listen to at first because it is coming at you from every angle possible, but it wins you over fast. In fact, you will find yourself marveling at just how all over the map it really is. It holds your interest throughout the entire record and your attention will never waver. Ideas fly past you at 100 mph so be ready, Electric Brick Wall is likely to be the most unique record you hear this year!
Key Tracks: "Eve's Child"/ "Hey Rockin" / "Physical Emotions"
Artists With Similar Fire: Royal Trux / Prince / Sleigh Bells

Black Bananas Website
Black Bananas Facebook
Drag City Records
– Reviewed by Kevin Poindexter

Latest posts by Kevin Poindexter
(see all)