Big Dick


Disappointment
Dirt Cult Records [2015]




Fire Note Says: Their debut album was great…this is GREATER!
Album Review: It's no secret that Big Dick's debut album was one of The Fire Note's favorite albums of 2013, in fact, internally we have often dreamed that the Canadian duo would headline a mythical Fire Note Fest, but alas, those dreams have not yet come to fruition. Johnny O (bass and vox) and Dave Secretary (drums and vox) have crafted an emotionally complex 15 song album, Disappointment, that lyrically deals directly with feelings of self-worth, self-doubt and self-esteem. What makes this album so compelling is that the music is so fiery, confident and passionate. There is an internal struggle being played out here by the band, and it is up to the listeners to decide which side wins out. Are they a Disappointment as the album title would suggest, or has the band triumphed over their feelings of self-doubt?
"Let Down" opens the album, and what an opener it is! "I'm a letdown, I wanted you to know" and "I'm unemployable, I'm unenjoyable" pretty much says all there is to know about the lyrical content of the song, it's full of self-loathing, but musically it's a fist pumper, it's almost like this song is a rallying cry for the disenfranchised everywhere. I probably listened to this album three or four times before I realized "Last Days" wasn't the incredible second half of "Let Down", the two songs flow so well together it's an easy mistake to make. Lyrically this one mines similar turf, but it adds some incredible background vocals to the mix that send this one to another level. I don't know how many readers will get this reference, but remember when Bad Religion had those great "whoa oh oh" background vocals, that's what this is like, and it rules just as much. "Up a Step" finds the song's protagonist building walls around him and shutting himself off from the world. It doesn't really matter if the walls are metaphorical or real, the feeling this song creates is gut wrenching either way.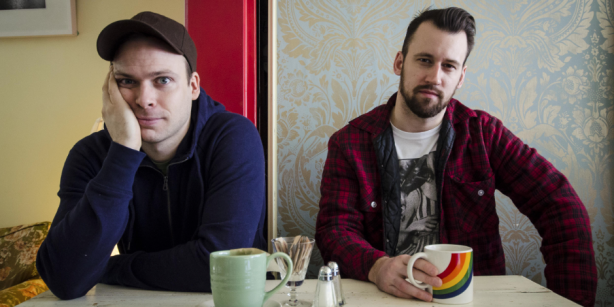 Side B of Disappointment begins with "Give Up" and with lyrics like "Never wake me up, and I would be elated" it's a short 90 second burst of aggressive and melodic self-loathing that once again cuts straight to the bone all while making you nod your head. For my money "Bad Dreams" is the "should be hit" of Disappointment. This song is like an indie rock Edgar Allen Poe story. I won't give it away, but it's creepy, and catchy and amazing all at the same time.
The guys in Big Dick, Johnny O and Dave Secretary, need to be hailed as geniuses and recognized for this powerful work. Not only is the lyrical content dark and moving, but the playing is incredible, and the singing is top notch as well. Disappointment is a step up in every single way from their excellent debut album, and should find a spot on your turntable as soon as possible. At 15 songs and less than 30 minutes in length the album begs to be played over and over again. I recommend you do just that!

Key Tracks: "Bad Dreams" / "Let Down" / "Up a Step"
Artists With Similar Fire: Japandroids / Death From Above 1979 / Nomeansno
Big Dick Website
Big Dick Facebook
Dirt Cult Records
-Reviewed by Kevin Poindexter

Latest posts by Kevin Poindexter
(see all)