Atoms For Peace


AMOK
XL Recordings [2013]


Fire Note Says: Atoms for Peace's AMOK takes us deeper down the electronica rabbit hole.
Album Review: After fronting the musical monolith that is Radiohead, what do you do with yourself? Maybe you branch off a bit and indulge deeper into some of your favorite musical tastes that aren't as prominent in your current outfit. So, that is what Thom Yorke did as 2006 brought us the Nigel Godrich produced bleeps, blips, and boops of The Eraser. Yorke wanted to take these songs on the road and so begins The Atoms for Peace. The group consists of Thom Yorke, Nigel Godrich, Flea, Joey Waronker, and Mauro Refosco. Their debut album, AMOK, digs a bit deep than Yorke's predecessor The Eraser. Presenting, for better or worse, an even broader electronic sound pallet from spacey synths, garbled samples, and shuffled beats. Then contrasting that with the real instrumentation and the vocalization of Yorke's signature melancholy, Fleas guiding bass lines, slight guitar splashes, and a piano presence or two.
"Before Your Very Eyes" starts strong with a great signature Yorke guitar shuffle while a noise dissonance throws its self around in the background. The track also works as it kicks it up with a strongly played Flea bass line. The song also gives great ghostly illusions to songs and techniques heard on Radiohead's The King Of Limbs. Listening to AMOK has the same effect as when you heard Limbs for the first time and thought that just one man and programmed machines made all this music. Then you see the action happen live and realize that there is much more to it than one man behind the machine.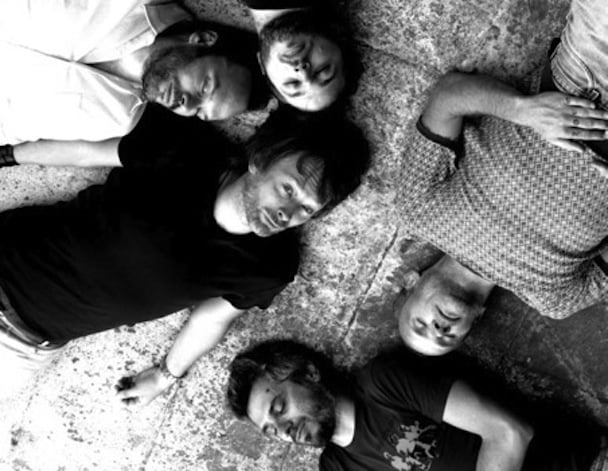 Atoms for Peace like Yorke's solo album takes on new life as a relatable Radiohead project as it still tries to find its footing. There are songs that do shine like second track "Default". It's manic, alien like mood and quirky beats give it a close resemblance to what was felt on The Eraser. But then there are tracks that hold their potential under the surface, "Ingenue" is one of those songs. It's an electronic slow burn, the beats are clever and carry a full atmosphere. But, for the four minute thirty second duration of the track it's about all that you get. I'm not looking for another Yorke solo album mimic; I know that wasn't the point. But I do want something to keep me engaged. Give me a funky guitar lead freak out ala The Eraser b-side "The Drunkk Machine". Where is the dodgy, tick-tock rhythmic nature of stunners' like "The Clock"?
"Judge, Jury, and Executioner" does borrow a bit of this with catchy bass line accompanied by tight hand claps. Yorke's acoustic prowess is also a welcome addition that livens up the groove. Final track "AMOK" provides a cyclical 8-bit electronic rhythm that's over taken by bass beats. The ghostly echoes that punctuate the song add a nice touch. But there is never really a potential that's fully indulged in.
Thom Yorke said this album was the product of getting together, getting wasted and listening to afrobeat pioneer Fela Kuti. While I'm having a bit of trouble hearing the world music influences in the final product, it seems it might be that lack of indulgence that might have hurt AMOK to some degree. All these musicians know what they're doing, that is not the reason I'm being hard on them or the album. The reason I put AMOK under a tighter magnifying glass is because we've all heard the talent that comes with these guys. AMOK does create interesting contexts, it's the lack of musical indulgence and flare that left me somewhat troubled.
Key Tracks: "Default", "Stuck Together Pieces", "Reverse Running"
Artists With Similar Fire: Thom Yorke / Ultraista / Radiohead
Atoms For Peace Website
Atoms For Peace Facebook
XL Recordings
-Reviewed by Christopher Tahy

Latest posts by Christopher Tahy
(see all)