Against Me!


Shape Shift With Me
Total Treble Music [2016]


Fire Note Says: Musically and artistically Against Me! deliver the goods.
Album Review: In the bass heavy slow rocker "Delicate, Petite & Other Things I'll Never Be," singer/songwriter Laura Jane Grace sings with all piss and vinegar available to her: "I wanna be more real than all the others… I wanna be so real, you can see the difference." Grace, who self-defines as transgender, chronicled the struggles of her coming out and transition on 2014's Transgender Dysphoria Blues, a strong punk album filled with potent songs where the music itself often took a backseat to the personal drama of her life story.
In that same song's chorus she demands: "I wanna see how you see you/The world is not enough, I want your brutal truth." As one who's suffered with gender dysphoria since childhood, Grace wants to know how it feels to feel/think differently. Here and throughout her band's new 12 song album, Shape Shift With Me, Grace grapples with reality and faces head on the struggles of life in her new identity, the loves and losses that have come with this uncharted territory. With so much changing, so many adjustments, she's clinging to the "brutal truth" as a grounding she can depend on. Even if it's painful to hear, at least it's true.
But of course, real life is complicated and sometimes we contradict ourselves. Sometimes you're not as interested in love and truth, but are looking for something more immediate and fun ("Rebecca"), and sometimes you play a role that's ill-suited, as in "Boyfriend," which asks a significant other to "lie to me." And sometimes, you want to escape reality so why not fantasize about an extra-terrestrial love affair ("Crash").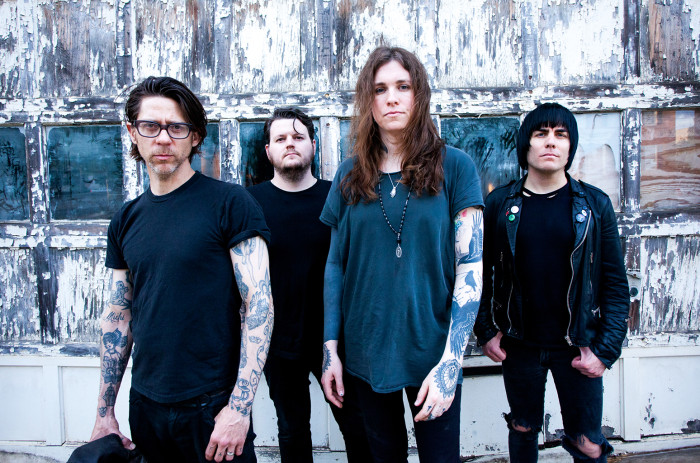 "Provision L-3" and "Suicide Bomber" take on our national fetish for invasive technology in the service of security, and an all too common reality in our world, the person willing to come close so that more people will die when the bomb goes off. But of course, with Against Me!, the political is personal. The first is named for the screening device we all walk through in the airport which gives the TSA officer a view of what's beneath our clothes, while the second imagines those who love one hell-bent on destruction.
It's to Grace & her band-mates benefit that all of these songs rock hard in the tried and true DIY spirit of punk, a solid rhythm section and aggressive guitars dominate. While not deviating from punk's minimalist values, Against Me! varies the rhythms and textures to hold the listener's attention, even allowing lead guitarist James Bowman some spare solos on tracks like "Haunting, Haunted, Haunts" and "Dead Rats." Grace's vocals vary from full voiced singing to spoken word on "Norse Truth" and intense shouting on "Suicide Bomber," managing to maintain a melodic sensibility that balances accessibility and "hard as nails" attitude. Like they sing in the chorus of "Norse Truth," Against Me! is committed to keeping it real, "more real than all the rest." And while that goal may seem unattainable out in real life, here on Shape Shift With Me, both musically and artistically, they deliver the goods.
Key Tracks: "Delicate, Petite & Other Things I'll Never Be" / "Haunting, Haunted, Haunts" / "Rebecca"
Artists With Similar Fire: Green Day / NOFX / Ramones
Against Me! Website
Against Me! Facebook
Total Treble Music
– Reviewed by Brian Q. Newcomb
Latest posts by Brian Q. Newcomb
(see all)