The Killers


"The Man"
Island Records [2017]


The Killers are back. And if anybody thought that they would be dialing it back, they've got a post-Eighties disco-funk wall of sound to reckon with.
The Las Vegas pop rock vets yesterday released the lead single from "Wonderful Wonderful," their first full length LP since 2012's "Battle Born." The song, appropriately titled "The Man," is heavy on the glitz, heavier on the glam and dialed-to-eleven-with-the-buttons-smashed-in on the pop-funk-rock style. This is what Maroon 5 wished they sounded like on "It Won't Be Soon Before Long;" it's what Future Islands should aim for if they want Billboard Top 40 success..
"The Man" is–at this point–classically The Killers: hot, fast, funky and fun. Anyone who's followed their career or Ronnie Vannucci's and Brandon Flowers' solo careers won't be surprised by this up-temp bopper.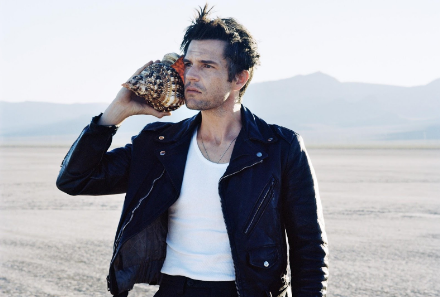 But those who pine for a return to the "Sam's Town" days of punk-Springsteen nostalgia will most likely find "The Man" agonizing. For years, critics have encouraged The Killers to tone back the schlock, the bombast, the glitz and the glam, but "The Man" laughs in the face of it all; all the criticism and artistic direction goes right out the window as Flowers croons, "I got gas in the tank / I go money in the bank / I got news for you baby / you're lookin' at the man."
So if you're a true Killers fan, you'll enjoy this track–or, at least, you'll get it. It's all killer, no filler; all fun, no stun. But by now, we've learned that this is what Flowers and Co. do best, even as we wait with baited breath for the second–third? fourth?–"Mr. Brightside."
The Killers Website
The Killers Facebook
Island Records
The Killers will be playing select U.S. shows in 2017, with headlining stints at Lollapalooza, Austin City Limits, Voodoo Festival, and more. Their show at London's Hyde Park on 8th July sold out in record time, and they'll headline multiple festivals this summer in both the U.S. and UK as well as Spain, Sweden, and more. All dates below.
6/22/17 Odense, Denmark @ Tinderbox Festival
6/24/17 Athens, Greece @ Ejekt Festival
6/29/17 Seinajoki, Finland @ Provinssirock Festival
7/1/17 Norrkoping, Sweden @ Bravalla Festival
7/5/17 Novi Sad, Serbia @ Exit Festival
7/7/17 Bilbao, Spain @ Bilbao BBK Live Festival
7/8/17 London, England @ British Summer Time Hyde Park
8/4/17 Chicago, IL @ Lollapalooza
10/6-8/17 Austin, TX @ Austin City Limits
10/13-15/17 Austin, TX @ Austin City Limits
10/20-22/17 Phoenix, AZ @ Lost Lake Music Festival
10/27-29/17 New Orleans, LA @ Voodoo Festival
Latest posts by Dylan Gallimore
(see all)