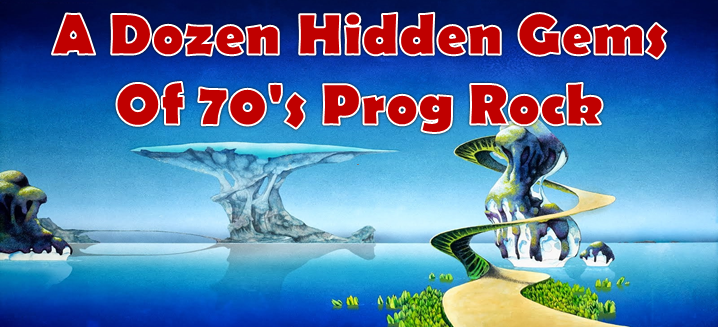 Progressive Rock has a bad, and for the most part deserved, reputation. Indulgent, pretentious, pompous, overwrought, self-absorbed, ridiculous – all adjectives that can accurately describe the genre. There's a reason it more or less disappeared around 1980.
Although there have been numerous revival attempts from Marillion in the eighties to The Mars Volta in this century, the height of Prog was undeniably the seventies. Bands like Yes, Pink Floyd, Genesis, King Crimson, ELP, Kansas, Jethro Tull and Rush were creating inspired music that was actually selling albums and filling arenas. But there was a second tier as well (Van Der Graaf Generator, Gentle Giant, Camel) but here we are focusing on the third tier which some of these lesser known groups produced some of the era's best records.
Dedicated prog lovers will, no doubt, be familiar with all of these selections but to the casual music fan this list may help broaden their knowledge of a time when blending classical or baroque or jazz music with rock 'n roll didn't seem pointless and silly at all.
#12

Happy The Man


Happy The Man
1977

Formed in Virginia in the early seventies and named after a non-LP Genesis track, Happy The Man put out two classic Prog albums – their debut and 1978's Crafty Hands. Both are outstanding examples of how jazz fusion was working its way into the genre. Emphasizing instrumental prowess over vocals (each album featured vocals sparingly) they never gained any traction – despite being signed by Arista and having Ken Scott (Abbey Road, Ziggy Stardust) producing. Band leader Kit Watkins left in 1979 to join Camel and Happy The Man remain a footnote in music history.
#11

Kayak


Royal Bed Bouncer
1975

Dutch band Kayak had a really nice run. Their first five albums are all highly recommended and this, their third, was my personal favorite. They weren't Prog enough for some (their songs were shorter and infused with a smart pop sensibility) but I contend they rule. Singer Max Werner later quit the mic and headed to the safety of the drum kit and – poof! – the magic was gone. But for a few brief years they were as good as anyone. Dominated by piano and full of great, very continental-sounding chord progressions, Kayak is all but forgotten today.
#10

Eloy


Ocean
1977

German space rock outfit Eloy had released four albums of varying quality leading up to their masterwork, Ocean. Marked by constant personnel changes and little known outside Europe, this album did extremely well for them on the other side of the Atlantic. Taking its cues from Pink Floyd, Ocean is best played as a whole. The overriding concern American listeners had about them was Frank Bornemann's accent. It was a deal-killer for many. Be that as it may, the instrumental passages are gorgeous and rival the best Floyd material.
#9

Jon Anderson


Olias Of Sunhillow
1976

After Relayer, Yes took themselves a nice, long break and each member released a solo album. The best of them (with apologies to Chris Squire's brilliant Fish Out Of Water LP) was this. It amazes me how few people are on to this album. It tells a crazy story about a space flight exodus via something that we'd seen on the Fragile album cover already. No matter. This was arguably the last great record any Yes member was associated with and its New Age/Eastern vibe fits so right with Anderson's mystical side. Late-night, headphones on, volume up. And you thought the harp couldn't rock!
#8

Triumvirat


Spartacus
1975

The third album from German band Triumvirat was there highest charting album (it stalled at #27 in the US) and also their best. Their love of Emerson, Lake and Palmer was hard to miss – the prominent Moog, the power trio line-up, the bloated story-telling, the whole shebang. They continued releasing albums until the decade's end but none could match Spartacus. There is also a tragic post-script to this one: bass player/singer Helmut Kollen left the band after this record and was found dead in his garage shortly thereafter from carbon monoxide poisoning. He was listening to demos of himself.
#7

Gryphon


Red Queen To Gryphon Three
1974

This UK band had a thing for traditional instruments, medieval music and an aversion to vocals. Some of their albums had 'em, some didn't. This one (mercifully) did not. So all that's left is some really cool stuff that'll have you reaching for the chain mail and sword. They toured with Yes in support of this album but that didn't really help as sales were never very good for Gryphon. But if you're looking for a soundtrack for a drive to the Renaissance Faire, you could do a lot worse than this!
#6

Hatfield And The North


The Rotters' Club
1975

Had to include something from the Canterbury Scene clutch of artists which grew out of the band Wilde Flowers and featured future members of Gong, The Soft Machine and Caravan. Although Hatfield And The North were central to that scene they never got much attention outside the UK. They only recorded two albums and we highlight for you here their second one, The Rotters' Club. The jazzy influences so common of this sub-genre are in full evidence on the track below from about the three minute mark on.
#5

Starcastle


Starcastle
1976

The brunt of much critical lambasting, Champaign, Illinois' Starcastle was considered nothing more than a bad Yes clone and while they certainly took their cues from The Yes Album, the songwriting and harmonies were top notch. Their next two albums were really good as well and boasted the studio prowess of Roy Thomas Baker. Despite the thinner sound, their debut stands as their best work – especially the stellar first song, "Lady Of The Lake." Interesting note: lead singer Terry Luttrell was REO Speedwagon's original singer and appears on their first album. Only this one's way better.
#4

Steve Hackett


Voyage Of The Acolyte
1975

Employing both Phil Collins and Mike Rutherford, this was Hackett's debut solo album and was recorded while still a member of Genesis. It has the feel of early post-Gabriel release Trick Of The Tail. Soon enough he would quit Genesis, citing the band's refusal to use more of his songs. I always thought this kind of phony as his last record with them, 1977's Wind And Wuthering, showcased his talents more than any previous album. So, whatever. Also: check out Hackett's first album after departing Genesis, Please Don't Touch which features Richie Havens and Steve Walsh of Kansas on vocals. You can skip the rest.
#3

Nektar


Remember The Future
1973

Prog-heads usually prefer 1972's A Tab In The Ocean (as would Iron Maiden fans; they covered two songs off that one) but I'm a sucker for side-long tracks – "Karn Evil 9", "Supper's Ready", "Close To The Edge", "Thick As A Brick." Well okay, this is not in that same league but it is a really cool album and it even got to #14 in the states. Remember: Tales From Topographic Oceans was a double album with four songs on it and it reached #1 in the UK and #6 over here. Things were a little different back then, I guess. These guys were an English band based out of Germany and always made me think of a funkier Hawkwind. Kind of.
#2

Fireballet


Night On Bald Mountain
1975

Taking on a well-known classical piece had been done before. Taking on a well-known piece by Modest Mussorgsky had also been done (see Emerson, Lake & Palmer's Pictures At An Exhibition) but New Jersey band Fireballet give it a go anyway. It does have that ELP flavor to it, which is unsurprising. What is surprising is how good this, their only album, actually was. The nineteen minute title track is best remembered as one of the highlights of Disney's movie Fantasia, you know – Mickey Mouse conducting with a wizard's hat on. Wait a minute – Mickey was a Prog rocker?
#1

UK


Danger Money
1979

For my money, the last great Prog album. UK started as a four piece super-group with John Wetton (King Crimson), Bill Bruford (Yes), Alan Holdsworth (Soft Machine) and Eddie Jobson (Curved Air). After an okay debut album, Bruford and Holdworth left and Terry Bozzio (Frank Zappa) joined for this, their (and Prog's) final hoorah. All that the genre could muster after this was the radio-ready Asia, Phil Collins' version of Genesis and "Owner Of A Lonely Heart." Most of the key artists either went commercial or just went away. Punk has been blamed for Prog's demise but ultimately the bands themselves were guilty of not reading the handwriting on the wall. What we are left with is a pretty stunning ten years of complex and ground-breaking music. Slowly but surely, Prog is gaining a belated acceptance as evidenced by Rush and Genesis being inducted into the Rock 'N Roll Hall Of Fame. Yes has been nominated this year and who knows? Maybe in a few more decades these bands will be feted as the rock gods they so clearly thought they were!

-Feature by Scot Lade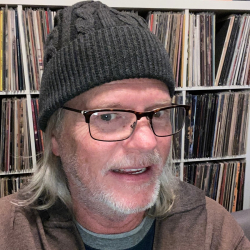 Latest posts by Scot Lade
(see all)