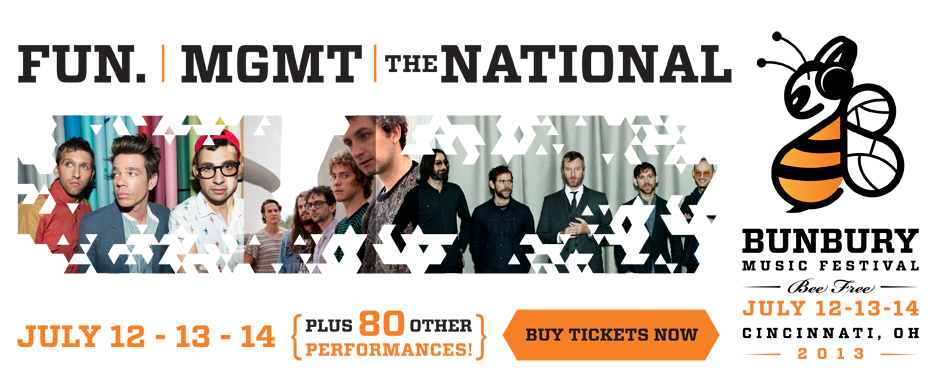 Day 3 at Cincinnati's Bunbury Music Festival was even hotter but that absolutely did not slow the bands or fans down from having a good time. Even a quick 20 minute early evening shower couldn't hold the show back.
Belle & Sebastian, Black Joe Lewis , The National and many others all had great shows which I think made Sunday the perfect finale to a great festival! Below you can see our pictures and hear some feedback from our writers that were on the scene. Till next year Bunbury – it was stellar!
Sunday (Day 3)
The Upset Victory (Amphitheatre Stage)
[easyrotator]erc_30_1374460816[/easyrotator]
Chris Anthony: Cincinnati's Upset Victory was our first official stop on Sunday. The indie rock band plays a style of mid-2000's emo pop rock that was comparable to Fall Out Boy or Motion City Soundtrack. This was a nice addition to the festival as not many other bands had this sound. I thought The Upset Victory sounded good and put forth an energetic live show that I remembered.
Gregory Alan Isakov (Main Stage)
[easyrotator]erc_91_1374460965[/easyrotator]
Kevin Poindexter: We got to the main stage just in time to see the start of Gregory Alan Isakov's set. I didn't know a note of his music going in, but the four piece wowed me from the get go. A nice mellow, alt/country/folk set, like the Mumfords if they were actually good. I believe there is a new record coming out, and it sounds like it's going to be a winner. Definitely got me off on the right foot for the day.
Chris Anthony: I have always liked Gregory Alan Isakov and think he is currently one of best under the radar artists in the neo-folk movement. His live set did not disappoint as he sang a few new ones from his recently released record The Weatherman and gave fans favorites from his previous two albums. It was a shame Isakov played so early because I think he would have quickly won over some of the later crowd with his note perfect set.
A Silent Film (Rockstar Stage)
[easyrotator]erc_71_1374461088[/easyrotator]
Kevin Poindexter: After Isakov's set, we turned around and walked over to the Rockstar stage to see A Silent Film, one of the 10 must see acts at Bunbury. I lasted two songs. While their Coldplay/Keane-isms seemed to play well to the crowd, it wasn't really my thing. I have to confess, I did have one of their songs, "Danny, Dakota, & The Wishing Well stuck in my head for quite some time afterwards.
Chris Anthony: I really like the song "Danny, Dakota, & The Wishing Well" from A Silent Film but their overall Keene sound only held me so long for their live set. The band had a nice crowd which they did a great job of interacting with. Their live performance was not my favorite of the day but I think they served a niche for festival goers that walked away from their performance happy.
High Highs (Bud Light Stage)
[easyrotator]erc_61_1374461201[/easyrotator]
Chris Anthony: The High Highs are originally an Australian duo but now call New York home. The group was on the Bud Light Stage as we strolled by so we decided to take a bit of their performance in. The band has been recently opening for Vampire Weekend so for me it seemed like an indie band to definitely check out. The group played an impressive style of dream-pop that sounded solid in the wide open area. The only real problem I had was that it was crazy hot at the Bud Light Stage and their subtle music just did not connect with my dehydrated mood. Definitely a group to check back on – in a cooler setting!
Camera Obscura(Main Stage)
[easyrotator]erc_87_1374461288[/easyrotator]
Kevin Poindexter: Camera Obscura played a nice set of their own brand of indie pop, it was about what I expected. They are good, but a little goes a long way, and after hearing "I'm Ready To Be Heartbroken", which is easily my favorite song from them, I was ready to move on and check out something else.
Simon Workman: I got to the festival pretty late, but there was still plenty of great live music to see. Camera Obscura kicked off my Sunday afternoon with some jangly, Scottish-inflected folk rock that was a great start.
Chris Anthony: Camera Obscura came out with a very lighthearted set and fun attitude. The band even made fun of themselves for almost all of them wearing some sort of black on a sweltering day. I have never been a huge fan of the band but respect their lengthy career and solid indie sound. Camera Obscura was spot on in their performance and I think probably converted some new fans in the festival crowd.
Night Terrors Of 1927 (Rockstar Stage)
Simon Workman: I listened to the catchy pop-rock hooks of the elaborately-named Night Terrors of 1927 which was new to me as I was unfamiliar with the band.
Belle And Sebastian (Main Stage)
[easyrotator]erc_62_1374461413[/easyrotator]
Kevin Poindexter: Belle & Sebastian were a total highlight for me. i have been wanting to catch them for close to 15 years, but they never seem to come around. They opened with the fantastic instrumental "Judy is a Dickslap" and kept the hits rolling. They hit tracks off of If You're Feeling Sinister and The Boy With The Arab Strap, as well as playing personal favorite Mike Piazza, New York Catcher. I would go see them again in a heartbeat, they totally nail the sound of their records.
Simon Workman: Belle and Sebastian crooned their way through a well-oiled baroque-pop set .
Chris Anthony: I have enjoyed Belle and Sebastian since the early Matador days but have never seen them live so I was a bit excited to see them on the Main Stage Sunday. I have always enjoyed their indie-pop in studio version but had no idea that they would put on such a great show. They played all of their "hits" in this hour set and they nailed every one of them with such ease and enjoyment that was a true treat for the crowd. Belle and Sebastian put on one of the best performances of the day and I have already put them on the list to check out next time they perform anywhere close!
Black Joe Lewis (Bud Light Stage)
[easyrotator]erc_34_1374461950[/easyrotator]
Kevin Poindexter: Black Joe Lewis and The Honeybears were interrupted by a rain storm that halted the festival for a good 20 or 30 minutes, it was a shame too, they were three or four songs into their set, and were absolutely killing it. However, after the rain stopped, the band picked up right where they left off and continued to assault us with their unique blend of Rock, Soul, Funk and R&B. Unfortunately we had to leave early to head back over to the main stage to get ready for the headliner, The National.
Chris Anthony: Black Joe Lewis for me was a must see at Bunbury. He absolutely showed everyone why as he came out on fire cranking out his unique style of rock and soul that came complete with a slick horn section. Lewis was the highlight of the festival for me as his set rocked out song after song. Also by looking at the crowd you could tell that most new listeners to Black Joe Lewis were surprised by his all out guitar assault which I guarantee earned him a slew of new fans after his scorching live set.
The National (Main Stage)
[easyrotator]erc_21_1374462866[/easyrotator]
Simon Workman: The highlight of the festival were headliners The National, who rocked the crowds faces off with a fantastic collection of tracks from across their catalogue—an epic close to an already excellent day of music.
Kevin Poindexter: The National are a difficult band for me to review. I have been a fan since Alligator, and consider their show in Cincinnati early on The Boxer tour to be one of the top 20 shows I have ever been to. However, High Violet and their new album, Trouble Will Find Me, have offered diminishing returns for me. Live, they are capable of incredible highs, but they are also prone to agonizing boring stretches. However, every time I'm ready to write them off, they hit me with a classic that pulls me back in. By my count, 11 of their 20 songs were stellar, the other 9 bored me a little (some more than others). That doesn't really surprise me though, I get the same feeling from their last two records. Still, the stuff that I liked was really great and made it well worth my time.
Chris Anthony: The National came out Sunday night like true headliners supporting their hometown music festival. Kicking things off with old favorite "Fake Empire" was an excellent start to a solid set that featured plenty of tracks from their new record Trouble Will Find Me. The new songs I thought played with more strength live compared to the studio versions as their past catalog contained the same swagger. The band was definitely geared up to be back home as singer Matt Berninger asked the crowd "How many of you are here from somewhere other than Ohio?" Several hundred hollered and then Berninger politely stated, "Well, this one's not for you" as they tore into "Bloodbuzz Ohio." The highlight of the night was "Mr. November" as Berninger jumped into the crowd and made his way through the festival group with a wired mic. It was crazy, fun and cool as he just kept going. The band was a solid closer to a great festival weekend and I certainly believe that all who attended walked away more than satisfied!
Latest posts by Fire Note Staff
(see all)