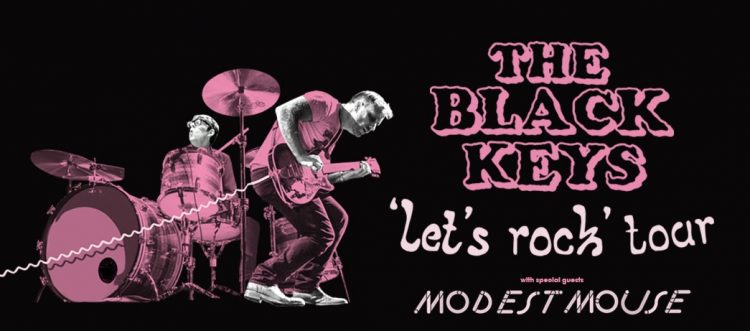 The Black Keys w/ Modest Mouse; Let's Rock Tour 2019; Nationwide Arena, Columbus, OH – Wednesday, October 2, 2019
There are some bands who put so much distance between their latter day success and their modest early beginnings that its nearly impossible to imagine them learning their musical chops in a garage band from some small town because fame and success force you to see them only as what they've become. All you can see is the spectacle of stardom, you don't get a glimpse of the vulnerable person behind the curtain. Not so with The Black Keys.
When the duo which started out in Akron, Ohio, ended their four year hiatus with the release of Let's Rock in June, it came almost simultaneously with the announcement that they would be launching a Fall tour of arenas. Vocalist/guitarist Dan Auerbach had stayed busy during that break, releasing an album and touring with The Arcs, before releasing a solo album, and produced at least a dozen albums for other artists, including The Pretenders, Cage The Elephant, and Yola, the country music sensation from England. Patrick Carney joined up with John Petkovic to release an album dedicated to their hometown of Akron, OH, as the band, Sad Planets, and produced albums for singer/songwriter Michelle Branch and a handful of others. While some band's returning from a lengthy break might test the waters in some smaller venues before launching an arena rock tour in 2019, The Black Keys returned with the confidence that if they hit the road the fans would come. And on Wednesday night, the mostly full sports arena in Columbus was all the proof you'd need.
The Black Keys took the stage promptly at 9 pm, strapping in the way a blue collar worker punches a time clock at the start of a shift, and got down to business without a lot of fuss, opening the show with "I Got Mine" an early bluesy rocker from their 2008 release, Attack & Release. Of course, at this point, the drum-guitar rock duo are joined on stage by some support players – guitarist Steve Marion, bassist Zach Gabbard, and third guitarist Andy Gabbard – but, Auerbach limited his introductions to Carney and himself. "We're The Black Keys from Akron, Ohio," he stated early on, "That's Patrick Carney, I'm Dan Auerbach, let's keep it going." And keep it going they did, moving economically through their 18 song set in just under 75 minutes.
Smartly, they followed up there early opening "pre-stardom" track, with two from their newest album, "Eagle Birds" and "Tell Me Lies," both of which were played with the same bluesy, DIY attitudes of punks playing loud and hard in their parents' basement before the inevitable call came down from above to turn it down. And it's also worth noticing that they stick close to the same basic subject matter. In "Eagle Birds," Auerbach sings "Don't nobody wanna be lonely/Everybody oughta be loved sometime," which lines up pretty close to the set closing song, "Lonely Boy" from the band's 2011 album, El Camino.
The first three songs were played with a long curtain hung just behind the players, with Carney's drum kit on a riser to the front of the stage, across from Auerbach, who was the only one of the duo with a mic for vocals. During the opening numbers, they had shown movies on the curtain, mostly of natural settings, like Joshua Tree. The curtain dropped as the band kicked into "Gold on the Ceiling," drawing a big response from the crowd, perhaps because it was the first song in their set that had garnered radio airplay, and it comes with a chorus hook perfect for a crowd sing-along. The curtain had hidden a huge screen with a circular edging, and a zig-zag lightning bolt on each side. The rear screen allowed for big projections, mostly of the band members as they played.
"Fever" came up next, from the 2014 album Turn Blue, relying heavily on a swampy bass line from Gabbard, followed by "Next Girl," from the 2010 album, Brothers, which seemed to open up a fuller, bigger sound, with keyboards that seemed to be dropped out of nowhere into the mix, broadening the musical dynamics in the large room. Already, Auerbach was taking bright, smart solos on each of the songs, never working them too hard, or extending them too long, but matching his tone and playing to the recorded versions. He seemed to take it up a notch playing a fiery solo to match the flames on the screen for "Fire Walk With Me, the closing song on the band's newest album. Then, in poetic response, they performed "Walk Across the Water," against a screen of blues and greens, with Auerbach's guitar sound turned to a cooler but no less emotional tone, and this one time he seemed to extend his solo, which proved exceptional.
They changed up the sound and tempo a bit for the driving funk train that is "Everlasting Light," again from Brothers, with Auerbach singing those high notes in a convincing falsetto. Carney's drums are obviously an essential part of the mix but he rarely showboats, or takes traditional drum solos, even though his presence is deeply felt on most songs. So, he really takes advantage of the key moments when the drums dominate, which he did creating a musical segue with a long, potent swinging intro to "Howlin' for You" from the same album. The crowd, often looking for ways to connect, was all over the "da, da, da, da" hook in the chorus, the arena was coming alive, with a large percentage of folk on their feet from the very beginning of the set.
Other than the occasional "thank you," Auerbach obviously didn't feel the need to pander to the crowd, or repeat concert clichés… and while, you have to admire that dogged focus on bringing the music, delivering the jams… I thought it a tad bit strange, he never uttered the name of his album and tour. How do you stage a big arena rock show around that theme, and not say "Let's rock" at least once during your show. Frankly, I would have said it before every song, with the occasional "let's rock again," for variety.
What Auerbach did say, though, at this point, is "let's get back to some Akron basement music," as an intro to "10 A.M. Automatic," which goes all the way back to 2004's Rubber Factory, followed by "Your Touch," from '06's Magic Potion, and "Strange Times," from '08's Attack & Release. It's these early songs that give us the clearest picture of a couple Midwestern guys hitting their teen years in the 90's in the wake of then current bands like Nirvana and Pearl Jam, and classic rock stations playing Led Zep and The Who, doing their cover of "Summertime Blues," Carney and Auerbach doing their best imitations of all of the above in their basement after school, playing loud before their parents get home. There's a savage energy they try to tap in these "classics" of their own, yet maintain their balance. At one point, Auerbach comes to the microphone with a finger in his mouth, to say, "hey, I'm bleeding a little." Perfect.
In a nice change of pace, the R&B with the big swinging beat of "Tighten Up" was up next, with many in the audience joining Auerbach on the whistling intro. His guitar solo is played with a sound that imitates an organ played through a Leslie cabinet. And Carney takes advantage of the beat to play some fun extra measure of drummer excellence. But it was immediately back to that Akron basement for "Thickfreakness," the title track from their '03 release, and then the slower blues of "Ten Cent Pistol," from Brothers, again with Carney enjoying the extra beats, in the drum intro.
Auerbach strapped on an acoustic guitar for the first time in the evening for the opening campfire sing-along section of "Little Black Submarines," the entire crowd joining on the familiar lyric "that a broken heart is blind." Auerbach came back one more time to the microphone, stating for the record that "I'm Dan Auerbach, that's Patrick Carney, and we're The Black Keys."
Of course they returned for the encore to the hum of electricity, and a large blow-up version of the electric chair from the cover of the album, before they played the disc's two biggest hits so far, "Lo/Hi" and "Go." Who thought a tool of capital punishment was a great idea as a symbol for a rock concert, I'm not sure, but then again, some people wear little crosses around their necks. Finally, Auerbach introduced the 3 back-up musicians with whom they had shared the stage, and then they closed down the night with "She's Long Gone," again from Brothers, giving the song, and the crowd the big rock ending a show of this magnitude required.
No doubt, though, part of the draw to this major rock event, was special guest, Modest Mouse, who hasn't released an album in way too long, but still has a strong fan following and tremendous musical appeal. Led by singer/songwriter and guitarist Isaac Brock, the 8-piece band delivered an hour long set, playing 12 songs in their bold mix of punk rock song structures and jam band arrangements. "Dark Center of the Universe" opened with a strong orchestral fill driven by the viola playing of Lisa Molinaro, supported by synthesizers doubling the melody, with Brock adding a lengthy guitar solo in the spirit of Jerry Garcia. Highlights came mid-set in a trio of "Lampshades on Fire," "Bukowski," about he rebel poet, and "King Rat," which featured Brock on electric banjo. The closest the ever so Modest Mouse came to a "hit" song was a fine, sing-along version of "Dashboard." It was a fun, and satisfying set, even though a guy in the men's room announced to anyone who would listen, that they hadn't played "Float On" in the last six shows… and as they say, so it goes.
-Reviewed by Brian Quincy Newcomb
Brian Quincy Newcomb has found work as rock critic and music journalist since the early 80's, contributing over the years to Billboard Magazine, Paste, The Riverfront Times, and The St. Louis Post-Dispatch.
Latest posts by Brian Q. Newcomb (see all)
Please follow and like us: