Old 97's


Graveyard Whistling
ATO Records [2017]


Fire Note Says: Old 97's embrace their roots!
Album Review: Drinkin', whiskey, cars, trouble, women, God and Texas – Dallas, Texas that is. That has been the story of the Old 97's since their first record, Hitchhike To Rome which was released back in 1994. A parallel story for the Old 97's is that they are a veteran group and have rightful ownership and credit for much of the modern alt-country/Americana we hear today. Anyone that does not place 1997's Too Far To Care in their top albums of all-time for this genre has clearly not spent enough time with the album or this road and age tested group.
Graveyard Whistling delightfully is the groups best record since 2008's Blame It On Gravity and for me, is easily in their top 5. The band expands on the loose feel they rediscovered on their last album Most Messed Up (2014) and polishes it up with more focus and a familiar roots sound. Some of this comes from the group returning to the Tornillo, Texas studio to record Graveyard which is where Too Far To Care was crafted. I am not sure if it was the scenery, the space or if this style is just in their blood but the carefree Americana found on Graveyard Whistling is on the perfect track back to their honest beginnings.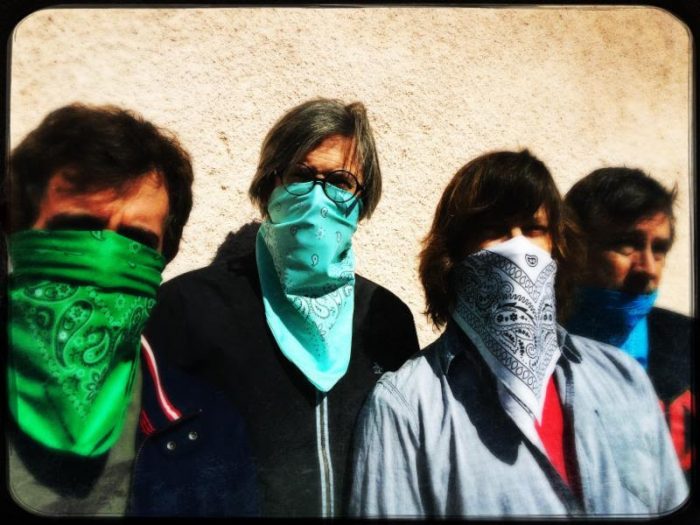 Some might say that the rock twang hybrid found here is treading water for the band but those critics are missing the point – this is the Old 97's sound and guess what? They are damn good at it. The desperation found in the opening "I Don't Wanna Die In This Town" is lead singer Rhett Miller at his best when he sings the chorus "step on the gas – get outta of here – I don't wanna die in this town!" On the rollicking bar stomper "Bad Luck Charm," you can get right into the story as Miller sings a familiar tale with an instantly memorable sing along chorus. "Good With God" is a solid standout on Graveyard Whistling as Miller comes face to face with the above that is represented with the vocal help of country artist Brandi Carlile when she sings "you should be scared, I'm not so nice – many men have paid the price." It is a dark outlaw song that has a fever and an intensity which I can't get out of my head.
Elsewhere on this record, you get the raise your drink in the air call out during "Irish Whiskey Pretty Girls" and "Drinkin' Song" while "Turns Out I'm Trouble," once again shows a bit more sinister history for the group with its darker perspective. It is only a track that the Old 97's could create at this point in their career. Other songs like the closing, "Those Were The Days" and "She Hates Everybody" represents the accustomed upbeat mid-tempo number that fans will eat up and will blend right into a live set. Overall, there is nothing to dislike on Graveyard Whistling if you are a fan. It is one of the Old 97's strongest efforts in years and not only sounds like the group is comfortable in 2017 but they are still completely representing the genre they helped build!
Key Tracks: "I Don't Wanna Die In This Town" / "Good With God" / "Turns Out I'm Trouble"
Artists With Similar Fire: Drive-By Truckers / Son Volt / Wilco
Old 97's Website
Old 97's Facebook
ATO Records
– Reviewed by Christopher Anthony

After spending the early 90's managing a record store, the mid to late 90's producing alternative video shows and 00's blogging about the music scene Christopher Anthony is always ready to hear new music.

Latest posts by Christopher Anthony (see all)
Please follow and like us: