Tobin Sprout


"Just One Kid (Takes on the World)"
Petrified Fish Records [2016]

Tobin Sprout's new 7", "Just One Kid (Takes on the World)," was released earlier this month. There are two different jackets to collect. One is a simple white design with a bee printed in the middle; the other is a 2-color silkscreen version that also comes with a 4-color silkscreened poster, signed by Tobin Sprout and limited to 200 copies. A nice bundle for those collectors of all things Toby. Both versions come with a digital download code. As of this writing, it appears that both versions are still available on Tobin's website.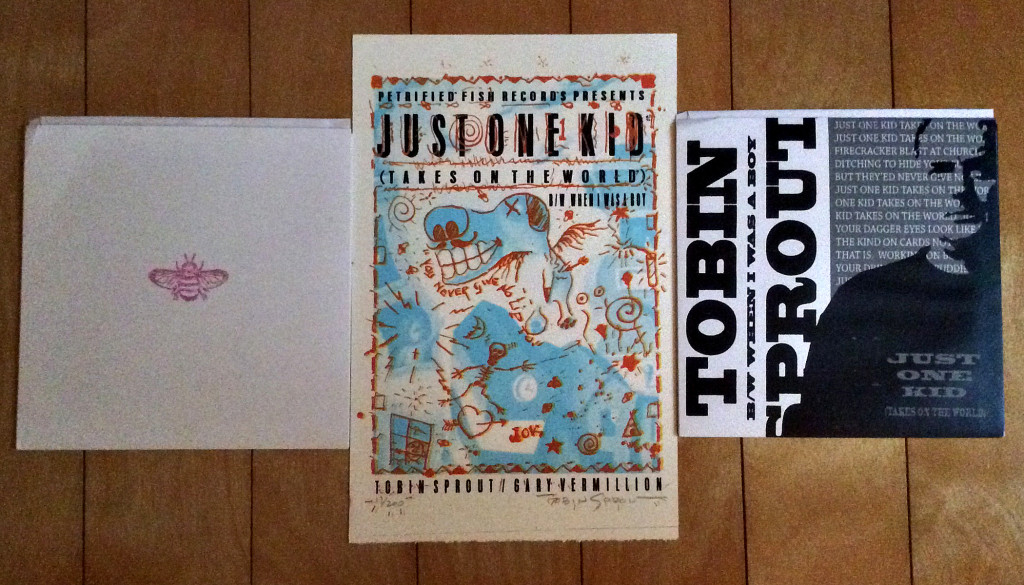 Tobin's tracks pick up right where the singer/songwriter left off on the last Guided by Voices album, Cool Planet. Side A has a straightforward rocker; "Just One Kid (Takes on the World)." It has all you need: a catchy chorus and some nice crunchy guitar. Side B, "When I Was a Boy" is a gem. Reflective and wistful. When Toby employs the piano in his songs, he has a knack for pulling at your heartstrings. I have been playing this one repeatedly. Just another wonderful track from one of the best singer/songwriters in rock.
If Sprout's songs on Guided By Voices' albums are highlights for you, then pick this up!
Tobin Sprout Website
-Review by Daniel Taylor
Photographer/journalist for the U.S. Navy for 26 years. Music fan since forever. Music really hit him in the early 90's when he heard the Pixies' Doolittle LP. After that came Pavement and then Guided by Voices. His love for those bands formed his taste in music and he continues to search for that musical "high" today. Married for 18 years and currently lives in Japan.
Latest posts by Daniel Taylor (see all)
Please follow and like us: