Strand Of Oaks


HEAL
Dead Oceans [2014]



Fire Note Says: Strand Of Oaks cover tons of musical territory and HEAL is better for it.
Album Review: HEAL is Timothy Showalter's, a.k.a. Strand of Oaks, fourth LP and easily his most expansive as it takes you on a journey through some synth pop, a little post-punk, folky Americana and even a bit of hard rock. That seems like tons of territory to cover over the album's 43 minutes but Strand of Oaks make the trip and HEAL is a better album for it.
From the opening track, "Goshen '97," HEAL has a distinct road appeal as the song features an unmistakable guitar from J. Mascis (Dinosaur Jr.) and a driving groove that for most, will be the perfect introduction to Showalter's style. The song rocks out as its vocals struggle to maintain a front seat and the song keeps pulsing rock in the background. When Showalter sings "Singing Pumpkins in the mirror, Porn and menthois under my bed, Before I was fat drunk and mean, Everything still lied ahead," it connects to those feelings of youth and not having true responsibility which now would be like a feeling of freedom. The synth pop that follows on the title track will at first shock the listener a bit because the beats are unexpected but surprisingly accepted. Showalter once again brings you into the track with his lyrics as he reflects on putting his headphones on while listening to Sharon Van Etten. This self-reflection is what makes HEAL stand out as Showalter self-confesses feeling awful for 10 years but now is in a better place but still removing the demons one by one.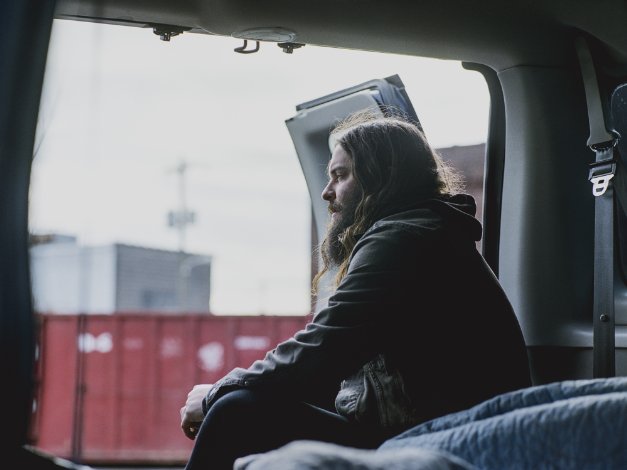 Strand of Oaks possesses a very strong staying power as HEAL maintains a timeless appeal. It doesn't matter if it is an over seven minute emotional track about Jason Molina, "JM," or the explosive piano driven closer "Wait For Love," there is something for everyone here. The different sides of Strand of Oaks should be able to capture a wide fan base as the songs, at times, can sound like Patterson Hood (Drive By-Truckers) to Coldplay to Eels to Iron & Wine. What could be a scattered disaster, HEAL thrives on its different personas as Strand of Oaks have officially placed themselves on the musical map with this memorable release.
Key Tracks: "Goshen '97 " / "Shut In" / "JM"
Artists With Similar Fire: Jim James / Okkervil River / Patterson Hood

Strand Of Oaks Website
Strand Of Oaks Facebook
Dead Oceans
– Reviewed by Christopher Anthony

After spending the early 90's managing a record store, the mid to late 90's producing alternative video shows and 00's blogging about the music scene Christopher Anthony is always ready to hear new music.

Latest posts by Christopher Anthony (see all)
Please follow and like us: