Neil Young


Live At The Cellar Door
Reprise Records [2013]



Fire Note Says: Neil in his prime!
Album Review: By now, Neil Young has become a rock music icon, best remembered for a variety of traits: early seminal work with Buffalo Springfield, his hard rocking anthems with Crazy Horse, his role as the ornery one in Crosby, Stills, Nash & Young, his political activism (see the Bush-era album Living With War). He's also model train aficionado, and an audiophile working to improve sound delivery in the digital age. Young's been a influential creative artist, whose fans include grunge rockers like Kurt Cobain and folk up and down Americana rosters, and even Thom Yorke of Radiohead, who performed After The Gold Rush solo at piano for one of the band's encores on the "Hail to the Thief" tour.
What often gets lost in the shadows of albums like last year's aptly titled 2-disc Psychedelic Pill and the sturm und drang of his noisy full-band rock classics ("Hey Hey, My My" anybody?) is Young's way with a simple folk song. On this solo live album recorded over six nights in DC's intimate Cellar Door club late in 1970, just months after performing with CSN&Y at Woodstock, we get to hear Neil Young in strong voice at the height of his early and, arguably, most memorable period as a songwriter.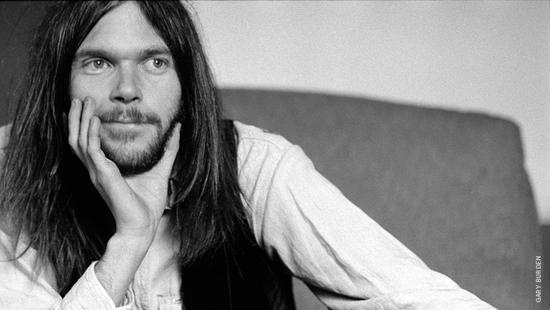 Youthful and a bit of an innocent, Young delights the small crowd with songs from his days in Buffalo Springfield, that year's solo release, After the Gold Rush, and some that have become beloved by his fans: "Tell Me Why," "Old Man," "Don't Let It Bring You Down," "I'm A Child," and "Only Love Can Break Your Heart." Throughout the 13 tracks, Young exhibits excellent acoustic guitar accompaniment, and surprises with his piano skills on "See the Sky About to Rain" and the unexpected version of "Cinnamon Girl" ("First time I ever did that one on the piano."). Songs like "Old Man" wouldn't get a studio recording for two years, when Harvest was released, while "See the Sky" would take a few more years before surfacing on an album, and you can almost hear the audience trying to absorb material that new.
But in the end, it's the less well known songs and rarities that will attract fans who've dug deep into his Archive series of live albums, like this one, dating back to early tours. "Birds" is a lovely track easily overlooked among the others from Gold Rush that shimmers with quiet elegance here. "Flying On the Ground Is Wrong" is a Springfield throw-back about how drug use pulls you away from old ways of being, while the rarely recorded "Bad Fog of Loneliness" touches on one of Young's familiar themes, his longing for connection and love.
Little here reveals anything new and unexpected to the long-time fan, but if you've only followed Young as the loud electric rocker, this quieter collection of singer/songwriter folk is worthy of a second look.
Key Tracks: "Tell Me Why," "Old Man", "Cinnamon Girl"
Artists With Similar Fire: Bob Dylan / CSN / James Taylor
Neil Young Website
Neil Young Facebook
Reprise Records
– Reviewed by Brian Q. Newcomb
Brian Quincy Newcomb has found work as rock critic and music journalist since the early 80's, contributing over the years to Billboard Magazine, Paste, The Riverfront Times, and The St. Louis Post-Dispatch.
Latest posts by Brian Q. Newcomb (see all)
Please follow and like us: