Iron & Wine: Ghost On Ghost [Album Review]

Iron & Wine


Ghost On Ghost
Nonesuch Records [2013]




Fire Note Says: Iron & Wine's fifth LP is an alternative/folk/rock/jazz/pop masterpiece.
Album Review: Sam Beam has gone through quite a musical evolution in the eleven years he's been making music under the Iron & Wine moniker. While his first two albums (2002's The Creek Drank the Cradle and 2004's Our Endless Numbered Days) were intimate affairs that showcased Beam's wispy folk songwriting, each subsequent project has seen Beam experimenting with new sounds and genres. Whether it's the layered and moody alt-folk of 2005's Woman King EP and 2007's Shepherd's Dog, his collaborative EP In The Reins with Americana/Tex-Mex act Calexico, or the kaleidoscopic Kiss Each Other Clean, Iron & Wine have expanded their sound considerably, adding in drums, sitars, saxophones and synths, but keeping Beam's distinctive vocals and songwriting chops at the forefront. With Ghost on Ghost, the sonic palette changes yet again, but those core elements of the Iron & Wine sound are still here and are still just as powerful as they've always been.
Beam is joined by a varied cast of musicians, including Bob Dylan's bassist Tony Garnier and Rob Burger, who is responsible for the horn arrangements. The album feels markedly different than Kiss Each Other Clean, largely stripping away the synthesizers in favor of a slightly "jazzy" sound, incorporating pianos, organs, strings, and the aforementioned horns. This isn't jazz, though—Ghost on Ghost is still thoroughly Iron & Wine, sounding like a hybrid of their last two albums without many of the jarring instrumental additions that made Kiss Each Other Clean off-putting for some. There are some differences, however: the multi-tracked backing vocals that we got glimpses of on tracks like "Walking Far From Home" and "Tree By The River" are featured more prominently here, appearing on most tracks. Another immediately apparent change is that some of these songs are the most upbeat and lively Beam has penned so far. "Grace for Saints and Ramblers," for example, speeds along with propulsive drums, electric piano riffs, violin stabs and Beach Boys-style backing vocals, all behind Beam's tongue-twisting lyrics that could give Dylan's "Subterranean Homesick Blues" a run for its money. Opener "Caught In The Briars" begins with a jazzy freak-out groove that quickly resolves itself into a sunny 70s-style pop song (before bringing back the jam for the last 30-odd seconds).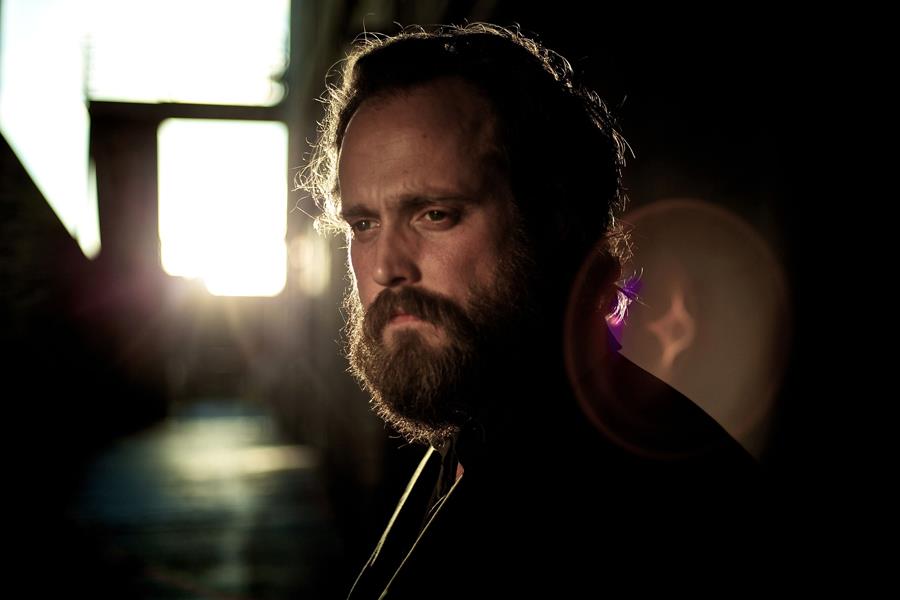 There are still some of Iron & Wine's patented low-key ballads here as well. "Joy" sounds like something that could have been released on Our Endless Numbered Days if it weren't for the piano that makes up most of the accompaniment. Then there's "Sundown (Back In The Briars), which brings back some of the lyrical and musical themes of the opening track in a more laid-back fashion, blending vibes, tubular bells and backing vocals into a hypnotic backing track. "Winter Prayers" continues the sleepy feel, bringing plucked guitars and piano together in a sparse, melancholic track that recalls some of Beam's best early songs. Closing track "Baby Center Stage" adds some pedal steel to the mix, and features some of Beam's best vocals and storytelling lyrics to date.
Additionally, there are some bizarre but worthwhile musical left-turns that give the album some variety and set it apart from its predecessors. The most obvious of these is "Lovers' Revolution," which is by far the most "jazzy" track here. Musically it's almost entirely horns, bass and drums, with an impassioned vocal from Beam, backing singers echoing some of his lines, and a mid-song rave up. "Singers And The Endless Song" brings back some of the synthesizers in the chorus, while its verses rely on a heavy drum beat, staccato horns and ominous piano chords with more rapid-fire lyrics. But in the end, these detours add extra textures to the album, giving it a sense of identity and expanding the idea of what an Iron & Wine album can sound like even further. If you're looking for Sam Beam to craft another set of austere, whispered bedroom-folk, you're going to be disappointed. But if you've been able to follow the plot this far, you might just find Ghost on Ghost the best Iron & Wine album yet
Key Tracks: "Caught In The Briars", "Grace For Saints And Ramblers", "Baby Center Stage"
Artists With Similar Fire: Nick Drake / Andrew Bird / Sufjan Stevens
Iron & Wine Website
Iron & Wine Facebook
Nonesuch Records
-Reviewed by Simon Workman

Simon Workman has loved rock n' roll ever since his dad made him Beatles and Beach Boys mix tapes as a kid. These days his musical interests have a wide range, though he's still got a strong connection to the music of the 60s and 70s. He lives in Dayton and is currently working on a PhD in English literature at the University of Cincinnati. You can follow him on Twitter and Instagram @simonworkman.

Latest posts by Simon Workman (see all)
Please follow and like us: