Bleached: Ride Your Heart [Album Review]
Bleached


Ride Your Heart
Dead Oceans Records [2013]


Fire Note Says: Bleached release their debut that emotes the spirit of the 60's girl group rock while sounding completely fresh in 2013!
Album Review: Bleached have a cool name, a cool sound and a cool energy! I know that is a lot of cool but the LA band's debut, Ride Your Heart, struck a chord with me right from the rocking opener "Looking For A Fight" with their 60's retro girl group vibe and modern indie flare.
Some of this comes from the band's roots as Bleached is comprised of sisters, Jennifer and Jessie Clavin that were previously in the all-girl punk band Mika Miko which played on tour with No Age, Black Lips, and The Gossip. This resume raised the anticipation for Bleached debut and their Ramones meets Shangri-Las delivery style works track after track. What helps Ride Your Heart is that Bleached consistently change up the style to keep things fresh. "Next Stop" has more punk grit to it while the slower and groove based "Outta My Mind" is a hum along track that uses a new wave backdrop to create something different. The pulsing guitar on "Dead In Your Head" also has a retro vibe but this time it falls into a more Blondie attack with a very Debbie Harry type of vocal approach.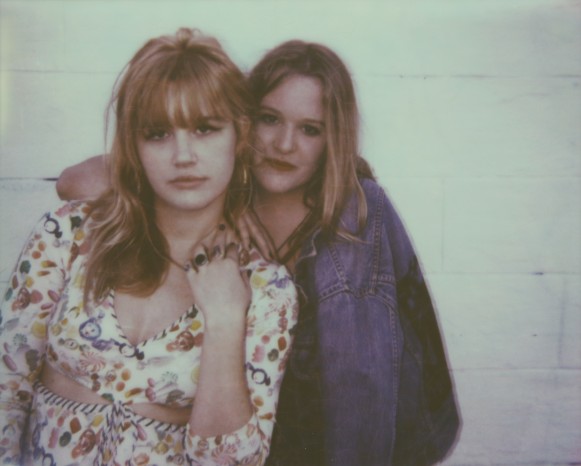 Diversity helps Bleached but sometimes I think it hurts the overall appeal of Ride Your Heart because on certain tracks like the flowing "Dreaming Without You" I wish the band would have injected a bit more punk into its tempo. This shift in attitude is what holds Ride Your Heart back from greatness because the music maintains a solid presence especially when the guitar gets revved up and the duel vocals take over like on "Waiting By The Telephone". Ride Your Heart shows great promise for Bleached and is a record that gets better with every spin. It puts Bleached on a band list to watch because they have real potential to take things even bigger on the indie scene.
Key Tracks: "Next Stop" , "Waiting By The Telephone", "Outta My Mind"
Artists With Similar Fire: Nikki And The Corvettes / Veronica Falls / Shangri-Las
Bleached Facebook
Dead Oceans Records
-Reviewed by Christopher Anthony

After spending the early 90's managing a record store, the mid to late 90's producing alternative video shows and 00's blogging about the music scene Christopher Anthony is always ready to hear new music.

Latest posts by Christopher Anthony (see all)
Please follow and like us: