Why?


Moh Lhean
Joyful Noise Recordings [2017]


Fire Note Says: Well worth the 4 year wait, Moh Lhean is a beautifully-produced, introspective concept LP that begs to be listened to in its entirety, multiple times.
Album Review: Brothers Yoni and Josiah Wolf, well known in fringe and art rock circles of Cincinnati, are heavy hitters in their solo efforts and side projects. When they co-create under the moniker of Why?, they're a force to reckoned with. For devoted fans of the highly-stylized band, a new album is an event, not just a new release. It doesn't take too many tracks into Moh Lhean before the listener knows what the brothers have had on their minds: going deeper, taking life events and relationships apart and making art from those discoveries.
This band of skilled multi-instrumentalists plays at a philharmonic level. Etheric backing vocals from Liz Hodson, (Dream Tiger) combine perfectly with lead vocalist and wordsmith Yoni, whose lyrics make each track film-like in scope. The pictures portrayed on their critically acclaimed 2008 release, Alopecia, are a mix of the seedier side of life, delivered in Beck-style raps. On Moh Lhean, the subjects are deeper, but the delivery still carries weight. The first two words uttered on the album, "un-tethered layers", ("This Ole King"), are a good indicator, suggesting that one should not assume, only absorb, what's to come in the next 10 tracks. Stylistically nuggets of trip hop and acid house fill the sonic candy dish, and the fantastic mix and production demands headphones and multiple listening sessions. It's sure to be something you will hear with new ears every time.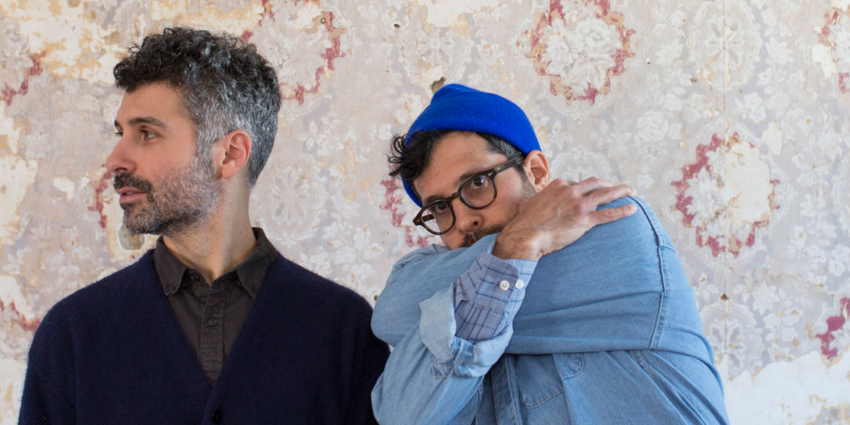 The art of the concept album is lost on a lot of today's ala-cart shoppers, but the order and the flow of Moh Lhean is so carefully crafted, it must be heard in its entirety. Connector tracks, such as the Dark Shadows-sounding "The Longing Is All", are just one of the nuances to appreciate. And who could walk away from a story that starts out with "After the hospital, we head to the shore. I fill up the raft, yeah, you cover your cast with plastic bags" (from "The Water")? In one lyric, I'm sucked in; I care about the character in less than one line. Track 3, "Easy", is another story, this time about going through life's hard stuff: "I'm with you when the Dunlop blew on the interstate…" These stories would stand on their own, beyond the amazing music of Why?.
Remaining true to their innovative spirit and brainy fanbase, the band has a VR music video for the track "This Ole King" that is must see below. VR goggles are suggested for optimum viewing but the 360-degree toggle controls still offer up a thrilling experience (I suggest HD in fullscreen mode). The kick-off for the Moh Lhean tour is a hometown show at the Woodward Theater, Over the Rhine in Cincinnati, March 16. The tour takes them across the USA, UK, EU, Japan and the Netherlands, ending in June.
Key Tracks: "This Ole King" / "George Washington" / "Easy" / "The Water" / "Proactive Evolution"

Artists with similar fire: Hooverphonic / Luna / Sufjan Stephens / St. Vincent / Flotation Walls / Animal Collective / Beck / They Might Be Giants / The Decemberists

Why? Website
Why? Facebook
Joyful Noise Recordings
-Reviewed by Shelly Hulce
Latest posts by Shelly Hulce
(see all)