Ty Segall


Manipulator
Drag City Records [2014]


Fire Note Says: Segall has crafted his first bona fide masterpiece with this shape shifting epic!
Album Review: Ty Segall has been riding an incredible wave of creativity that seemed to hit a peak in 2012 with the release of the triple entente of rock, Slaughterhouse, Hair, and Twins. He was still fantastic last year, releasing records with his side project Fuzz, and the underrated Sleeper lp, which while on the mellow side was a perfect counterbalance to the full on sonic assault of Fuzz. While Segall has been uncharacteristically quiet this year, he has been working hard, playing on and recording the excellent White Fence record, For The Recently Found Innocent, and spending the bulk of the year working on his new double album, Manipulator. With Manipulator, Segall has positioned himself in rarified air in the rock world, where there are only a handful of artists who inspire such a fervent following, and simultaneously continue to churn out amazing music at such an impressive pace. On Manipulator, Segall has taken the best parts of every one of his albums, and added even more (who knew the man could be so groovy?) and created a wildly successful record that is impressive in both vision and scope, and despite its double album length, is the type of album you can't quit listening to. Listen to it in chunks, or loop it on endless repeat, either way, just do it!
Side one of Manipulator begins with the title track, which opens with keyboards before drums and bass kick in, in fact the instrument that Segall is most identified with, the guitar, doesn't even make an appearance until after the break following the first verse. This is a great opener, setting the mood right off the bat, it lets you know that this is going to be an eclectic record, he could have easily started the album with a straight up garage rocker, but he didn't, and there is a reason for that. He catches us off guard, he has us right in his palm from the get go. "Tall Man Skinny Lady" is a groove based track with a great falsetto vocal, the drums are amazing on this track, and once again the guitar adds accents rather than being the driving force of the track. Segall is content to let the rhythm do the heavy lifting here, and the results are staggering, it also helps that this might be the catchiest track on the record. "The Singer" finds Segall exploring the Beatlesque side of his sonic psyche, this is yet another winner! "It's Over" closes side one, and it's the first straight up garage rocker on the record. This sounds like vintage 1968, classic fuzzy screaming guitars and a huge bassline, what a great end to a cool first side! Side two is once again a great mix of groovers, rockers and acoustic tracks. "Feel" features another fat bassline and a nifty little drum break to go along with its chugging guitars. "The Faker" is a cool confident strutter that features some epic guitar work. All in all side two is a bit mellower , but it features better overall melodies.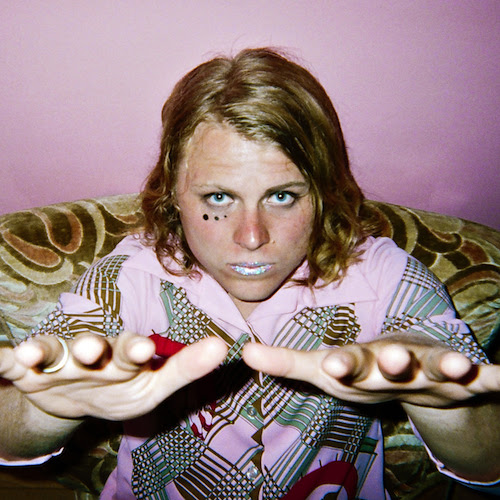 Immediately you think you know that side three is going to rock harder than the first two sides when the fuzz bass and loud guitars kick in on "The Connection Man", a heavy rocker that still has a loose groove to it, but then Segall takes an immediate hard right turn into funk with "Mister Main", before turning the guitars loose again on the second half of "The Hand". "Susie Thumb" is the garage pop anthem of the summer, it's hard guitars and gorgeous melody call to mind classic 60's era Who. "Don't You Want to Know" is hands down the prettiest song on the record, moving comfortably between the acoustic T Rex-isms of Sleeper to a more polished pop sheen. This is a huge leap forward from anything Segall has done before, what a stunner! Side four opens with the albums biggest psych freakout "The Crawler", and again finds Segall moving back and forth between styles before ending Manipulator with "Stick Around", a song that builds from a an acoustic base into a full blown guitar epic, the solos here are perfect, soaring, diving, pushing the tension and providing release. It is epic in every sense of the word.
A great double album has to be impeccably sequenced in order to keep the listener from getting ear fatigue and moving on to something else. The great ones, White Album, The Wall, Sign O The Times, Exile on Main Street, Tommy, invite you in, they surround you in sound and allow you to lose yourself, not just once, but over and over again. Manipulator does that, at least it does for me, and I'm betting it will for you too. Throughout Manipulator, Segall shows that he is a master of his craft, moving seemingly effortlessly between styles, mastering them all. He has put out many great albums over the past few years, but this is his best. Or should I say…his best so far!
Key Tracks: "The Crawler" / "Don't You Want To Know" / "Tall Man Skinny Lady"
Artists With Similar Fire: White Fence / Jay Reatard / Mikal Cronin
Ty Segall Website
Ty Segall Facebook
Drag City Records
– Reviewed by Kevin Poindexter

Latest posts by Kevin Poindexter
(see all)