TV On The Radio


Seeds
Harvest Records [2014]




Fire Note Says: Seeds is a profound journey through pain and loss, and ultimately, spiritual recovery and rebirth!
Album Review: TV on the Radio were part of that first wave of "blog bands" that hit it big in the early 2000's based on the promise of their debut ep Young Liars, which immediately moved them to the head of the class. The bands delivered the goods with their debut album, Desperate Youth, Blood Thirsty Babes, and have continued to be consistently excellent for the better part of the past decade. Noted for their willingness to experiment with their sound, effectively blending post punk guitars with keyboards and atmospheric production values, the band has shape shifted with each release, but what has always been first and foremost with the band has been their excellent vocals and songwriting. On their new album, Seeds, the band has dialed back on the experimentation and atmosphere and has instead chosen to put their greatest strength front and center. Seeds is their strongest set of melodies to date with every track being memorable. I would argue that this is their best set of songs since Return to Cookie Mountain, but no matter which album you feel is their high water mark, Seeds stands right up there with their best work.
Seeds is an album about loss and rebirth, which makes complete sense because the band is dealing with the passing of bassist Gerard Smith, but to say the album is strictly about that would be selling it short. It's clear that the band has experienced a lot of pain, but this album finds them coming to grips with the sadness and pain, and finds them coming through the other side of it, primed for a spiritual and physical rebirth and healing. Album "Quartz" opener sets the tone immediately, "How much do I love you? How hard must we try" pleads Tunde Adebimpe, and we as listeners are right there with him, feeling the pain. "Careful You" finds him hanging on to a relationship, knowing it's best to walk away but, still wanting to stay even though it's best to not. It's a powerful feeling that we can all relate to, again, the band has drawn us into their world. "Happy Idiot" finds them at rock bottom emotionally, and coping with it by just shutting off all feelings completely, making themselves numb to the world, shutting off and tuning out. Bleak stuff to be sure, but the second half of the record finds them crawling from the emotional wreckage and attempting to move forward.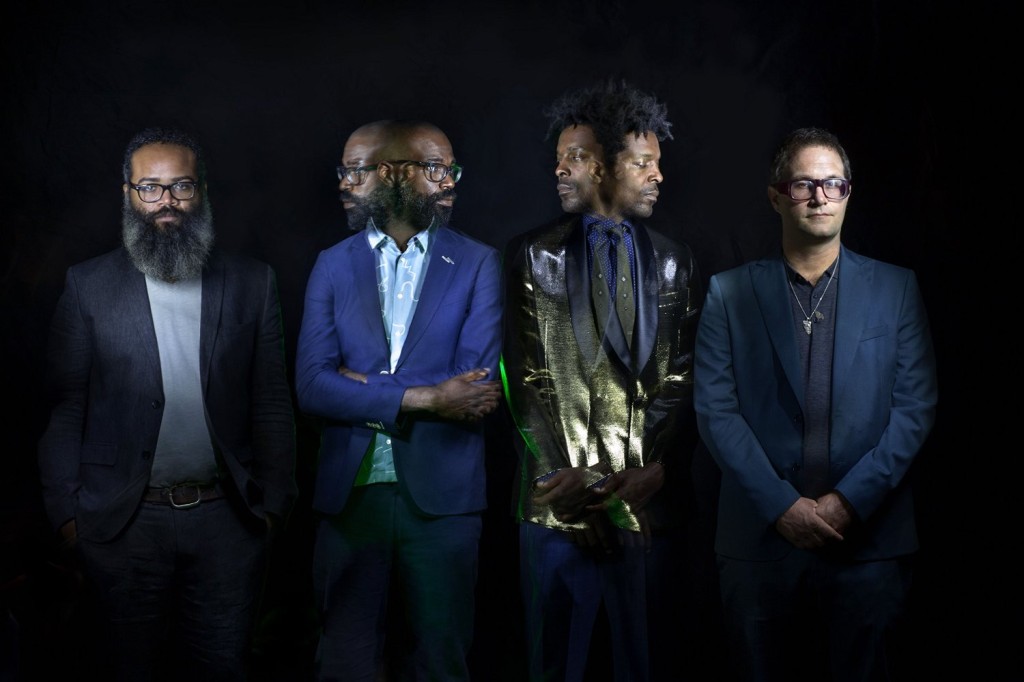 "Winter" features a more stripped down guitar sound, and plays like a plea to a higher power for mercy and a break from the cold of winter and a return of summer's warmth. It's a stunning track, and really shows the band sort of going back to their roots as they search for answers both sonically and spiritually. "Lazerray" finds the band continuing down the same path musically, propulsive beat and churning guitars, but there is also a sense of awakening in the lyrics, a sense that they have found a path to recovery, salvation, happiness, you name it, they are on the way. On "Trouble" they are actually finally able to admit that even though there is trouble on the horizon and times are rough, "everything's gonna be ok". No longer numbing themselves to get through it, they choose to remain optimistic and hopeful. "Seeds" shows that they have finally come out of the dark and into the light, "Rain comes down like it always does, this time I've got seeds on the ground". Pain and loss are inevitable, but it's how you learn and grow from them that truly shapes you, not the pain and loss themselves. It's a stunning conclusion to a very profound journey that the band has taken us on with Seeds. TV on the Radio has long been one of the finest bands in the world, but with this album, they have reached another level.
Key Tracks: "Seeds" / "Winter" / "Careful You"
Artists With Similar Fire: Radiohead / Arcade Fire / Yeah Yeah Yeahs
TV On The Radio Website
TV On The Radio Facebook
Harvest Records
– Reviewed by Kevin Poindexter

Latest posts by Kevin Poindexter
(see all)