Titus Andronicus


Local Business
XL Recordings [2012]


Fire Note Says: The most fun celebrating life's meaninglessness that you'll ever have!
Album Review: Usually when you think Titus Andronicus a bunch of things come to mind: a shouted, garble growl of lyrics, abrasiveness, historical references, New Jersey, worthlessness, life's meaninglessness , mortality, drowning your sorrows, drunken sing-along's, theatrics, and self-loathing all pop into the brain quickly and the good news – it's all here. Titus Andronicus delivers on their third record, Local Business; it draws upon all these themes while remaining fun and fresh the whole time. Just think of this when you give it a listen- The Misadventures of Bruce Springsteen presents Born to Shun and album for every Niallist, you get the picture.
First track "Ecce Homo" pulls the pin on this grenade with an almost airy guitar tone that gives off exhilaration without care. The record lets you know what it's about right up front singing "OK I think by now we've established- Everything is inherently worthless-Then there's nothing in the universe-with any kind of objective purpose." Not the most uplifting premise but damn does it make from some fun music. Second track and favorite title goes to "Still Life with a Hot Deuce on a Silver Platter" a thundering build up that gives ways to a furious chord strummer. This then is followed by a breakdown that ranks up there with the finest bar stompers that you've ever heard, it almost makes you think to turn to a bartender and ask who's on the keys. A fun, rowdy diversion, track four, "Food Fight", becomes a raunchy swing number with plenty of burning riffs to match.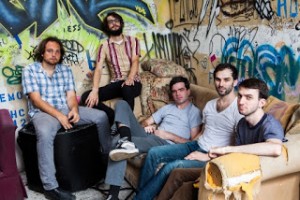 Local Business then gives way to 8 minutes of theatrics, the song being "My Eating Disorder". It plays with everything from being fast and loose, to chorus chants and sing alongs, comes crashing down into a harmonized guitar battle that sounds as if strain and heft pour off every string struck, and finally shouted out to the tune of "SPIT IT OUT" – a personal favorite as it keeps the energy coming at every turn. The eighth track, "In a Small Body" takes the intensity down a couple notches and even carries beauty, violins hover around the vocals, and it sounds like the record might be questioning its own intentions. I've also never heard anyone wax so poetic about vomit "Watch the acid eat-away the enamel-kissin this toilet seat-Doesn't make me an animal" it's fantastic. Ninth track "(I am the) Electric Man" reaches its arm over your shoulder as you drunkenly sway back and forth, being backed up by a soulful swing, shouting into the air "I am the electric man". Album ender "Tried to Quit Smoking" is exactly as it sounds and exercises in futility; it's the lone man at the end of the bar with a tear in his beer. Then six minutes into the song this man realizes that life can suck it, he adapts a bad boy swagger as the harmonica honks in his ear and as the revelation grows and grows the music swells and swells as well, it's a fine finish that may make all that self-loathing pay off.
Titus Andronicus' Local Business is the most fun loathing that you'll do all year. It ranks up there with 2010s The Monitor; it takes the history and replaces it with a bit more misery. Give this one a listen you'll be glad that you walked into this local business.
Key Tracks: "Still Life With Hot Deuce on a Silver Platter", "My Eating Disorder", "Tried to Quit Smoking"
Artists With Similar Fire: The Gaslight Anthem / Japandroids / Fucked Up
Titus Andronicus Website
Titus Andronicus Facebook
XL Recordings
-Reviewed by Christopher Tahy

Latest posts by Christopher Tahy
(see all)