Thom Yorke


Tomorrow's Modern Boxes
Self-Released [2014]

Fire Note Says: Thom Yorke surprises all with his second, new solo outing.
Album Review: The word 'surprises' is often a part of the phrase 'surprises and delights'. Why not here, you may ask? Well, if you consider yourself a fan of Thom Yorke then Tomorrows Modern Boxes could easily feel like a rough draft of sorts. Thomas Edward Yoke, in my humble opinion, could be considered a luminary, one quoted as saying that Spotify is "the last desperate fart of a dying corpse." But believe it or not it's that mentality that has kept Yorke and his bandmates going. Yorke's strategies on how to circumvent the music industry have been as interesting as ever, from the pay what you will self-release of Radiohead's In Rainbows to the "newspaper album" packaging, collectibility, and controllability of The King Of Limbs. Well it seems that Yorke is at it again with his second solo outing and true follow up to The Eraser, Tomorrow's Modern Boxes.
Produced (of course) by Nigel Godrich, Tomorrow's Modern Boxes is another experiment for Yorke, meaning that its release is mediated through the peer-to-peer file sharing network Bit-Torrent. Using the sites "bundles" initiative, creators distribute their work in packaged torrent files. It is the first album to use BitTorrent's "pay-gate" feature too. But, what does it sound like? Is it The Eraser reborn? Does an Atoms For Peace hue make an appearance, or could it be mistaken for Radiohead b-sides? Well I know that I can mostly eliminate The Eraser reborn. Just like the cover art, Tomorrow's Modern Boxes has the minimal feelings of a dark void. That's not to discount it stylistic choices—Yorke has provided a few good reasons for Boxes' existence. For instance "Guess Again!" has no problem justifying its presence, being the top song on this album as well as one of Yorke's best solo outings. The only song on this album to feature a guest, Colin Greenwood's programmed beats drive the song forward with a lovely mix of Thom's vocals, keys, and strings. The same could be said about "The Mother Lode," which combines a hypnotic repetition and rolling bass line, Yorke's croon balancing the six-minute song nicely. What holds Boxes back is its' throw away sense of unambition. Aside from the couple of positive tracks described, nothing feels paid attention to in a Radiohead like manner-not even a Eraser like manner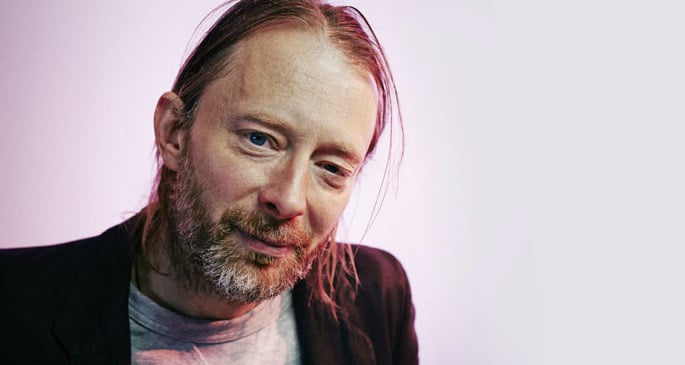 So, who is Tomorrow's Modern Boxes for? What does it accomplish? It is a shout out to the hardcore fan, it's a fishing line cast into the torrent pond, it's for the exact reason that I liked the track "There Is No Ice (For My Drink)." To have an extensive grasp on Yorke's body of work I could find small charms among the understated tracks like "Interference," "Truth Ray," "Pink Section," and "Nose Grows Some," but nothing like The Eraser, even in b-side-and personal favorite "The Drunkk Machine." It's a statement like that that carries all the weight. Tomorrow's Modern Boxes just doesn't have as many successful elements as The Eraser. In fact the medium of release might be more important that the music; but as an experiment, "Tchocky" could have done much worse.
Key Tracks: "Guess Again!" / "The Mother Lode" / "There Is No Ice (For My Drink)"
Artists With Similar Fire: Atoms For Peace / Barbarossa / Ultraista
-Reviewed by Christopher Tahy

Latest posts by Christopher Tahy
(see all)