The Moondoggies


Adiós I'm A Ghost
Hardly Art Records [2013]



Fire Note Says: The Moondoggies return with the memorable and confident Adiós I'm A Ghost.
Album Review: By the time a band gets to their third album they typically have reached some sort of crossroad. For Seattle's Moondoggies, their third album Adiós I'm A Ghost is all about shedding any previous thoughts about the band and moving forward with them in the present. To take the listener to a different place the group drew from an array of influences that included Pink Floyd, Blonde Redhead, Mississippi John Hurt and Nirvana which drives The Moondoggies diversity here that you can hear throughout the record.
Before any fans get scared that The Moondoggies have totally changed they should not worry because I will tell you that Adiós I'm A Ghost revs up the band from the more somber Tidelands (2010) but does not venture back into the louder blues found on their debut Don't Be A Stranger (2008). Instead, Ghost finds a happy middle ground that still soars on the groups smooth Northwestern three-and-four part harmonies while also sounding like a band with some experience under their belt. The group delivers spectacular harmonies that would be easy to lump them in with Fleet Foxes but their music is much more Neil Young and Crazy Horse as their songs have a bit more lived in feel to them.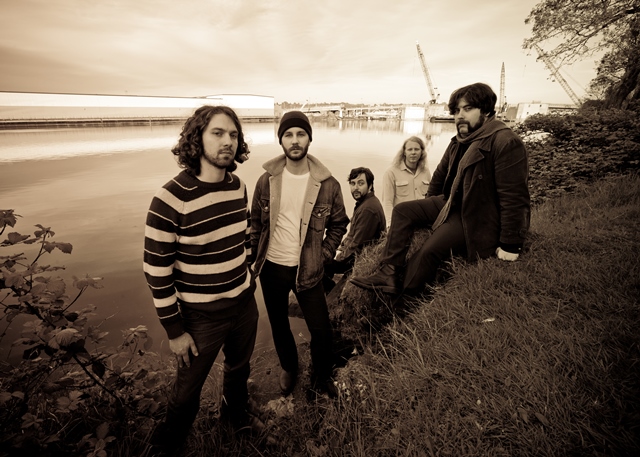 The Moondoggies also make an impact here with their noticeable in-song transitions. The excellent foot tapper "Stop Signs" is a soft rambler that takes you for a ride and then slows down right in the middle as singer Kevin Murphy is left to hold the song up with his excellent voice until the harmonies kick back in with the chorus of "we just roll right through stop signs" and the song trucks on. "Midnight Owl" has a bit of a surf guitar strumming in the background as its slower mid-tempo cruises along until the halfway point isolates the drum beat and the song begins slowly increasing its intensity. The Moondoggies once again pull this mid-shift song structure with "Back To The Beginning" that starts with very simple vocals until the band turns the track upside down and the group takes it from 0-10 on the intensity level as Murphy sings "grab the rope / hold onto the line / it's a matter of time / it's the end of the line" like it is the last breath he will take.
The Moondoggies bring a very warm 70's classic American rock forward on Adiós I'm A Ghost that you just can't find anywhere as the band has made a record that has some really good consistent grooves that stick with you. This was not a record that I immediately connected with but an album that needs several spins for a full listen because the songs and style work together nicely. The Moondoggies definitely have found their own niche with Adiós I'm A Ghost that certainly has laid a new foundation for more things to come!
Key Tracks: "Midnight Owl", "Pride", "Stop Signs"
Artists With Similar Fire: Crazy Horse / Poor Moon / Horse Feathers
The Moondoggies Website
The Moondoggies Facebook
Hardly Art Records
-Reviewed by Christopher Anthony

Latest posts by Christopher Anthony
(see all)