The Fresh & Onlys


Long Slow Dance
Mexican Summer Records [2012]



Fire Note Says: The Fresh & Onlys continue their musical progression and create one of their most engaging records to date!
Album Review: Does anyone remember the phrase "artist development"? Probably not too many people in the days of streaming, iTunes singles and the constant quest to find the next great band but it turns out that I think the idea still has relevance in today's music scene as evidenced by the new long player by San Francisco's The Fresh & Onlys.
The band has been pumping records out for the last five years and with each one their sound progresses. Sure they have switched indie labels so that one component is a non-factor in The Fresh & Onlys development but this consistent recording and releasing of material certainly has driven many successes in the band's world. It also has found them moving from a more lo-fi garage sound to having a sprawling 60's psychedelic vibe to this very cool swagger of indie pop found on Long Slow Dance that prepares The Fresh & Onlys for the big time.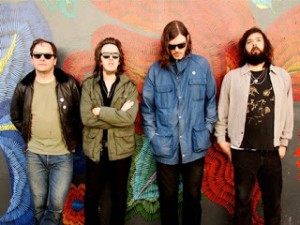 Right from the supporting rolling piano keys on album opener "20 Days And 20 Nights" fans will already here the new confidence for this style that pours out of Long Slow Dance as lead singer Tim Cohen takes the helm vocally and never gives it up. The other big difference in the tracks here is that, on more than one occasion, there is an undertone of 80's style college rock which just has a certain pep to its beat and gives Long Slow Dance a retro feel while still being completely 2012.
Long Slow Dance has plenty of surprises along its run time like the big horn section that serenades the backdrop of "Execution's Song" or how Cohen turns into a master crooner on the upbeat "No Regard." The song "Dream Girls" will have you double checking to make sure that it is still The Fresh & Onlys playing as it sways like a Jens Lekman track or then the complete rock out jam that fills the last three minutes in the over six minute "Foolish Person" showcases that the band still has their roots grounded in rock.
All of these new angles blend with The Fresh & Onlys past musical outings and it will be easy for fans to connect the dots here. This is truly a band that continually looks to improve and offer a quality recording as you can hear it with each progressive record. Long Slow Dance is one of The Fresh & Onlys best records to date and there is no reason that the band will not just keep climbing up from here as they just keep growing and won't be stopped!
Key Tracks: "20 Days And 20 Nights", "Long Slow Dance", "Dream Girls"
Artists With Similar Fire: The Soft Boys / The Shins / The Church
The Fresh & Onlys Website
The Fresh & Onlys Facebook
Mexican Summer Records
-Reviewed by Christopher Anthony

Latest posts by Christopher Anthony
(see all)