The Crookes


Soapbox
Modern Outsider [2014]



Fire Note Says: The Crookes continue their upward trajectory with their new album.
Album Review: I'm not really sure why The Crookes aren't bigger. I guess I understand why they aren't bigger here in the US, suffering the same fate as bands like Maximo Park, who seem to be ignored by all except for pockets of fans in major cities. Intelligent British indie rock isn't really in vogue right now, and that's a damn shame, because Soapbox is a fantastic album, and one that shows tremendous growth in sound and vision. A little less immediate than it's predecessor, Hold Fast, it trades on the youthful vim and vigor of that album for a more mature yet, still uptempo sound. I liken it to the shift that Arctic Monkeys began to make after their debut album, and darkened up their sound for their second album, before finally starting to resurface in the American Consciousness again with their last album AM.
The first single from Soapbox, "Play Dumb" leads off the album, and what a leadoff track it is! It's got a big beat, huge sing along chorus, and enough energy to lift the roof off of any sized venue that it is played in. This track is audio adrenaline in it's most potent form. "Don't Put Your Faith in Me" is a real ear opener, this one is slower and darker, equally catchy, but with a different more mature edge to it. "Holy Innocents" is a beautifully sung song with a haunting piano accompaniment; its sparse arrangement lets you feel the longing and loneliness in between the notes, and it's over before you know it. I went back and immediately hit repeat! I don't want you to get the wrong idea, this record is no downer, as songs like "Marcy" and "Echolalia" are high energy standouts. The band's trademark sound is still fully intact, they are now shading the edges a little differently to give the big picture more depth.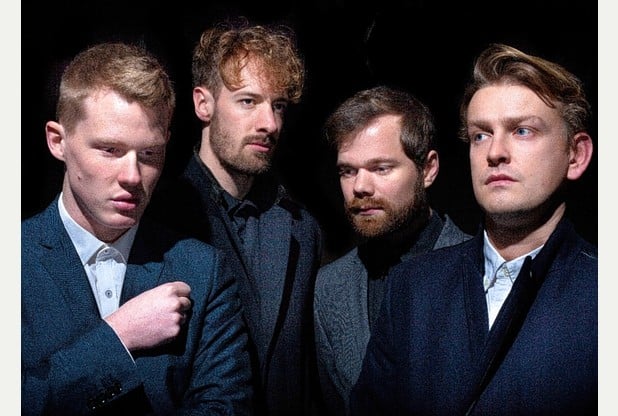 I always love it when I band I really like doesn't fall victim to releasing retreads of their albums that initially grabbed people's attention, with diminishing returns each time out. I have seen it time and time again, I won't name names here, but they are often British bands from the early to mid 2000's if that helps you pinpoint anyone in particular. The Crookes are still on an upward trajectory with Soapbox, and I don't see them dropping off any time soon!
Key Tracks: "Play Dumb"/ "Holy Innocents" / "Don't Put Your Faith in Me"
Artists With Similar Fire: Arctic Monkeys / Maximo Park / The Vaccines

The Crookes Website
The Crookes Facebook
Modern Outsider
-Reviewed by Kevin Poindexter

Latest posts by Kevin Poindexter
(see all)