The Charlatans


Different Days
BMG [2017]


Fire Note Says: Brit pop from Manchester's The Charlatans, with some assistance from Paul Weller, Johnny Marr and Anton Newcombe.
Album Review: With a band like The Charlatans, where they have overcome overwhelming odds while continuing to record music after 28 years, the fact that they are still at it is something worthy of acknowledgement. Coming up in the Manchester music scene in the wake of the success of the Stone Roses and the Happy Mondays, The Charlatans never gained a serious airplay hits in North America like James, but again and again they recovered from disappointments and losses, only to come back again. When they first introduced their music in the U.S., they were forced to add the UK to their name to avoid copyright conflicts with a band of the same name. In 1996 their keyboard player who gave the band their organ driven R&B sound, Rob Collins died in a car accident, their original drummer, Jon Brookes, died of a brain tumor in 2013, yet they persist.
In 2015, the band released Modern Nature, their 12th studio album, which revealed the band's resilience and commitment to make soulful British pop even as they reflected on this loss of their friend. Here, on Different Days, the four remaining long-time members – Tim Burgess, vocals; Mark Collins, guitars, Martin Blunt, bass, Tony Rogers, keyboards – press on with Peter Sallsbury joining in on drums, Anton Newcombe, of The Brian Jonestown Massacre, playing a variety of instruments including drum programming, along with guest cameos from The Smith's guitarist Johnny Marr, and The Jam's Peter Weller.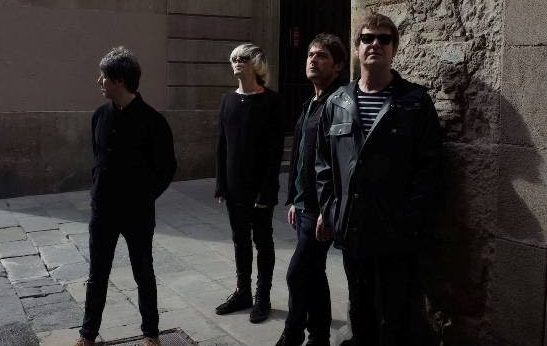 Over the course of their nearly 3 decades, The Charlatans have tended toward straight ahead Brit pop, strong on keyboards that give a nod to R&B on their earliest work, and a flicker or two of electronica/dance music chic after Burgess sang the lead vocal on The Chemical Brothers' single "Life Is Sweet," from their debut album. But on their latest, you can hear them touch a variety of Brit pop bases, including a nod toward Tears For Fears on the album's title track and second signal. "Plastic Machinery," the first single, feels like a continuation of British New Wave oriented pop that we got from bands like the Thompson Twins in the 80s, if we hadn't had that loud, grunge guitar episode that defined the 90's.
On the massively repetitive "The Same House," you might recall the punkier leaning sounds of Madness, even though The Charlatans have knocked off most of the rough edges. "The Forgotten" has one of the more formidable guitar sounds, but it's interesting that even with a superstar like Marr playing on three tracks, there's no effort to exploit his presence. Same might be said for Weller's low-key piano track on the somewhat spacey "Spinning Out," The Charlatans keep the sound in check, close and polished to a shiny pop sheen.
Key Tracks: "Plastic Machinery" / "Different Days" / "Spinning Out"
Artists With Similar Fire: Paul Weller / Blur / James
The Charlatans Website
The Charlatans Facebook
BMG
– Reviewed by Brian Q. Newcomb
Latest posts by Brian Q. Newcomb
(see all)